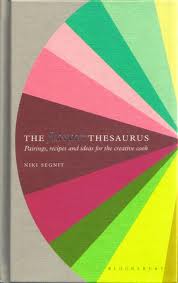 Two years ago Niki Segnit authored a wonderful book called The Flavor Thesaurus. It's a personal book, based on her preferences and observations. Fortunately for us, her taste is impeccable.
There are literally 1000s of flavors out there. But Niki has picked 99 flavors and then put them in 16 groups. For example, the Roasted category has chocolate, coffee and peanut flavors. For each flavor in a category, this thesaurus lists the "food or taste pairings" that work wonders in the kitchen. Here is her category wheel: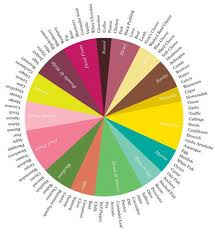 For example, the Citrus category includes the Orange flavor. There are 4 pages of Orange + X combos here, some certainly familiar to you, and some that may offer a kitchen surprise. So here you will find a discussions and recipes. For the combination Orange + Almond, there is a legendary cake by Claudia Roden that you may have encountered.
But Orange + Asparagus? Well there is sauce maltaise, a hollandaise sauce flavored by blood oranges that was created specifically for asparagus lovers. And sauce lovers, too. To make this sauce, boil 1/2 cup of blood orange juice until reduced to just 2 tablespoons. Add the zest of 1 blood orange and simmer for 1 minute. Then stir this syrup into a classical hollandaise made from 4 egg yolks. Serve warm and immediately.
The flavors presented here run the spectrum including: onion, rutabaga, anchovy, saffron, parsnip, peach, cardamom, liver, beet, and watercress. Somewhere in that list of 99 flavors will be one or two that you just have to explore.
You might consider The Flavor Thesaurus as a holiday present for any foodies you know. That includes yourself!