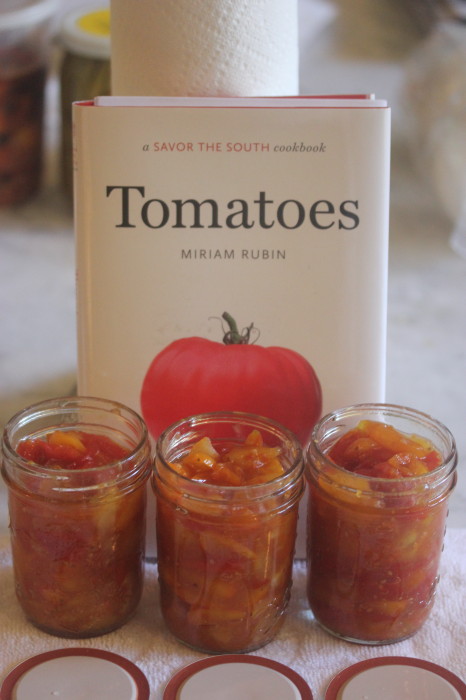 Great things do come in small packages. Tomatoes, by Miriam Rubin, is a slim 131 pages. A thin book you can easily glide into your bookshelf. Except, it won't be on your bookshelf. It will be out on your counter as you eagerly try its wonderful recipes. And then you'll surely do some experimenting on your own. This is the kind of book that makes you say: "Okay, she did that and it's good but what if …"
Tomatoes are one of those great what-if foods. There are all the tomato species, from standard to heirloom, that you can play substitutions with. Yes, it now September and late in the tomato season, but it's still the season. You can try these recipes now and get quite a different experience than the early spring or mid-summer fruits would bring to your table.
Given my sweet tooth, our first personal test from this book was Heirloom Tomato Jam, which I will blog tomorrow. But even before today, Suzen sponsored a book event for author Miriam Rubin this week and we had a gala all-tomato meal from this lovely book. Some of the book's recipes are substantial:
Heirloom Tomato Stacks with Clemson Blue Cheese Dressing and Bacon Crumbles.
Some seem simple:
Stand-over-the-Sink Tomato Sandwiches
Tuesday night, I had three of these sandwiches: good bread, homemade mayo, and thick slices of perfect tomatoes. Ever heard a tomato described as "meaty?" They really can be. From simple to complex, Tomatoes is filled with treats:
Curried Tomato Soup
Tomato Dumpling Soup
Peach and Tomato Salad with Toasted Pecans
Filled Tomatoes with Crabmeat Remoulade
Green Tomato and Pork Tenderloin Biscuit Pie
Baked Garlic-Cheese Grits with Tomato-Crunch Topping
Goat Cheese Spoonbread with Cherry Tomato Sauté
Cornmeal-Crumbled Fried Green Tomatoes with Buttermilk-Black Pepper Dressing
Crispy-Crumbled Baked Tomatoes with Pecans and Parmesan
Spiced Green Tomato Crumb Cake [no, you don't taste the tomatoes!]
Heirloom Tomato Jam with Lemon
Red Tomato and Jalapeno Conserve
Remember at the top when I said you would not bother putting this book away? Now you know why. Here, tomatoes are not just a side, not just a salad, but perhaps the main dish or the dessert.
Author Miriam Rubin has devoted hours and energy to this fine book. Before all the tomatoes are gone, before this book is sold out, get your market basket, get some tomatoes, and get Tomatoes.
Ah, Tomatoes is published by the University of North Carolina in their Savor the South series, which includes volumes on Peaches, Buttermilk, and Pecans. You'll want to search for these books and, like Tomatoes, keep them close to your apron.