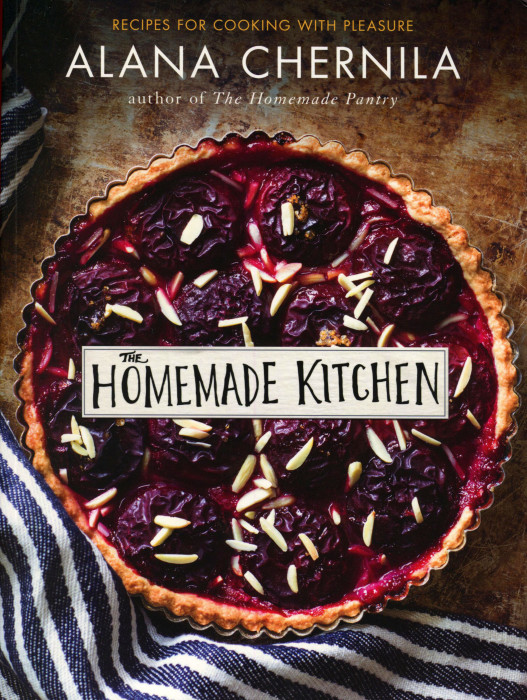 The best way to describe author Alana Chernila is to say "she gets it." She understands the role of food in our lives, not just sustenance but as an integral portion of our lives. Whether we live alone or, as she does, have a family with a couple of kids, cooking can be treated two ways. There is the unhappy "this is a chore that have to do" attitude. Or there is the "this is a way to be creative and enjoy life" approach.
Alana is joyful. She probably wanted to call this book something like "The Joy of Cooking" but that title happens to be taken. So, The Homemade Kitchen is just fine.
Just published The Homemade Kitchen follows on the heels of her first book The Homemade Pantry. With the word "homemade" in both titles, you can sense the philosophy here. Alana loves to cook, by herself, with her daughters, with her husband, with the whole family. This book is about how she has learned to cook and to shop and to garden. And this book is designed to teach you how to cook, even if you have never ever picked up a knife.
The very first recipe in this book is how to fry an egg. Followed by poaching, hard-boiling, soft-boiling, and scrambled. It's all in a section called How to Cook an Egg, and there are sections that follow on the How to of chickens and vegetables, pie crust, and pies.
It's beginner stuff because, at the beginning, Alana assumes you may well be a novice. However, she is an energized educator. So by Page 166, you will be making the dish in the photo at the end of this post: Butternut Squash Pasta with Bacon and Sage Brown Butter. You may not be ready to be restaurant chef at this point, but you could think about it. More importantly, you will well on your way on the journey Alana wants you to experience: cook at home, cook with local fresh ingredients, and create magnificent meals.
The chapters here are not organized around food types: veggies, salads, beef, fish, dessert. No, the titles are like:
Put Your Hands in the Earth
Be Active
Use Your Scraps
Slow Down
Eat Outside
Invite People Over
Don't Be Afraid of Food
The intention here is to truly place food in its real perspective. Everybody eats. It is an essential part of your life, like it or not, so why not really go for the full potential of the food experience.
In Put Your Hands in the Earth, you get lessons on how to plant garlic, grow it, nurture it, and use it cleverly. Yes, you can buy garlic powder, but what if you plucked the garlic — at its peak of ripeness — from you own garden and made your own garlic powder? How much different, how much better could that be. Alana suggests that you try and enjoy the experience.
In Use Your Scraps Alana acknowledges that we all seem to love stuffed dishes, so why not scour your refrigerator for elements you can combine. She has a suggestion for Stuffed Winter Squash with chorizo, leeks, apple, any kind of greens, sage, rice of some sort, and Cheddar cheese. But you have the freedom here to use the recipe as a template and employ the elements that you already have in your refrigerator. Don't throw stuff away. Eat it.
In the chapter Slow Down, there is a wonderful recipe for Rhubarb Snacking Cake. Isn't that just the best recipe title? It's not just a cake, it's a snacking cake. Alana does live in Western Massachusetts where the forests, lakes and hills can encourage you to slow down. I think a few minutes in a porch chair with a small piece of snacking cake is a wonderful idea. I suppose a large piece of cake would be even more wonderful.
Once you get beyond those "How to" basics, there is a battery of recipes here to entertain you, your family, and anyone lucky enough to enter your kitchen:
Roasted Red Pepper Corn Chowder

Broccoli Raab and Sausage Bread Pudding

Chicken Potpie with Onion, Leek, Celery, Carrots, and Buttermilk

Fettuccine with Preserved Lemon and Roasted Garlic

Cinnamon Swirl Bread

Braised Lamb Shanks with Vinegar, Thyme, Rosemary, Onion, Carrots and Potatoes

Buttermilk Borscht
When you read the pages of The Homemade Kitchen you can almost, but not quite, smell the recipes. You can imagine what that Braised Lamb Shank will be on your plate. All you have to do now is get your copy The Homemade Kitchen and happily, joyfully cook away. The Homemade Kitchen is a book to buy, to use and to never put down.