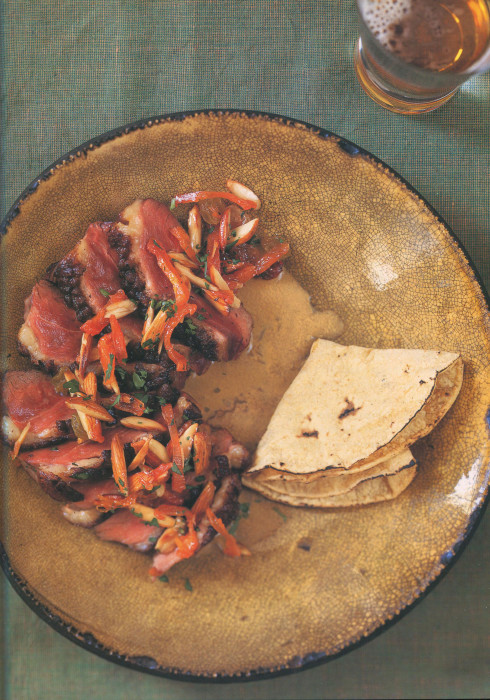 When acclaimed author James Peterson wrote The Duck Cookbook he seemed to have a penchant for Mexican recipes. Here he uses his favorite chiles: chihuacle negro. Yes, I had not heard of them before, either. If you cannot find them, then you can use other dried chiles such as guajillos, mulatos, or anchos. Or you can char fresh poblanos.
The sauce here is very authentic, beginning with chiles and cilantro, of course, but then layering in raisins, dried apricots and almonds. You can some or all or none of those extra ingredients but you really want to try the whole boatload. The subtlety of flavors, and the sweetness, is perfect for duck.
---
Duck with Chihuacle Negro Sauce, Raisins and Almonds

Yield: 6 main course servings

Ingredients:

2 dried chihuacle negro chiles, 3 smaller dried chiles, or 2 fresh poblano chiles, charred and peeled
1 tablespoon unsalted butter
1 small red onion, peeled and chopped fine
4 cloves garlic, peeled and chopped fine
1 ½ cups brown duck broth, chicken broth, or water
½ cup heavy cream
6 Pekin (Long Island) duck breasts or 3 mullard breasts (1 ½ to 2 pounds total)
½ cup golden raisins
½ cup dried apricots, cut into ¼-inch cubes
½ cup slivered almonds
1 tablespoon red wine vinegar, or more to taste
2 tablespoons finely chopped cilantro
Salt
Preparation:

Over medium heat, cook the onions and garlic in 2 tablespoons of the duck fat in a heavy‑bottomed pot large enough to hold the tomatillos. If you're using fresh tomatillos, peel off the papery skin and cut the tomatillos in quarters. If you're using canned tomatillos, drain them in a colander and chop them coarse. When the onions and garlic turn translucent and fragrant, about 10 minutes, add the tomatillos to the pot. Pour the broth over the tomatillos, cover the pot, and simmer for 10 minutes to soften the tomatillos. Then remove the lid and cook the tomatillos over medium heat until you have a chunky sauce, about 15 minutes more. Finely chop the cilantro and stir it into the sauce, along with the chopped jalapenos.
Preheat the oven to 350°F. To soften the tortillas, melt the remaining 2 tablespoons duck fat in a sauté pan and gently heat the tortillas, one at a time, in the fat. Pull the skin off the duck legs and discard it, then pull the meat away from the bones, shredding as you go. Roll the shredded duck meat in the tortillas and arrange the tortillas in a baking dish just large enough to hold them in a single layer. Spoon over half the sauce, cover with aluminum foil, and bake the enchiladas for 15 minutes. Take off the foil and bake for 15 minutes more, until the sauce starts to bubble.
Reheat the remaining sauce. Put two enchiladas on each heated plate, spoon the remaining sauce over them, and pass the sour cream at the table.
---
Source: The Duck Cookbook by James Peterson [Stewart Tabori & Chang, 2003]