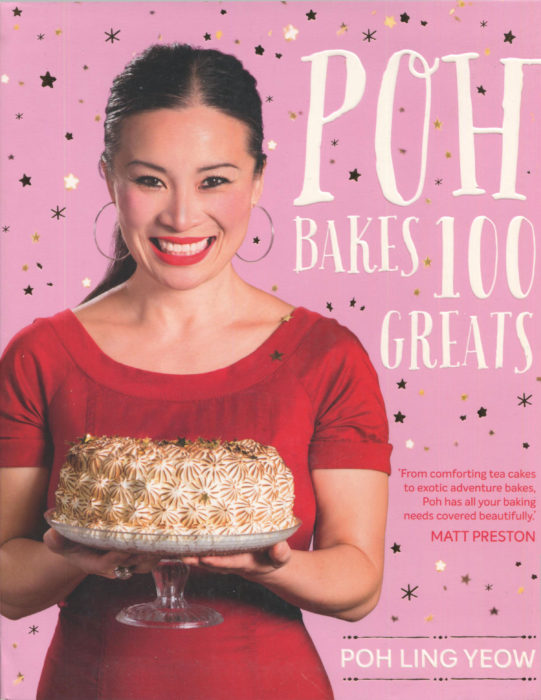 I am happy to give you all a wonderful Christmas present. On January 8th, we'll see the publication of Poh Bakes 100 Greats. Unless you live in Australia, Poh may be unfamiliar to you. After this book comes out, everyone who bakes should know and embrace Poh. She has written a remarkable and landmark book.
Poh Ling Yeow is a Chinese Malaysian who migrated to Australia when she was just nine. That same year she fell in love with baking. With her mixed cultural background and the most cosmopolitan atmosphere of modern Australia, Poh has evolved into a world-class baker and presents a world-spanning array of recipes in Poh Bakes. This book has some modest native Australian recipes and rich European delicacies that make you dream of Paris or Vienna.
In her career Poh displays talents across multiple disciplines: culinary arts, actual artwork, and as a media star. She has appeared on Australian cooking shows where she shined. And won. With her husband's help, she's opened a bakery in Adelaide, perhaps the singular best reason to travel to Australia.
Travel to Australia for baked goods? People do that. Well, some of us do. And the rest of us can take this serious cookbook and treat ourselves to the gems will make you salivate.
How can I convince you that you want this book in your kitchen? The hundred recipes are spread across nine chapters. Let me tell and show you what struck me as the most compelling recipe from each of those chapters.
Savory Stunners: Here you find a Beef Stout Pie with Blue Cheese Crust, a tribute to the British heritage that is the foundation for Australian cuisine. Beef, beer, and blue cheese is a meal to be relished.
Bake-Sale Beauties: Poh's partner supplies these Raspberry Financiers, which with that open top, do not look like conventional financiers at all: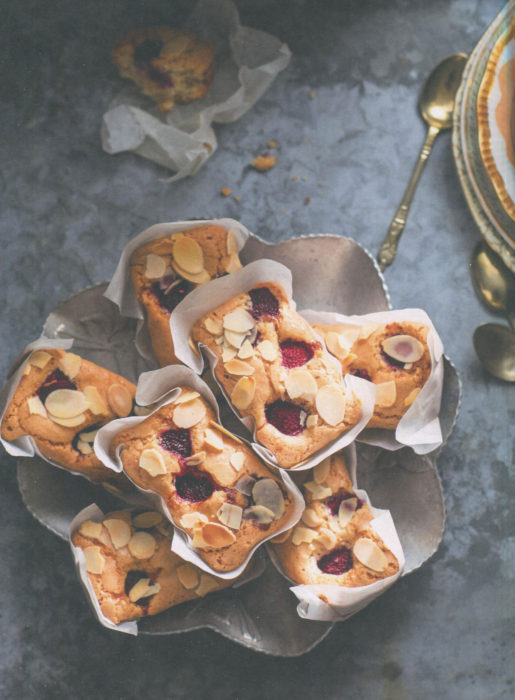 French Fundamentals: Poh lives in Australia but mines the recipes of Europe like a native. She gives us Prune and Armagnac Breton. The filling is prune puree with orange juice and Armagnac. The Breton pasty is butter, sugar, salt, rum, lots of egg yolks and flour. The butter and sugar outweigh the flour, always the sign of a grand pastry.
Sweet Pies and Tantalizing Tarts: Poh describes a stunning recipe as Banana Caramel Cream Pie. In America, we would we call it dulce de leche, not caramel. A graham cracker crust is topped with sliced bananas. The cooled dulce de leche is pour over the bananas. And because that is not enough, you top it all with whipped cream. I've eaten this dish before, but sans crust and whipped cream. I like Poh's extravagance.
Oldies But Goodies: From Germany comes Bienenstich or Bee Sting Cake. A round of brioche is cut in half, filled with custard and topped with caramel and nuts. Tough to imagine? Here's a picture to send you off making custard: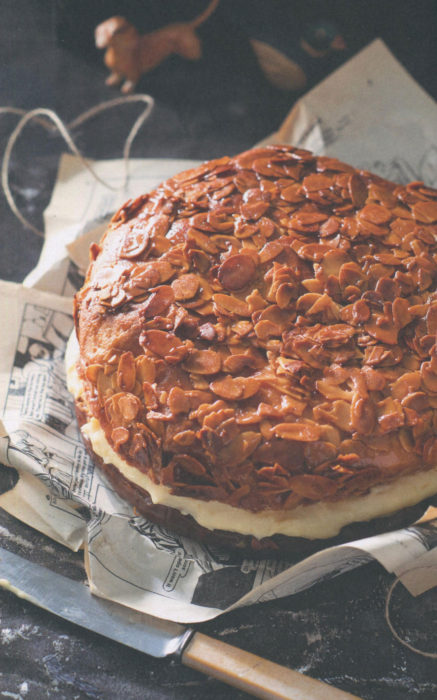 Thrills and Frills: This chapter has over-the-top recipes. Her Lemon Meringue Cloud Cake is what you see in the photo of the book cover. It's a marriage of sponge cake, lemon cream, lemon curd, and Italian meringue. [This chapter also has a Flourless Venetian Carrot Cake with White Chocolate Ganache and White Balsamic Cream Cheese Frosting. You pick.]
Adventure Bakes: There is a recipe here for all-seasons: Up-Side Down Cherry Polenta Cake with Balsamic Caramel. The all-years aspect applies because Poh says you can use all kinds of fruit: pineapple, pears, poached quinces, plums, peaches apple or anything with a bit of acidity.
Trusty Tea Cakes: Any book on Australian baking has to have tea cakes, a holdover from the civilized afternoons of Victorian times. I doubt that Queen Victoria ever engaged Avocado Loaf with Raspberry Glaze. Yes, it has avocado puree and a lot of it [3/4 cup].
Must-Knows: The final chapter is dedicated to basic components and finishing touches. Her Yogurt Mascarpone Cream is a blend of mascarpone, Greek yogurt, confectioner's sugar and vanilla. Poh says it's a stunner, with everyone wanting the recipe after just one bite.
My tour for you is finished. I do hope you can see that this is no ordinary baking book. It shines with its breadth of ideas, the innovation in ingredients, the careful writing, and the radiant photographs. You can pre-order the book now. You can begin to stock your kitchen now. You can even get some rock-hard avocadoes and let them soften for that tea cake. There are surprises aplenty in the hundred delights of Poh Bakes 100 Greats.