Suzi and I are on the road. We are in Bozeman, Montana for a couple of days, then driving down to be with our daughter and boyfriend in Yellowstone National Park. Kelly is already in Yellowstone and baiting Suzi by claiming she has seen a moose. Suzi and I have been in pursuit of moose for years. We have traveled all across Maine and never seen one. Suzi is hopeful that Kelly has not scared all the moose [meese?] away.
Since I'm about to traipse through marshland in search of large mammals, I'm going to offer you some cookbook reviews that offer the best in summer cooking. Take a look at these books and get your grill — and your salad bowl — ready.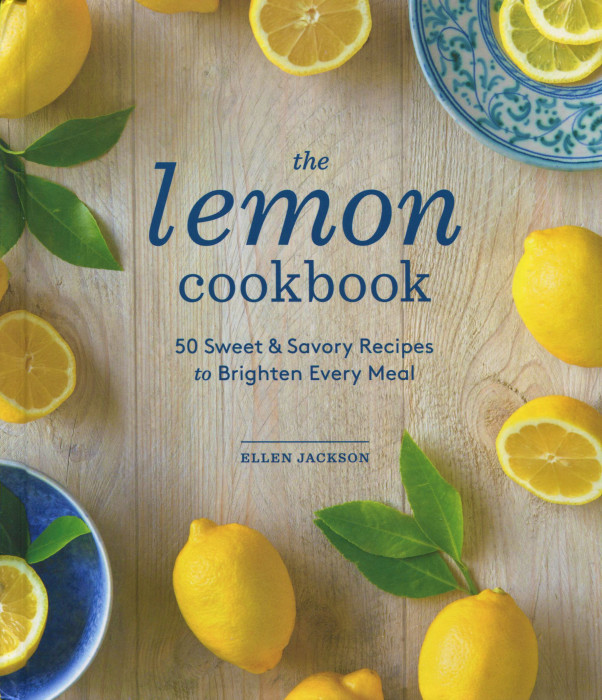 Earlier this week I reviewed a lovely book by Ellen Jackson: Classic Cookies with Modern Twists. You can see the review, and its rich brownie, on the links here. Great book if you are a cookie craver.
Unfortunately, there is a tradition that says the entire meal cannot simply be cookies. You need other things, too. Cookie addicts have an issue with that: we need, we demand great flavor in everything. Chocolate ideally, but we would settle for citrus.
And so, Ellen has provided us with her second cookbook published this year: The Lemon Cookbook from Sasquatch Books.
Few of us eat lemons. Yeah, we drink lemonade. We dive into lemon meringue pie. I have never intentionally bitten into a preserved lemon all by itself, but I suppose there have been bits and pieces in some of the Mediterranean dishes I have enjoyed.
I love lemons. Suzi and I buy them, not a few at a time, but by the bagful. I don't think there is a dish out there than cannot benefit from lemon juice or zest.
And Ellen clearly agrees. In this book are recipes where lemon can add a central flavor, like the Lemon Crème Brulee with Lavender and Honey. Or, lemon can just be employed to add one more delicate patina of flavor, as in the Spaghetti with Radicchio, Ricotta and Lemon-Garlic Bread Crumbs.
Let's tour the book.
Breakfasts suggests that lemon starts your day, perhaps with Lemon Cornmeal Ricotta Waffles or David's Double-Lemon Dutch Baby — that's the picture at the end of this review.
Salads employ lemon as an ingredient, as in Cracked Wheat and Carrot Salad with Preserved Lemon [there you go!]. Or the lemon can appear in the dressing: Kale and Brussels Sprouts Salad with Lemon-Brown Butter Vinaigrette.
Lemon can convert a Sides dish into star, like Grilled Corn on the Cob with Smoked Paprika-Lemon Butter. And you'll have a new potato perspective if you make the Buttery Hedgehog Potatoes with Lemon and Herbs.
If you have a Vegetarian bent, then in the springtime you'll want to try the Lemon-Goat Cheese Gnocchi with Shelling Peas and Green Garlic. On these winter nights, you can sample Lentil-Chard Soup with Lemon, Feta and Dill.
There is a chapter Seafood, Meat, and Poultry that offers main course ideas you will find totally tempting. During Christmas week, Suzi and I will be visiting my daughter and making Lemon Parmesan Chicken Soup with Herbed Dumplings. Kelly raises backyard chickens but I think we will be eating store-bought chicken and not a pet.
The biggest chapter, Sweets, does suggest that Ellen's sweet tooth was not sated with that cookie book. Here you will find the Lemon Crème Brulee and a Meyer Lemon and Tangerine Olive Cake and a Lemon and Poppy Seed Parfait with Strawberries.
Finally, if you drink your lemon, then you are offered Rose Geranium Lemonade and Homemade Limoncello.
The Lemon Cookbook is only 50 recipes long. But these ideas can bring you citrus bite from dawn to midnight. You can begin with these idea and then experiment away, inspired by bright recipes from a perceptive author.