Suzi and I are on the road. We are in Bozeman, Montana for a couple of days, then driving down to be with our daughter and boyfriend in Yellowstone National Park. Kelly is already in Yellowstone and baiting Suzi by claiming she has seen a moose. Suzi and I have been in pursuit of moose for years. We have traveled all across Maine and never seen one. Suzi is hopeful that Kelly has not scared all the moose [meese?] away.
Since I'm about to traipse through marshland in search of large mammals, I'm going to offer you some cookbook reviews that offer the best in summer cooking. Take a look at these books and get your grill — and your salad bowl — ready.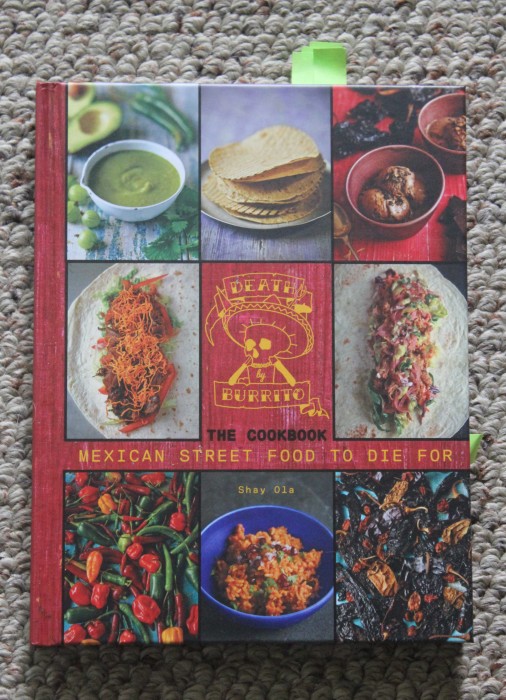 You've heard this story before. Man in Britain loves food. Not a professional. Cooks for friends, dabbles in cooking parties. Then a cooking stall at a fair – hardest work of his life. Then a real place, brick and mortar. And a cookbook: Death by Burrito. And then still another brick and mortar place.
It's been a fast journey for Shay Ola, the founder off the creative food event company The Rebel Dining Society. His two restaurants, in East and Central London, provide grills fashioning wonderful Mexican-style foods and bars specializing in tequila.
Ola studied Mexican street food to understand the basics and to form the foundation for his street food riffs, all fast and fabulous dishes. There are tacos and burritos here, but not in the combinations you have seen:
Confit Duck and Mango Tacos
Lobster Tacos
Quinoa, Pumpkin and Mushroom Burritos
Braised Turkey with Celeriac and Apple Slaw Burritos
How authentic are the recipes? Let us call them inspired. The ingredients are real: chiles, pumpkin seeds, pork, lard, plantains. The preparations are deliciously free form. I did take a second look at his Salsa Verde recipe because it uses gooseberries. Gooseberries. But, if you research, gooseberries are in the same genus and tomatillos. And gooseberries are grown in Yucatan. So inspired the salsa is.
There is the most complicated recipe I have ever seen for Chipotle Chicken Wings and, from the photo, seemingly the most beautiful. Suzen and I will be testing shortly. The wings are brined then dipped in heavily seasoned flour before getting a rolled oats crumb covering and then they finally meet the hot oil. Oh, the brining is authentic, right out of Yucatan with some orange. And right out of Great Britain, too, with some tea.
Ola says he is authentic to the spirit of Mexican food but prefers not to be confined to traditional recipes. I think he has succeeded. You should look for a copy of Death by Burrito: Mexican Street Food to Die For. Death is not necessary. Enjoyment is a guarantee.
Famous for his cocktail innovations, Ola claims his Toreador is better than a margarita when you need a brilliantly fresh sweet and sour beverage. As a treat to end this cookbook review, here's the recipe.
Toreador
Yield: 1 cocktail
Ingredients:
1 ¾ ounces tequila
1 ounce apricot brandy
1 ½ tablespoons lime juice
2 teaspoons agave nectar
Lime slice for garnish
Preparation:
Place a handful of ice in a blender and add the tequila, apricot brandy, lime juice, and gave nectar. Blend together and serve in an old-fashioned glass with a slice of lime.