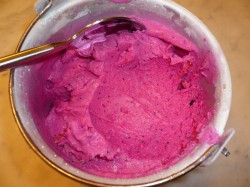 No, that title is not a mistake. It's a step down a new ice cream path that you will find absolutely rewarding. Jeni Britton Bauer is an Ohio legend. She has created an ice cream empire based on loyalty which in turn comes from two things: exceptional quality and amazing creativity. Her commercial success has led to Jeni's Splendid Ice Creams at Home, a book that just may be the best ice cream source ever.
The book is outstanding for two reasons. First, it offers recipes for some of her amazing flavors. Beyond this Beet Ice Cream you'll find:
·

Sweet Corn and Black Raspberry

·

Salty Caramel

·

Cranberry Royale Sorbet

·

Gorgonzola Dolce
And many, many more
Second, Jeni has worked these recipes so that they are home-friendly. The only drawback is deciding which to do first, and then realizing that you'll probably burn out your ice cream machine this summer and you make one after the other.
It's the ingredients that attracted me to this book, beyond the fame that precedes Jeni. When you see Beet Ice Cream with Mascarpone, Orange Zest and Poppy Seeds, what can you do but stop and ponder. Is that real? What will it taste like? What will it look like? And there are NO eggs here, so how thick and custardy can this be?
And the answers are: all good. It's really, really good. That beet taste is different. The consistency is thick and creamy, despite no eggs. You'll be amazed at the influence of the mascarpone. This would be the perfect palette cleanser to have between say the salad and main protein course of a formal dinner party.
This is July 4th weekend in the United States, and it's a big red, white and blue holiday. The hot-pink-red color of this ice cream is perfect. We're going to adorn it with blueberries and whipped cream.
Beet Ice Cream with Mascarpone, Orange Zest and Poppy Seeds
Yield: 1 quart
Roasted Beets Ingredients:
·

2 medium red beets

·

2 tablespoons sugar
Ice Cream Base Ingredients:
·

2 cups whole milk

·

2 ounces [1/4 cup] mascarpone cheese

·

½ teaspoon fine sea salt

·

1 1/4 cups heavy cream

·

2/3 cup sugar

·

2 tablespoons light corn syrup

·

Zest of 1 orange

·

2 tablespoons poppy seeds

·

Poppy seeds for garnish
Preparation:
The Beets:
Preheat the oven to 450F.
Wrap the beets in a sheet of foil and bake them until very soft, about 1 hour. Let the beets cool slightly, then peel them while still warm. Cut into chunks and puree in a food processor. Force the puree through a sieve. Combine ½ cup of the warm beet puree with the sugar. Discard any extra beet puree. Set aside to cool.
The Ice Cream Base:
Mix about 2 tablespoons of the milk with the cornstarch in a small bowl to make a smooth slurry.
Whisk the mascarpone, beet puree, and salt in a medium bowl until smooth.
Fill a large bowl with ice and water.
Combine the remaining milk, the cream, sugar, corn syrup and orange zest in a 4-quart sauce pan, bring to a rolling boil over medium-high heat, and boil for 4 minutes. Remove from the heat and gradually whisk in the cornstarch slurry.
Bring the mixture back to a boil over medium –high heat and cook, stirring with a heatproof spatula until slightly thickened, about 1 minute. Remove from the heat.
Gradually whisk the hot milk mixture into the mascarpone-beet mixture until smooth. Pour the mixture into a 1-gallon Ziploc freezer bag and submerge the sealed bag into the ice bath. Let stand, adding more ice as necessary until cold, about 30 minutes.
Freezing:
Remove the orange zest and pour the ice cream base into the freezer canister of your ice cream machine. Add the poppy seeds and spin until thick and creamy.
Pack the ice cream into a storage container. Sprinkle with a few poppy seeds to garnish. Press a sheet of parchment directly against the surface, and seal with an airtight lid. Freeze in the coldest part of your freezer until firm, about 4 hours.
Source: Jeni's Splendid Ice Creams at Home by Jeni Britton Bauer