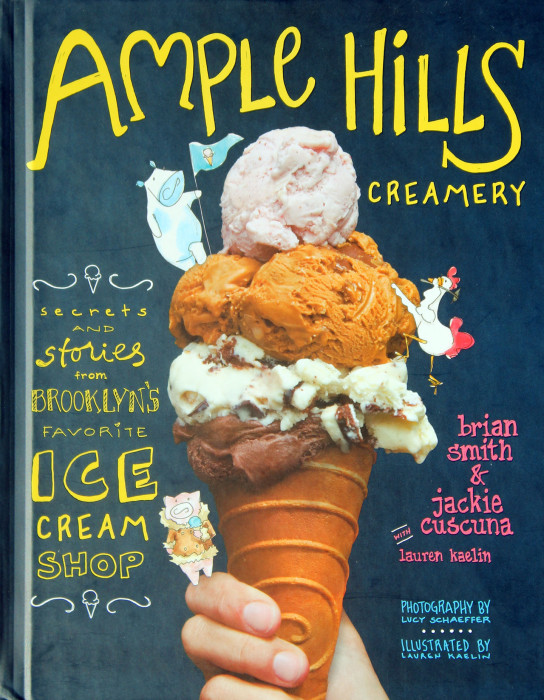 This week I'm reposting the best cookbook review of the past year. Ice cream books come in the summer. Whether it is summer or winter, you will find lines out the door at the Ample Hills stores in Brooklyn. If you want the latest and greatest in designer ice cream, this is the book to try.
"Phone or GPS?" I was paused at a stoplight in Brooklyn and a police officer had wandered up to me. He had a serious look on his face. I had a puzzled look on mine, and my cell phone in my hand.
I rolled down the window. "GPS," I said. And I showed him. I was not talking on my cell. Just looking.
"Out of your hand and into that holder on the dash," he said. His hand moved away from his gun. Jeez.
Suzen and I were in Brooklyn and, GPS aside, we were a little lost. We were searching for the Ample Hills store in Prospect Heights, just off Flatbush and really, to my mind, in Park Slope but in Brooklyn who the hell knows.
The pulsating dot on the GPS said we were close. We crossed Flatbush and then the trouble began.
"Accident?" I asked Suzen.
She peered out, looking at the long line of people on the sidewalk. A long line.
"No, it's just people. Standing, waiting."
"For what?" I asked. I was exasperated and I wanted my ice cream. The review in The New York Post said this was the best place in this part of Brooklyn to find ice cream. And, to boot, the Ample Hills team had just published this wonderful cookbook.
I inched forward in the traffic another block. We saw the sign on the corner. The good news is that we had arrived at Ample Hills. The bad news is that the line was coming out their door. Parking, in Brooklyn, would have taken an hour. So would that line. I drove back to Manhattan. De-feated. De-iced.
Fortunately, we've since found other Ample Hills outlets in Brooklyn. There are two as part of Brooklyn Bridge Park. And the new Ample Hills factory is on Union Street with seating and umbrellas on the roof. Easier to find. No line on Union Street.
Founded in just 2010, Ample Hills is a smashing success. Outlets aplenty. Brick and mortar. Now the cookbook. Couple Brian Smith and Jackie Cuscuna took the big gamble in 2010 and have gloriously triumphed. Each summer sees a rash of ice cream books. This is the one to start with.
The book begins with a piece of advice that I would not have expected — until that is I actually had a few rounds of their ice cream. And now I believe: the best ice cream is made with an old fashioned salt-and-water cranked ice cream maker. The advice in this book is direct: you should get one.
Why? That container for your electric machine that you put in the freezer? It's filled with gel and it gets cold. But the old-fashioned ice and salt combination gets colder and freezes your ice cream faster. It is, in a word, better.
There are other tidbits of great ice cream advice here, too. Why you should steep your liquid to infuse it with powerful flavor, but only after heating the milk. The importance of ice baths to quickly cool your custard — these guys are all about temperature and making quick transitions. How to make swirls that are swirly and not muddily mangled streaks that have lost their accent.
When I do a review, I often list the best or the most exotic recipes by chapter. If I did that here, I'd simply list every darn recipe. So, let's just deal with a few ideas:
If you want candied ice cream, then there is Peppermint Pattie. Do you want something just past basic? How about Honey or Coconut Fudge?
Are there children to be pacified? Perhaps to turn the crank on that ice cream maker? Then there is Peanut Butter and Jelly, Cotton Candy, Cap'n Crunch, and Nutella.
Speaking of nuts, you can make Butter Pecan Brittle and Maple Walnut Brittle. If you like the maple idea, then there is Maple and Bacon Bark.
Adult ice creams include Stout and Pretzels, a Bourbon and Pumpkin for Thanksgiving, Bourbon with Pecan Praline and Coffee with Vodka.
This is a serious book, created by a team that is professional down to the last drop of bourbon. They love their ice cream and they are dedicated to giving you experiences that are not plain vanilla. Not that there is anything wrong with vanilla, but isn't it better with cookie dough? If you live in New York City, find an Ample Hills store. If you live anywhere, break out your ice cream machine and try Ample Hills Creamery.