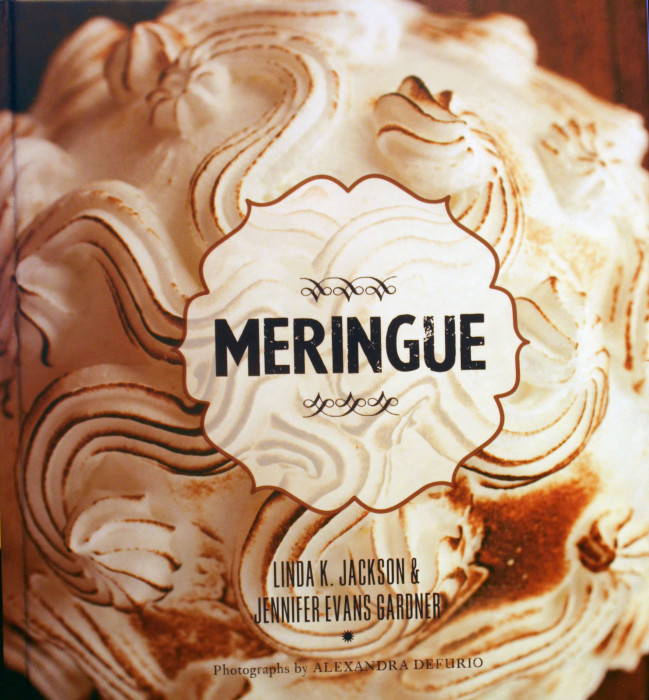 This week I'm repeating some cookbook review, the very best of the best. Meringue is an important book. It has the perfect techniques for creating meringue like you would find in Paris. And, the book is filled with lovely recipes employing that meringue. Don't pass up the chance to make the best desserts of your life. This is a very key cookbook.
Meringue by Linda K. Jackson and Jennifer Evans Gardner is a book I keep close at reach. It's a 90° turn to the right and two shelves up. I've posted five recipes here from the book:
Pavlova with Peaches and Blueberries
On Making Meringue
Coconut Joys
Alafajores con Bano Blanco: Sable Sandwiches Filled with Dulce de Leche and Covered in Meringue
Malted Milk Meringues
You can use the search box here to find these recipes, which are fun, different, and rewarding. The flavor combinations and complexity of textures, especially in the Alafajores cookies, are just magnificent. And the post on making meringue really does provide you important insights in getting that meringue just right.
I've looked at Meringue this week as a way to use egg whites left over when the yolks are being consumed in ice cream bases. With more ice cream recipes on tap, I need more meringue ideas. Meringue is a treasure trove.
I realized this week that, while I wrote about individual recipes, I never gave you a general cookbook review for Meringue. Here's the short version: buy, use and fall in love. Let me tell you why Meringue is such a wonderful book.
You can make mistakes, easily, when doing meringue. So Meringue has chapters [About Meringue and Ingredients, Tools, and Techniques] that give you the instruction you need to skirt the common problems and produce excellent results.
Chapters then follow for:
Cookies: 17 recipes ranging from the simple [chocolate chips in the meringue] to the complex [those Alafajores]
Pavlovas: 10 recipes including classic berry and a lovely Kiwi Pavlova with Lime Zest and even Cherries Jubilee
Bars, Tarts, and Pies: 9 ideas including a Sky-High Lemon Meringue Pie
Cakes, Tortes, Vacherins, and Dacquoises: 10 serious recipes including a Clementine Meringue Cake with Rosemary
Meringue Frostings: 8 ideas ranging from classic Seven-Minute Frosting to Mocha Italian Meringue Buttercream
Heavenly Creations: 8 modestly complex dishes including Baked Alaska and Praline Meringue Cups with Huckleberry Sauce to give your dinner party a triumphant conclusion
Celebrations: 11 big dishes for big days, like Passover Blackberry Pavlova and Meringue Buche De Noel
Little Clouds: 7 silly little wonders you'll love, like the Meringue Pizza
I put the recipe counts by chapter in there to reinforce a key fact about this book: the 80 recipes here are carefully sculpted. It's not "everything you could possibly do with meringue" but instead "here are some perfected examples that you can start from." The pavlovas are surely an example of this approach. Once you see the beautiful photos, you'll instantly begin to see options you can employ using the fresh, local fruits available to you. Now.
The frosting chapter is a delight. Yes, a recipe called "Salted Caramel Swiss Meringue Buttercream" may seem just a tad intimidating. But you'll find the instructions here relatively brief and easy to follow. You've never had Salted Caramel Buttercream before, have you? You want it, don't you? And here, here, is the way to get some. Actually, "some" is 4 cups worth, enough for 1 triple-layer cake or 24 cupcakes. Notice that the authors talk about a triple-layer cake, not a common double layer. That's a characteristic of Meringue: richness is adroitly edged into each and every recipe. Each offering yields not just a dish but a dessert experience.
Meringue is a book meant to inspire. Some of the recipes are sort and simple, a good way to become comfortable with meringue dishes. Other recipes are complex with layers of flavors and steps. Just have patience, follow the steps, and be prepared to pat yourself on the back. First, though, you might want to get that meringue off your fingers. It's sticky stuff and Meringue cannot do anything about that fact of life.
I consult my copy of Meringue every time I have a bowl of egg whites that deserve a decent ending. With Meringue, that ending will be luscious.