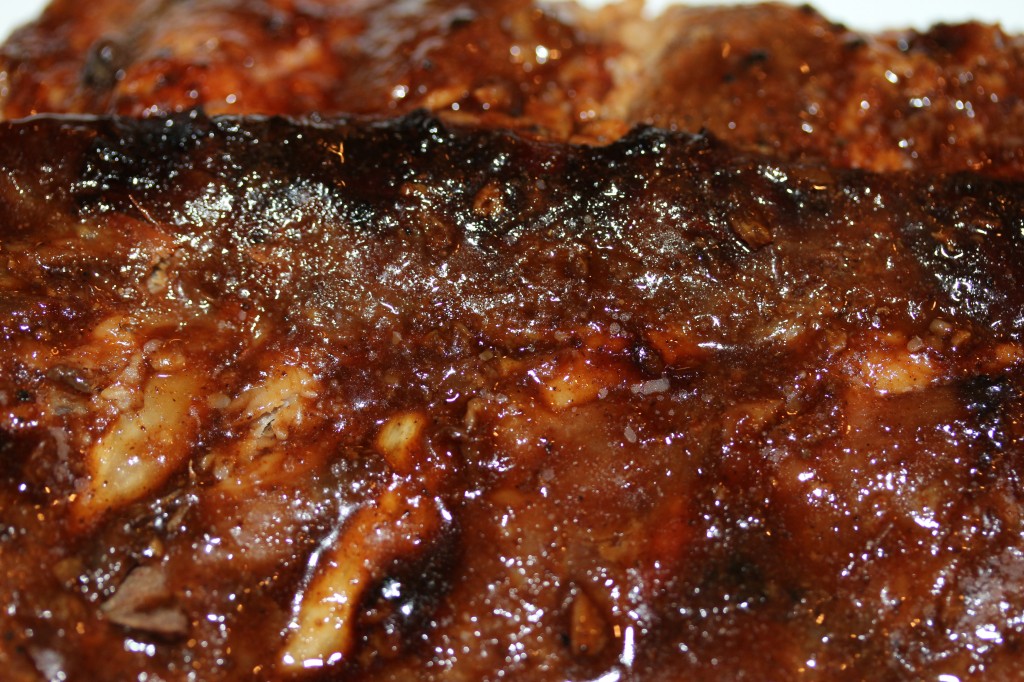 Just Grill This by Sam Zien, The Cooking Guy, is one of those books you might take a quick glance at and then just pass on by. Sam's picture on the cover of this paperback is intentionally nerdish and this clearly is one of those guy‑beer‑meat‑grill books that you might not have high expectations for. It turns out, nerdy guys using a grill can sometimes be very tasty. Not the guy. The food.
We've made several things from the book and loved them. Sam is  creative with a not-too-many-ingredients mentality and this rib recipe is an example. It's his version of those dark red Chinese ribs you love to buy but could never figure out how to do yourself. Now you can. These are restaurant class ribs.
You certainly can adjust the ingredients here. We had strong hoisin sauce from Chinatown so a ⅓ cup, which the recipe calls for, certainly gave the ribs a "hoisin" tang. When you make the sauce, dip you finger in, taste test, and make your personal flavor corrections.
Brian liked these ribs. He took the picture the night we cooked them. He insisted on the big shot above for the blog. Ya know, he's not very subtle about dropping hints.
Chinese BBQ Ribs
Yield: serves 4
Ingredients:
2 racks pork back ribs, about 4 pounds
¼ cup white vinegar
½ cup soy sauce
½ cup honey
⅓ cup hoisin sauce
2 large cloves garlic, mince
2 teaspoons five-spice powder
Preparation:
Preheat the oven to 400⁰F.
Place the ribs and vinegar in a large baking or casserole dish. Cover tightly with aluminum foil and bake for 75 minutes, or until very tender.
Mix together the soy, honey, hoisin, garlic, and five-spice powder. Set aside.
Remove the ribs from the oven and carefully lift off the foil. Watch out for the steam!
Preheat the grill to medium-high. Place the ribs, meat side down, on the grill. Baste the back with the sauce.
Cook until they start to develop grill marks and turn over. Now baste the top. Baste a bit more while they finish and then one extra basting after they've been removed and just before you serve them.
Recipe Source: Just Grill This by Sam Zien