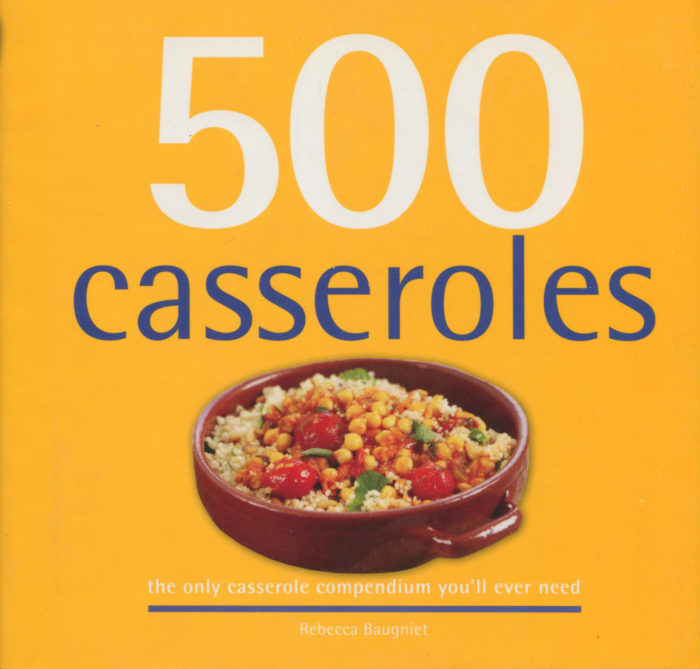 I was browsing in a bookstore, a real bookstore and not online. And I found this book 500 Casseroles by Rebecca Baugniet. The publishers, Sellers Publishing, has an entire series of books in the 500 series. I've ordered a few and I'll review them here. But, right now, 500 Casseroles is the one in my hands.
Ah, casserole. A rather tricky word. Thirty or forty or fifty or sixty years ago, our mothers and grandmothers made casseroles. Often more than once a week. Casseroles were a worknight stable. Sometimes they were made from scratch. Sometimes it was a matter of opening up a can of mushroom soup and pouring it over a baking tray of boneless chicken breasts with some rice on the bottom. And there were often breadcrumbs. We all ate a lot of casseroles and then the idea, the very word, fell out of favor.
That fall from grace is a shame and Rebecca strives with grace to remedy the situation. She explains that casseroles have a long history, dating back to France in the 1700s. Even before the popularity there, Moroccan tagine and Hungarian goulash were examples of mean and vegetables and liquid being combined into a dish that defines comfort food.
The 500 recipes are divided into chapters for:
Family Feasts
Pasta and Rice Casseroles
Elegant Fare
Meat Casseroles
Poultry Casseroles
Fish and Seafood Casserole
Vegetarian and Vegan Casseroles
Light Casseroles
Quick and Easy Casseroles
International Favorites
I'll be making some of the ideas here and sharing them with you. For today, I want to focus on that Elegant Fare chapter. You'll find a mix of classic ideas plus some fabulous new concepts to put on your table:
Paella

Osso Bucco

Coq au Vin

Boeuf Bourguignon

Rabbit Braised in White Wine

Lobster Florentine

Shrimp and Wild Rice Casserole

Risotto with Pancetta and Parmesan

Lamb Navarin
Now, to get to a total of 500 recipes, variations are presented for each of these basic recipes. For example, the basic Coq au Vin recipe uses white wine, but options are to use red wine instead, to add cipollini onions or morel mushrooms, to employ champagne or to escalate to brandy. And of course, you can do your own mix and match: Coq au Vin with those onions and the mushrooms and the brandy.
This is a clever little book, one you can turn to over and over again. The entire series will fill your kitchen with thousands of recipe ideas that can give you a lifetime of flavor. The recipes themselves are short and simple. A dozen ingredients, a couple of paragraphs for instructions on how to prepare. Fast, easy and, almost, endless.
Stay tuned. I'll let you know one casserole at a time. But, no cans of mushroom soup.