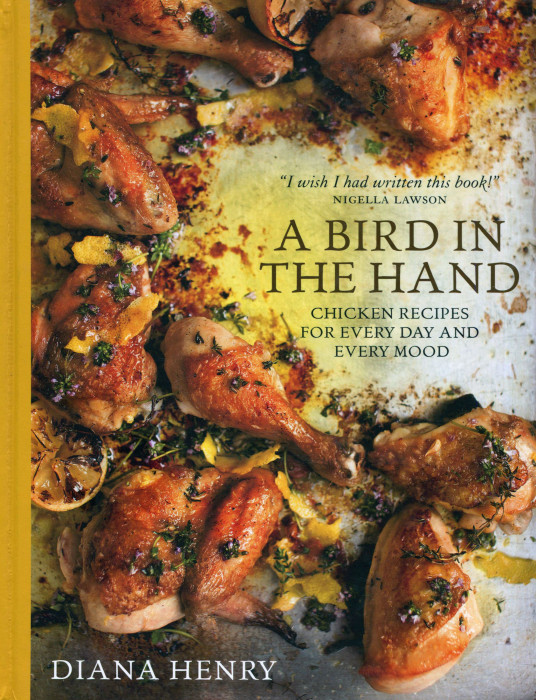 On the back of this book is a single quote: "Everything Diana Henry cooks I want to eat." That's from Yotam Ottolenghi, a man exceptionally recognized for his cooking, his recipes, and his writing.
Diana Henry is equally talented and surely as deserving of fame, better known perhaps in Great Britain than here. But her time has definitely come. With something like a dozen cookbooks in her portfolio, Diana has simply perfected the writing of cookbooks. They are ideal: in terms of recipes, writing, ease of use, style, photography, and creativity.
When I began to leaf through this book, I immediately understood Yotam's statement. I, too, want to make everything in this book. If you were headed to that desert island, or a year in Antarctica, and could only take one savory cookbook, then this just might be the book.
It's a chicken book. Okay, I know, "tastes like chicken" can be a phrase of praise or a damnation. This book is one you will praise.
To be very clear, Diana has two strategies for dealing with chicken boredom. She can surround it with flavor or she can infuse it. There are both styles of recipes here, using her expertise of cuisines from around the world. Here are some sample recipe ideas:
Chicken Legs in Pinot Noir with Sour Cherries and Parsnip Puree

Bourbon and Marmalade-Glazed Drumstick

Chicken with Marsala, Olives, and Blood Oranges

Buttermilk Chicken with Chipotle Slaw

Chicken, Bacon, and Potato Salad with Buttermilk and Her Dressing

Lemon and Pistachio Chicken

Roast Chicken, Garlic and Potatoes in the Pan with Watercress, Cashel Blue and Walnut Butter

Indian-Spiced Chicken with Cilantro Chutney

Chicken, Leek, and Hard Cider Pie with Sharp Cheddar and Hazelnut Crisp]

Hot and Sweet Lime Chicken Wings
That first recipe is an example of the "surrounding" strategy. The chicken itself is happily flavored by the wine but the cherries and parsnip puree make for a complex plate of flavor, color, and texture. The last recipe, the Hot and Sweet Lime Chicken Wings, has you let the chicken marinate for hours, so the flavors penetrate. The cooked wings are an amalgam of meat penetrated with the zing of red and green chiles, garlic, ginger, and lime marmalade.
The book's chapters take you on a very diverse culinary journey. What day of the week is it? Do you have a lot of time to cook or are you rushed? Diana has a solution for you:
Suppers offers dishes readily prepared for every night of your busy week
Spice Route suggests ways to make chicken taste, well, extra flavorful [it's curry and lemongrass territory!]
Main Attraction suggests pathways for Sunday dinners or posh parties
Chooks, Shoots and Leaves provides new avenues for the venerable chicken salad [that Chicken, Bacon and Potato salad]
Summer and Smoke introduces new concepts for barbequing and grilling [that Indian-Spiced Chicken]
Pure Comfort puts happiness right on your table [those Hot and Sweet Lime Wings]
Remains of the Day lets you employ leftovers for another round of great meals [that Chicken, Leek and Hard Cider Pie
There are several reasons to immediately grab any book by Diana Henry. First, the recipes are delicious. I can personally attest to that. Second, you can make them successfully, for they are written for mere mortals. You don't need a CIA education to achieve excellence. Excellence is literally baked into each recipe.
My third, and last reason, for recommending Diana's books is the creativity evident on each page. Recipes ideas are here from around the world, offering you to try both new techniques and new ingredients. With the beautiful photos in this book, you receive irresistible invitations to bring some chicken home.
It would be easy to use A Bird in the Hand once a week. It would be hard not to.