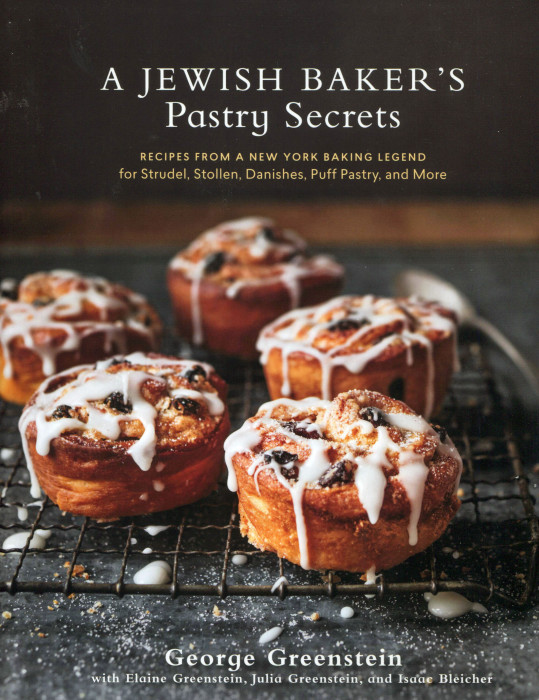 For over two decades, George Greenstein operated a bakery on Long Island that was loved. No, it was adorned. George's repertoire was not just Jewish classics reflecting his Eastern European heritage. His shop offered breads from around the world: focaccia, Irish soda, Bavarian pumpernickel and sweet Portuguese treasures.
His recipes were bound into Secrets of a Jewish Baker: Recipes for 125 Breads from Around the World in 2007. It deservedly won a James Beard award.
Sadly, George passed away four years ago. Happily, his family went through his papers and discovered recipes. Lots of recipes. They have assembled them here in a second book, A Jewish Baker's Pastry Secrets. It's quite a heritage.
Because George died and could not bake his ideas for photo shoots, this baking book is unusual: there are no full page color photos here. You read the recipe titles and you let your imagination trigger the flow of saliva.
In many ways, this is the ideal book for those of you who dream of opening a bakery or a successful home baking business. The organization reflects the way a business operates. Different styles of basic dough are presented and then multiple ideas for how to take that dough and augment it into a final product.
For example, the Babka chapter begins with a rich, fundamental babka dough recipe. But the spinoffs will keep you busy for a month:
Cinnamon Babka Loaf

Babka with Three Chocolates

Cheese Babka

Fruit Babka

Hungarian Walnut Loaf

Polish Easter Bread

Cinnamon-Raisin Russian Coffee Cake

Hamantaschen
Where does one begin?
Beyond babka, there are chapters for:
Bundt
Strudel
Guglehopf and Portuguese Sweet Bread
Puff Pastries
Charlotte Dough
Danish Pastries
George was, by all accounts and many fond memories, simply a baking genius. Thousands and thousands of people visited his store and loved his products. Here, you get those very wonderful recipes. They have been carefully preserved, are clearly written here, and will gracefully lead you to pastry success. This book is a culinary treasure chest. Academically, it captures with authenticity past centuries of pastries that span many cultures. Practically, it will make your kitchen warmer, happier, and a fountain of memories for your family and friends.
If you bake, if you have some of those kitchen memories, or if you want to learn from a master, then look for A Jewish Baker's Pastry Pictures. Take pictures! Post them!