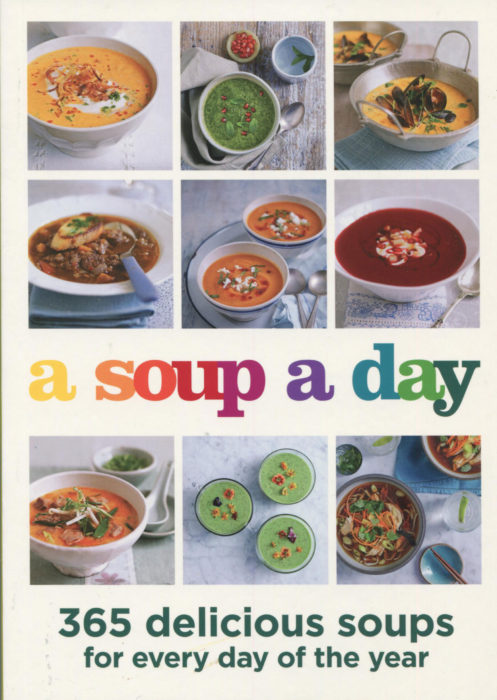 If you want to find the perfect pair of adjectives for this book, it's these: clever and handy. "Soup" is one of those words that we take too lightly. Soup means one of those red and white cans in the soup aisle. Or, if we are adventuresome, one of the blue and gold ones.
We take soup for granted, that "oh well I guess I'll just have some soup" attitude. Soup can be glorious and around the world that glory comes in a myriad of styles and flavors that can take your breath away. The editors at Hamlyn have compiled this collection of soups, 365 of them [leap year is ignored, I'm afraid]. The ideas span the globe:
Tomato and Balsamic Vinegar

Cheesy Cauliflower and Cider

Red Chicken and Coconut

Pea, Lettuce and Lemon

Split Pea with Chorizo

Spice Lamb and Sweet Potato

Honey-Roasted Parsnip

Mint, Cucumber and Green Pea Soup

Caribbean Pepper Pot
I was scanning the book and I found those most interesting ideas. In the first 100 recipes. There are another 265 to go and I'm sure many more ideas will pop up as "gotta try ideas."
The authors have taken great pains to present soup on a global level. There are English ideas, of course, because Hamlyn is a British publishing firm. But there are solid American ones too and Caribbean and Italian and Asian. Some are spicy, some mellow. Some vegetarian and some quite meaty like this Venison, Red Wine and Lentil soup: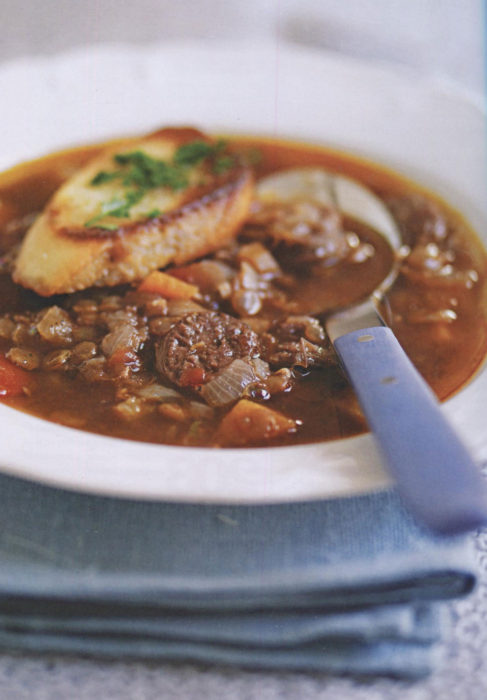 You need venison sausages for that one and I'm going shopping tomorrow to track some down. This book will probably ride along with you in the car. You'll be doing some exploring for main ingredients or spices. And you may just find yourself dedicated enough to make your own beef or veggie stock to make sure you secure all the authenticity you can.
This book is filled with ideas. You probably won't finish it in one year, but what's the rush? Soup is meant to be savored and even treasured. This book is a treasury of recipes you'll enjoy forever.