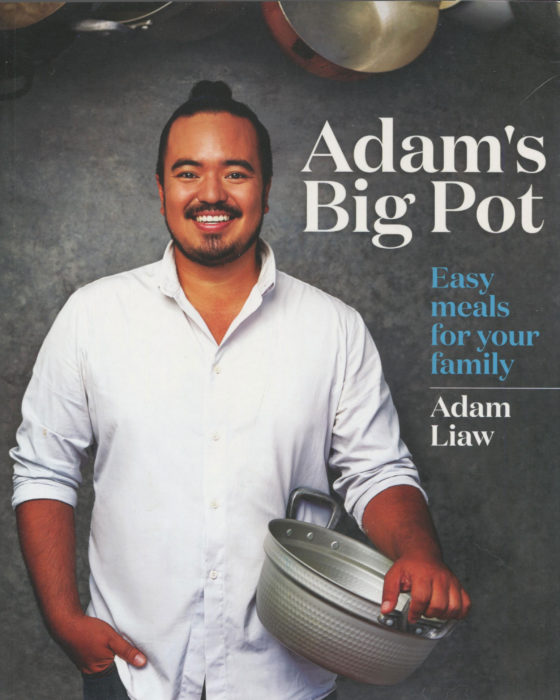 Sometimes you meet a really good lawyer, like Australian Adam Law. Who, to everyone's joy, turned from law to cooking. Author, tv personality, and chef, Adam's personality is on display in the cover of his new book: Adam's Big Pot. Look at that smile. He's proud and he should be. This book goes on sale next week, August 1, and you'll want to stand in line or place an advance order now.
The whole law school thing and career were, in retrospect, unnecessary. When he was eight years old, Adam prepared this dish for his family: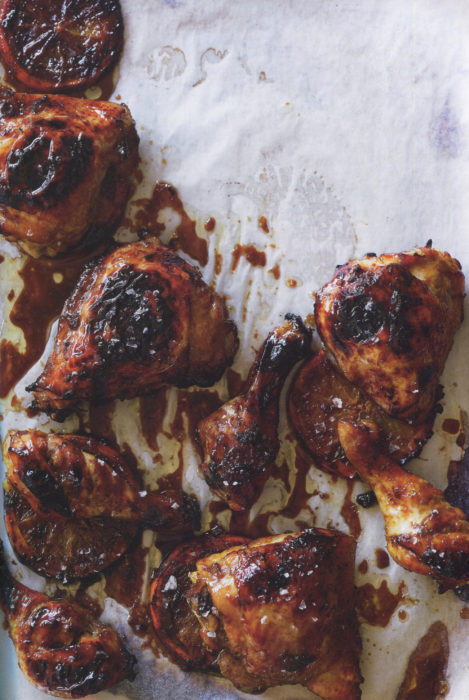 That is Orange Baked Chicken and, thank goodness, the recipe is in the book. Adam's Big Pot has a subtitle: Easy Meals for Your Family. Big meals for mom and dad and a couple of kids. Or, or, a great meal for you with luscious leftovers for busy weeknights. Although, when he says "easy meals" Adam means it. On a Tuesday night, home from work, you can knock off these meals easily and avoid that phone call to the local pizza place.
This food is better. And healthier.
Like many Australian writes, Adam's portfolio is eclectic. Australia really is a "new world" so chefs there borrow from food cultures around Asia and the Asian-influenced enclaves like South Africa. You'll find contributions here from China, Japan, Korea, and Vietnam. Some of the bountiful ideas awaiting you include:
Prawn and Grapefruit Salad

Roasted Pumpkin with Coriander

Sesame Salmon Salad

Garlic Miso Chicken

Chinese Chicken and Corn Soup

Tuna Tataki Salad

Vietnamese Chicken and Mint Salad

Lamb Kheema Curry

Thai Grilled Chicken [lemongrass and fish sauce and coconut milk!]

Lamb chops with Chilli, Garlic and Lime
Recipes are organized in this book in a decidedly clever way. Not by course of the meal or food type. No, it's by cooking device. Chapters are titled Big Bowl, Big Wok, Big Pot, Big Pan, and Big Dish. So, pick your instrument!
Ah, but where actually to begin? Not easy to decide. Not easy at all. There is a modest problem: the photographs. This is one of the most beautifully illustrated cookbooks I have ever seen. With high paper quality and superior inks, the photos are vibrant and seductive. They shine and invite and it can be darn confusing about which dish you make first.
Me? I already have orange juice. I'm buying chicken and this weekend we are doing that Orange Baked Chicken. I'll share the recipe with you, but you are going to have to shop and cook on your own. When you have Adam's Big Pot in your kitchen, you will be returning to it over and over again. Delightful.