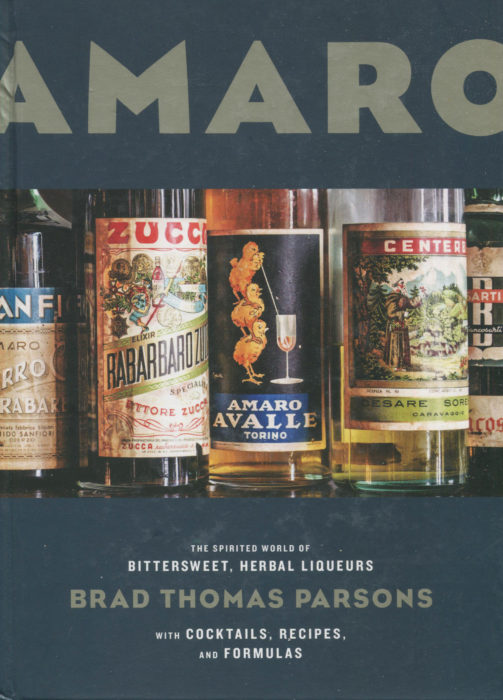 Armaro is a bitter book. It needs to be. Amaro, or the plural amari, is a class of liqueurs first developed in Italy. They are aromatic, herbal, bittersweet [and that's an understatement] beverages originally designed to be a digestive after a meal.
I have an Italian friend with an assortment of amari. When he first offered me a digestive, with a smile, I smelled. I rebelled. I have now graduated to taking a sip or two and, and, I have begun to understand the magic of these drinks. In a good US liquor store, you might find a couple of dozen amari. In Italy, there are hundreds, each enfogged in the mystery of their own secret ingredients.
Amaro gives us the history, the rationale, for these beverages. There is a short chapter on the Italian wonder of late afternoon cocktails with these elements. You know this as Apperitivo and the Aperol Spritz is the signature cocktail.
There are other lists of cocktails: Essential Amaro Cocktails and Modern Amaro Cocktails. Essential means beverages that you can easily slip into. Like the Jungle Bird: rum, pineapple juice, Compari [the most famous of the amari], lime juice and simple syrup.
The Modern ones? Oh, golly. Here's one called the Mustache Ride: bourbon, Cynar, lemon juice, St. Elizabeth Allspice Dram and something called Joey Sunshine's Maple Simple Syrup. That syrup? It's maple syrup, water, peppercorns, fennel seeds, cloves, allspice, nutmeg, anise, and a bay leaf. Not a simple concoction for us to assemble.
There are almost 100 of these modern ideas. Not all of them this complex. But all of them a bit demanding by requiring some exceptional ingredients: a bitters or an amari that are not commonly found. But the task of finding them, the glory of mixing, and joy of imbibing will surely give you pleasure.
Where do these cocktail ideas come from? From Italy, for sure. But more and more from the mixologists here in the US and across the world. There is a small section in the book devoted to making your own amaro, a project you may well wish to consider.
Besides drinking it, you can eat it. There is a chapter, The Bittersweet Kitchen, with ideas like Amaro-Spiked Milkshakes, Fernet and Coke Ice Pops and Amaro-Spiked Mulled Hot Apple Cider.
Your life will become more bitter thanks to amaro. And you'll enjoy it. With every sip. Or every bite. Yes, there is Amaro Spiked Whipped Cream. I'm trying that this weekend for my hot chocolate!
That Jungle Bird cocktail? I'm posting that one tonight.