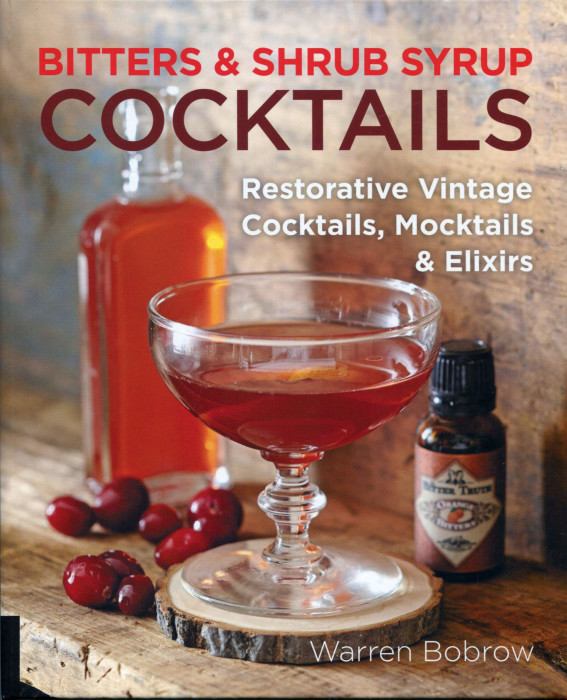 And now there are three. In previous posts here I have covered books devoted to Bitters [by Brad Parsons] and Shrubs [by Michael Dietsch]. Now we have Bitters and Shrub Syrup Cocktails by Warren Bobrow, the accomplished author of Apothecary Cocktails and Whiskey Cocktails from Fair Winds Press.
If you have the earlier Bitters and Shrubs, do you need this book? Oh, yes, yes, for Warren takes you on totally different flavor adventures. An expert on cocktails, their ingredients and their history, Warren is an unsurpassed voyager in fashioning new and often complex flavor combinations. He has traveled, sampled, and experimented to create not only his own bitters and shrubs but matching cocktails — both alcoholic and non — that make full use of these potions.
Warren's new paths in this book include:
Savory shrubs, not just the fruit and berry versions you may have enjoyed
Quick shrubs, that can be made in a day or even right on the spot
Cooking, not just cocktails, with shrubs, bitters and gastriques [all explained below]
Here are some of the shrub combinations awaiting you:
English Pea and Mint

Grilled Peach and Thai Basic

Heirloom Tomato, Pear, and Sage

Lemonade and Beet Juice

Nectarine, Celery and Black Pepper

Parsnip, Carrot, and Fennel
What do you do with Heirloom Tomato, Pear, and Sage Shrub? You reach for your best bottle of gin and some seltzer water for Warren's Chances in the Fog Cocktail. The Parsnip, Carrot and Fennel Shrub has enough flavor punch so you don't need alcohol for refreshment; just add some water, lemonade and dash of honey.
These shrub recipes, sometime involving some cooking as in the Grilled Peach and Thai Basil gem, do take the shrub adventure down completely new paths. I've made a shrub with strawberry and black pepper and thought I was being wild. Here the combinations can only be described as exotic.
Have you ever heard of gentian? It's a plant often used to make bitters — as well as the soda drink Moxie. Warren wants you to use gentian extract when you assemble his generic bitters, one he titles Raw Honey Aromatic. He says it is a little sweet and a little spicy. I'm sure that "little" is in the eye of the beholder here because his ingredients include: cinnamon, Thai chilies, nutmeg, Chinese five-spice mix, star anise, fennel, cardamom, Spanish sherry, honey and clear grain alcohol. You mix, store for two months, strain and use — employing it in cocktails, of course, but also in chowders, salad dressings, literally anywhere you want a "little" dash of sweetness and spice.
Shrub making often involves a process of letting fruit macerate in sugar for a couple of days, then adding vinegar, and maybe waiting for a final journey through a sieve. It's not instant. Which is why the chapter on Quick Shrubs is so helpful. Here are ideas that can be done in a day or so. Or even quicker. You can take fruit jam, add vinegar to "achieve" your shrub, and then add some rum or other alcohol to "finish" your cocktail. From ingredients to shrub to cocktail in a minute or less!
If you quickly make a shrub using heat, you have what the French term a gastrique. And that sauce can be used to fashion dishes layered with contrasting flavor. Warren offers a Grapefruit and Blood Orange Gastrique with Grilled Divers Scallops. If you have a sweet tooth — you do have one, right? — then you could finish your meal with Coffee Gastrique dribbled over vanilla gelato. The gastrique is a reduced combination of coffee, maple syrup and vinegar. [I suppose you could enjoy this dessert with some expresso but only if you need to pull an all-nighter.]
Bitters & Shrub Syrup Cocktails is a serious and delicious contribution to cocktail libraries. There is genius and ingenuity on these pages. Don't miss it. And don't think anything can't be made into a shrub.