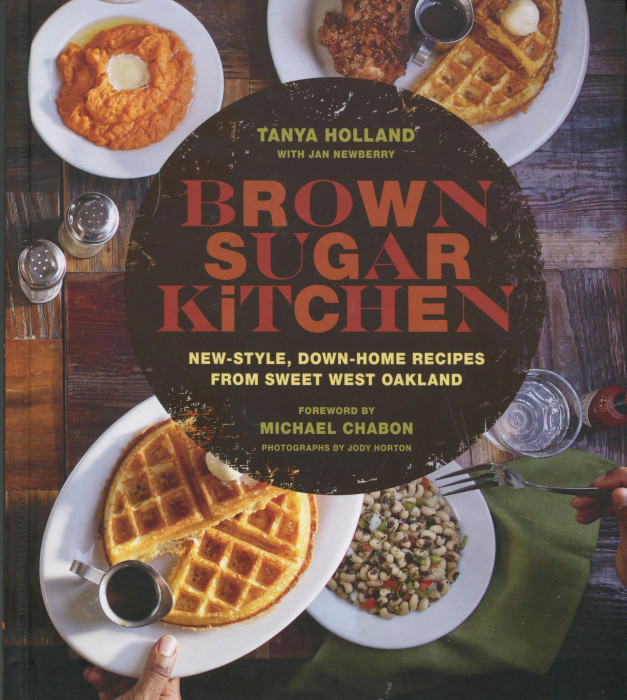 Like soul food? Interested? Want the very best? Read on.
For a too short time a few years ago, Tanya Holland worked at Cooking by the Book. She was one of the culinary advisors central to our hands-on culinary program. Here, corporate groups come into our kitchen, divide into groups, and each group has a culinary advisor to help them with one dish of a three-course meal. Their cooking finished, the corporate folks retire to the dining room to eat. We clean up the kitchen.
As an advisor, Tanya did not do the cooking for her team. The team, the people in suits did — we do let them take off their ties. But she was there to help, answer questions and provide insurance. We want our guests to have exceptional food. That means our advisors have to be both accomplished chefs and articulate advocates for cooking techniques and insights. We loved how Tanya could help a team work through a complicated dish to culinary success. She obviously has powerful communications skills and culinary insights.
We loved that. We hated when she said she was off to California. We wished her well, though, expecting success. She was venturing to San Francisco we were told, a bistro in her future offering steak frites and bouillabaisse and all the classics she learned cooking in France. She does happen to know the foods of North Africa and the Caribbean and the American South as well. That turned out to be very important.
Maybe all that knowledge just slowed her down. She did not get to San Francisco. Close, but she stopped on the other side of the Bay. In West Oakland, in an industrial area with neighbors like a forklift company and an auto repair shop, she opened a soul food kitchen. If you ask how it's going, just look at the lines out the door. She's got a second restaurant now very close by. She may never get to San Francisco, but then she really doesn't need too.
If you combine Tanya's talent, a soul food background, and California ingredients you get a recipe portfolio of distinction.
Her Brown Sugar Kitchen first opened for Breakfast and Brunch with offerings like:
Virginia Ham and Fried Apple Croque-Monsieur

Grits Eggs Benedict

Sweet Potato and Kale Hash

Chicken-Apple sausage Cornbread Pudding
If breakfast is too early for you to drive over the bridge, wait for lunch with the Snacks & Salads:
Cornmeal-Coasted Okra Bites

Black-Eyed Pea Salad

Romaine Sal with Spring Vegetables and Cucumber-Buttermilk Dressing
Any Southern table is graced with Vegetables & Sides that come directly from the garden. In Oakland, Tanya can use all the fresh and local abundance of Northern California:
Okra Peperonata

Green Chile-Harissa Potato Gratin

Herbed Mushroom Spoon Brad

Baked Sweet Potato Wedges
If lunch for you is just Soup & Sandwich, then you might choose from:
Creole Gazpacho

Vidalia Onion Soup with Cornbread Croutons

Fried Oyster Po'Boy
There are Large Plates & Big Bowls for dinner. Here Tanya's world experience is on full display:
Bayoubaisse

Blackened Catfish

BBQ Braised Smoked Tofu with Roasted Eggplant

Jerk Baby Back Ribs with Pineapple Salsa
It can be a challenge for a restaurant to be great from appetizers all the way through dessert. Here Tanya is sure you will not be disappointed. Sweets includes:
Bourbon-Hazelnut Truffles

Caramelized Banana Pudding

Coconut Chess Tart

Pineapple Upside-Down Cake
Any meal needs some accompanying liquid refreshment. In the Drinks chapter the beverages are packed, with spice or sweetness or both:
Strawberry Lemonade with Lemon-Infused Sugar

Ginger Beer

Brown Sugar Sangria

Smoked Butter Rum
After her husband, Tanya's abiding love is for food. The recipes here are studded with her adornments. Little extras abound. Little tips and ideas that take each dish to another level. For example, to make the Strawberry Lemonade just a bit extra sour, it is made with lemon-infused sugar that has been prepared the day before. The result? You don't get that rush of pure sugar sweetness you would be adding granulated sugar right at the end. Instead there is an added level of lemon tartness that snuggles in with the strawberry flavor — look for the recipe in the coming week!
Brown Sugar Kitchen is carefully, artfully written. If you know soul food, you will be on familiar turf. If you don't, you are about to be inducted into a culinary world you'll always relish. And, if you are ever in West Oakland and see a forklift place, do look down the block. That line of people isn't for the forklifts or for tires. It's for food, great soul food from an expert chef.