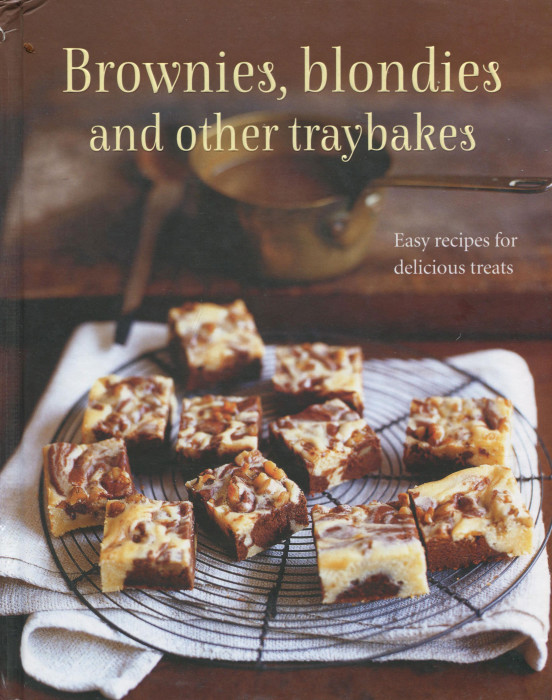 Do you have a shelf devoted to brownie books? I do. My grandmother encouraged me to bake and, after beginning with chocolate chip cookies, as a kid I was creating brownies at least once a week. If you do the math, I've baked a few thousand batches of brownies in my life. And I don't own a bakery.
I wish I did.
Brownies occupy a very special niche in the baking world. You often hear that there is huge separation between cooking and baking. Cooking gives you leeway. Baking is chemistry. You MUST follow the recipe or disaster awaits: a cake that is just one inch high, a cookie that is a chewy as fudge.
Ah, a fudgy cookie. Perhaps, a fudgy brownie. Brownies are special. You can vary the recipe all over the place, generating something radically different and it is always successful: a new brownie type that you cannot help falling love with.
This important cookbook — Brownies, Blondies and Other Traybakes — is both a delightful and important contribution to my brownie bookshelf. It's the best brownie cookbook in a decade and one you want to have in your kitchen. And cook from. Multiple times.
This is one of the cookbooks produced by Ryland Peters & Small, a prominent British publisher who often produce books written by teams, not single authors. This is one of those "authorless" books that will leave you wishing you knew who to thank. There are so many recipes here that will bring you cookie glee.
And that includes those "traybake" recipes? That's a British term for what we Americans call a bar cookie: a sheet pan filled with batter and then cut into pieces, large or small depending on your patience and sweet tooth.
The bevy of recipes here are new, different and delicious. And rich, intensely chocolate rich. The very first recipe in the book is for Chocolate Fudge Brownies. Why is this recipe different? The "standard" brownie recipe, from Maida Heatter, has 1 stick of butter, two ounces of chocolate, 1 cup of sugar, 2 eggs, and ½ cup of flour. Those are the proportions you see over and over again.
Not here. The Chocolate Fudge Brownies have 2 ½ times as much chocolate and half the flour, half the sugar of that "standard." Yes, I'll post the recipe later this week so you can get all the details. The important fact here is that "Fudge" in the name. These are not cake brownies at all. "Fudge" is perfectly descriptive.
What other recipes are here to tempt you? Consider:
Butterscotch Brownies

Choc Choc Rum Brownies

Coffee Blondies

Gingerbread Brownies

Half Blondie, Half Brownie [no butter, just cream cheese!]

Salted Caramel Brownies

Lemon Squares Topped with Sliced Fig

Honey, Toasted Pine Nut and Pumpkin Seed Flapjacks with Chocolate Topping [it's a cookie, not a pancake!]

Macadamia and White Chocolate Blondies
Long ago I gave up my prejudice against blondies: "There is no chocolate there." No, blondies can be flavor packed and the Butterscotch and Coffee versions here will bring you complete cookie satisfaction. And that last one, Macadamia and White Chocolate is a classic that will have you baking double batches. It's a lovely holiday treat.
This book is beautifully packaged with excellent photographs and carefully written recipes. There is nothing "hard to do here" at all. The recipes are modestly complex, often having an extra ingredient or two — coffee powder or crystallized ginger or pine nuts or sour cherries. While you may not often frost your brownies, here the recipes often encourage you to top your creation with a layer of something — frostings, glazes, or melted chocolate. Or just a dusting of cocoa powder. Or an insertion of syrup made with Baileys liqueur. Something to transform a very good cookie into something very special.
Every turn of a page brings you to a new brownie avenue that intrigues you. This post closes with a picture of the Butterscotch Blondies. I can't think of a better way to begin using Brownies, Blondies and Other Traybakes. My guess is that, once you start, you won't stop. You will bake every recipe in this book. And then repeat. It's that delicious a book.