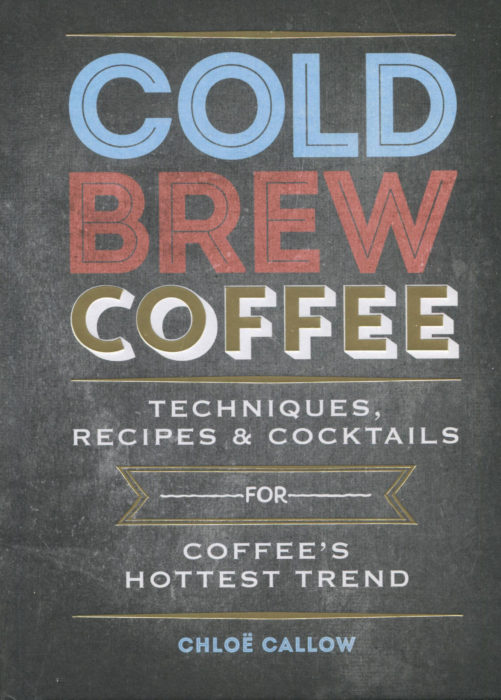 You can't have a cold, steaming cup of coffee. You can take the hot stuff and add ice, which dilutes it of course, and get to iced coffee. Now there's a way to get cold and undiluted. It just takes a little time, like 18-20 hours.
What's going on? It's cold brew coffee, a phenomenon you probably have seen somewhere on your local streets. What cold brew is and how to do it are fully described in Cold Brew Coffee by Chloë Callow. The subtitle here is Techniques, Recipes & Cocktails for Coffee's Hottest Trends. I like the "hot" pun and anything to do with cocktails attracts my eye. And cocktails there are!
This book divides in half. There is a set of chapters:
Why Cold Brew
How to Make It at Home
Tips & Essential Know-How
These provide 50 pages of background. And then come fifty pages in the chapter:
Cold brew coffee is coffee brewed with cold water. The idea originated in Japan back in the 1600s, perhaps, it is thought introduced by the Dutch traders then exploring Japan. We don't know the details. We do know that cold brew made it to the US only in the past few years and is now exploding. Some folks are trying it for a whim and some are becoming advocates.
Water, of course, is used to make coffee. Those hard coffee beans, or dry grounds, are more soluble in hot water than cold, so longer time is needed when using cold water. There is an ongoing discussion about the caffeine content: lower or higher with cold brew? Chemists are testing away.
How to make cold brew at home? There are a variety of techniques with accompanying "gear" to get the job done. Like a cold drip coffee tower where your cup of coffee is made 1 drop every two seconds. There's an immersion method that makes a cup in 24 hours. Not quite instant coffee. Other methods can take a mere 6 hours.
I think these timelines reflect the Japanese origins here. Patience. A little Zen. Perhaps some meditation. It's quite the opposite of our usual attitude toward coffee: the buzz, the high, the need for a fast-paced charge through life.
There are discussions here on storage and water and more, but let's turn to the recipes that let you enjoy your cold brew once it has arrived. You can just drink that cold brew, or you can employ it in these beverages:
Cold Brew Negroni [yes, gin and vermouth and Campari plus cold brew]

Cold Brew Old-Fashioned [sugar and bitters and whiskey plus cold brew]

Sake Coffee Spritz [sake and sparkling wine plus cold brew]

Hard Shake [bourbon and ice cream and chocolate bitters plus cold brew]

Espresso Gin and Tonic [you get the idea]

Coffee Caipirinha

Coffee Punch

Cold Brew Ice Cream Float

Coffee French Toast

Spicy Coffee Hollandaise

Sherry and Cold Brew Zabaglione

Bourbon Coffee Sauce
I've listed many recipes here to give you some insight into an insightful book. You don't have to drink your cold brew straight up. You can make a variety of interesting beverages, some with booze and others with ice cream. [You could do both!]
Imagine a breakfast starting with a Coffee Caipirinha, then some Spicy Coffee Hollandaise on your Eggs Benedict, dollops of Sherry and Cold Brew Zabaglione a fruit dessert. And a long pause over a Coffee Punch. [Yes, you can drink before and after.]
Cold brew coffee is bursting into our lives. Cold Brew Coffee explains why. And does so in a lovely, enticing way.