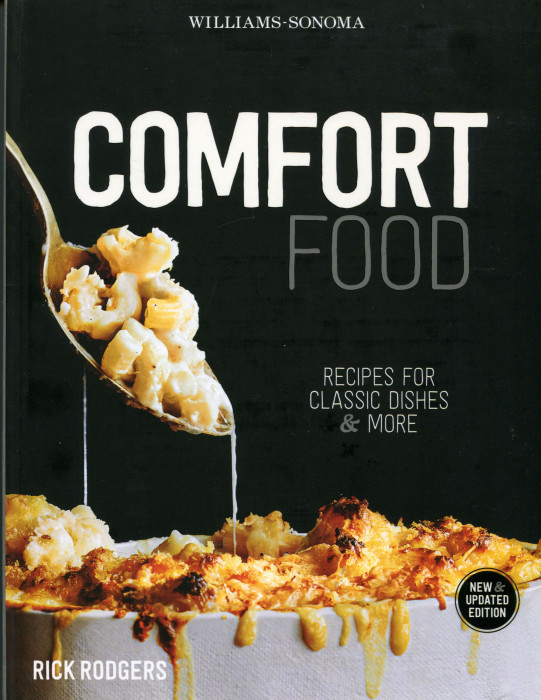 Rick Rodgers may just be the most prolific cookbook author around. Go to Amazon, take a look and you'll find dozens of books spanning more than two decades. He's an All-American author, writing for the main stream, a main stream that belongs to all of us.
Comfort food is the heart of his recipes and, in fact, this book, Comfort Food, hit the shelves just a few months ago packed with more of his signature homey recipes. Rick does have comfort food cookbooks that are designed for breakfast, so in this one he begins with lunch and works towards midnight.
Our culinary world has grown and the span of "comfort food" now includes many dishes that we may not have had as a kid. But, we can enjoy them all now, dishes from around the world as well as around the corner. These are, obviously, simple dishes, but Rick does dress them up. There's no "open the can and heat it up" here. You really need to do a little work, but you will achieve great comfort as the result.
Here's a sampling of chapters and recipes:
Lunch does not have to be a fast food fiasco. Rick tries to enlist your kitchen participation in preparing:
Crab Louis

BLTA Sandwiches [as in A for avocado]

Ham & Gruyere Croque Madam

Ricotta and Spinach Calzone

Vegetable, Corn, and Black Bean Chili
Before dinner, there may be time for Starters. In fact, there needs to be time for starters like:
Jalapeno Poppers

Sausage-Stuffed Mushroom

Crispy Corn Fritters

And, of course, Roasted Buffalo Wings with Blue Cheese Dip
There are a herd of Dinner recipes with suggestions from near and far:
Chicken Piccata

Buttermilk Fried Chicken

Shepard's Pie

Carne Asada Tacos

Baby Back Ribs

Fettucine Alfredo with Roasted Cauliflower

Garlicky Shrimp Scampi
Rick knows that Sides are an essential component of a comfort food meal. Often, when we are asked for our favorite comfort food dishes, one of these will appear:
Garlic Cheese Bread

Buttery Mashed Potatoes

Collard Greens with Bacon

Creamed Corn

Roasted Butternut Squash with Brown Butter and Sage
The final chapter is of course devoted to Desserts, from American classics to some Caribbean and British delights:
Mile-High Lemon Meringue Pie

Peach Cobbler

Coconut Cupcakes

Dark Chocolate Brownies

Pineapple Upside-Down Cake

Real Butterscotch Pudding
No, none of these recipes is going to surprise you. Many of them should be familiar, precisely because they are the comfort foods that we share in our culture. What is important here is that in one volume, Rick has captured all these classic foods that we gravitate to. If some night you just want "comfort food" but you can quite think of what to do, then Comfort Food is there for you.
And it is there with really strong recipes. Suzen and I have tested the Baby Back Ribs and Dark Chocolate Brownies, brownies stuffed with extra chocolate chips. We do have leftovers, but Suzen is addicted to the brownies and guards them and eyes me suspiciously. I feign indignation and just check my stash of leftover ribs. And the very sweet sauce that makes them lick-your-fingers sticky. To heck with the chocolate chips!
Look for our posts here for these two recipes. And, do yourself a favor. Why strain over what to make at the end of a long day. Comfort food is what you need, and Comfort Food is what you should get.