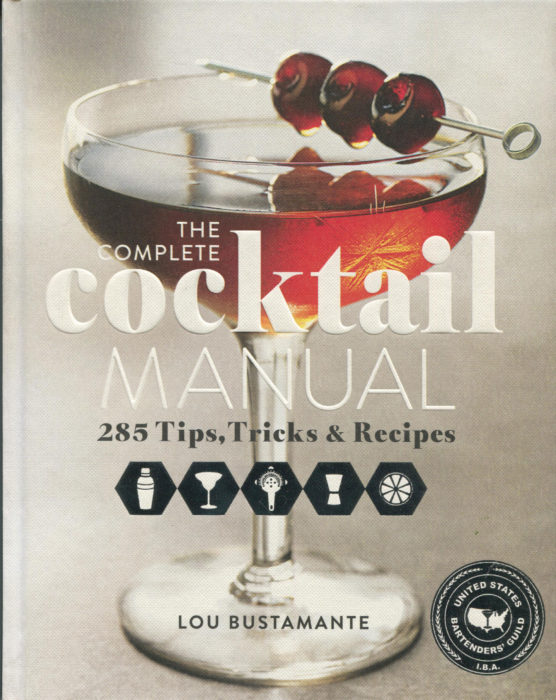 This is not your ordinary cocktail book by any means. That subtitle tells you why: 285 Tips, Tricks, and Recipes. There are lovely cocktails recipes here to be sure. But it is those tips and tricks that will turn you into a serious mixologist. Author Lou Bustamante grew up wanting to be a mad scientist. Luckily for us, he upgraded to spirits.
Here's item #125 in that compendium of 285: Recruit Some Fruit. Suppose, Lou asks, you want a fruit-flavored, resort-vacation, cruise-ship daiquiri, not just the bland blender thing you sadly sip in most bars. Lou explains that your white rum needs to be complemented by both frozen fruit and fruit liqueur, plus simple syrup. You need the boost of an intense liqueur and the flavor enhancement sugar always supplies. I've used Lou's recipe and I'll never drift away from this perfect fruit gem.
This book is packed with facts, figures, history, and humor. Ah, the figures. There is a full page diagram there that steers you to the right cocktail. Alcohol levels, and the resulting impacts on you, can vary widely. So, if you are going to drink, do you need to be alert to win a video game or can you be a little laid back because you are about to a movie-watching couch potato? The chart has 19 cocktail recommendations for you ranging from the Mai Tai to the Lemon Drop.
One of those drinks is sure to surprise you, The Baudin. Lou combines gin and vodka plus lime juice, regular bitters, grapefruit bitters, simple syrup and lemon peel. The surprise here is mixing gin and vodka in the same beverage. There are gin cocktails and there are vodka cocktails, but never the twain shall … Oh, they DO meet. They do mix and it is delicious.
There is a passion for authenticity in The Complete Cocktail Manual. A Pisco Sour? You really want Peruvian lime juice, Lou says. And, since that may prove difficult, you can default to key limes. Want to make a very special pisco sour? Try the Maracuya Pisco Sour with passion fruit purée.
Want a distinctive margarita? There's a famous one from San Francisco made with premium [100% agave] tequila, lime juice, and agave simple syrup. No triple sec, none at all. Let us say the drink has a snap to it that those silly commonplace margaritas cannot begin to compete with.
I could go on and on. There are lots of ideas here. Actually 285. And you want every one of them in pocket and in your glass. You don't have to be a mixologist or bartender to use this book, but you will become one!