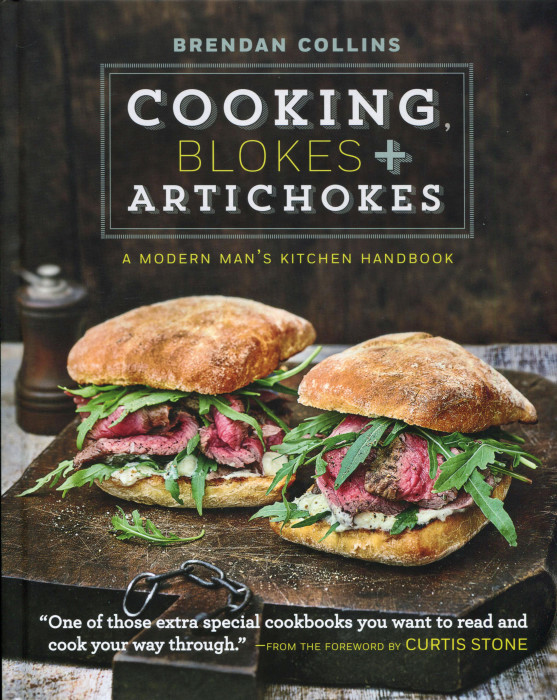 The subtitle of this book is A Modern Man's Kitchen Handbook. And that is just what this lively book is. Oh, it is lively. Author Brendan Collins started life in England, worked as a kitchen slave with buddy Curtis Stone, and has now migrated to lovely California. He has 23 years in the kitchen and is happy to express strong opinions in this book. So, you'll see an f-bomb or two here warning you to NOT burn the marmalade.
Brendan now has a constellation of three restaurants in Los Angeles and he busily bounces among those kitchen. In this book, he strives to pitch a very practical philosophy: cookbooks and recipes should be targeted towards good food easily prepared in home kitchens. He knows that exotic restaurant kitchens too often resemble science labs. And he knows those exotic kitchen concepts, while catchy, are things we are not going to make at home. We don't have the skills, the equipment, the training or the time.
But, we still need to eat, and eat well.
So Brendan offers an array of interesting, tasty, and most do-able recipes like:
Dead-Easy Pork Ribs with Palm Sugar Glaze

Potato and Parsnip Gratin

Roasted Winger Vegetable and Burrata Salad

Sweet Chili Marmalade

Spice Lamb Shanks [the picture at the end of this post]

Lamb Belly with Mint Sauce

Sticky Toffee Pudding

Chocolate Marquise with Caramelized Bananas with Dulce de Leche Sauce
There is, naturally, a British slant to these recipes. Hence that Sticky Toffee Pudding. And, as a highly trained butcher as well as chef, meat does play a role. Brendan is sad at the neglect in restaurants, and home kitchens, for duck dishes. So his meat chapter begins with several duck delights:
Duck Prosciutto

Duck and Walnut Terrine

Roasted Duck Breast with Figs and Farro

Duck au Vin

Grilled Asparagus with Duck Eggs
I like this book. Yes, I'm a man and a man-targeted cookbook is up my alley. It's direct, easy to follow, totally packed with flavor, and offers ideas that I have not seen before but that do tempt me. And, no, it's not just the Dead Easy Pork Ribs with Palm Sugar Glaze, although the Palm Sugar is hard to resist. That Potato and Parsnip gratin seems healthy, no?
Okay, Brendan concedes he added the parsnips for sweetness. Still, for God's sake, they are veggies. Surely we men will deserve some credit for that.
Consider this new book for your summer cooking season. There are bold recipes here. Ideal recipes for weekend dinners where food can be an expression of personality. It certainly is for Brendan Collins.