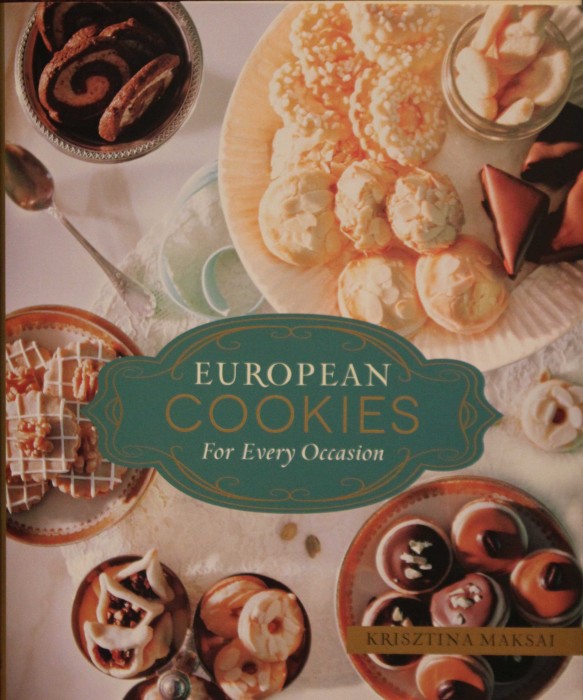 What does Bruce Lee have to do with cookies? There is a new set of TV commercials, for some product I ignore, that says good things can come in small packages. Bruce was 135 pounds but flew thru the air, really flew. His stunts were not special effects, they were statements of his incredible power.
Most cookies in the country come from store shelves. A minority are baked at home. And of those, few, too few are exceptional. We bake cookies because, unlike other desserts, they are just supposed to be flat and simple and emit but one flavor note. Well, chocolate with maybe a walnut overtone.
All of which is wrong. If you had an old Eastern European bakery around when you were a kid, or if you happen to visit Eastern Europe, then you already know that complex, exceptional things can come in small packages. The cookies in European Cookies for Every Occasion are beautiful, layered, and cogently blend multiple flavors and textures. They are, in a word, exceptional.
Author Krisztina Maksai grew up in Romania, Germany, Austria, and Hungary. Fortunately for us, she also grew up with a sweet tooth and boundless curiosity. She loves to bake and considers baking an art form of the highest order. You can see her on YouTube and be rather amazed at how someone so young could master so much so quickly.
Her talent includes more than baking. She can write, organize, and demonstrate. European Cookies has over 200 photographs showing the stages needed for "cookie construction." Traditionally, European cookies are more like small pastries. They are sweet, layered with textures, and yet often remarkably subtle. They are a delight to bite into, sampling each layer, each texture, each flavor. In this book, layers and textures and flavors represent traditional combinations that reflect generations of perfection.
I leafed through the book, deciding which recipes Suzen and I would try. Impossible to decide. This book, this is the first book, where Suzen and I are really going to make everything. Not all at once you understand, but I swear to you I want to try everything. So will you.
I'm about to post one of her recipes, Coffee Shots, her tribute to caffeine. A delicate almond dough is rolled out and cut with cookie cutters. Sandwich cookies are made by using a coffee flavored filling, then a different coffee-flavored frosting goes on top and on the very top you place a chocolate-covered coffee drop or espresso bean. It's so, so good. And beautiful before you even bite.
Recognizing that European cookies are works of art that take more effort than your simple chocolate chip, European Cookies is divided into four parts:
Quick and Easy Cookies
Moderately Cookies
Moderately Difficult
Challenging Cookies
"Easy" here does mean pretty easy: you can do it, I promise you. And challenging is just that but so rewarding. Like her classic Chessboard Cookie with an alternating pattern of vanilla and chocolate squares, all wrapped in a chocolate frame. If you have ever seen this cookie before, you wanted it. If you ever tasted one, you want more. There are 12 color photos here to walk you thru the construction steps.
This book can only be described as brilliant. If you love cookies and you want your next cookie experience to be meaningful and perhaps long lasting, then this is the book you need.
We can only hope that author Krisztina Maksai is deep at work on her next work of art.