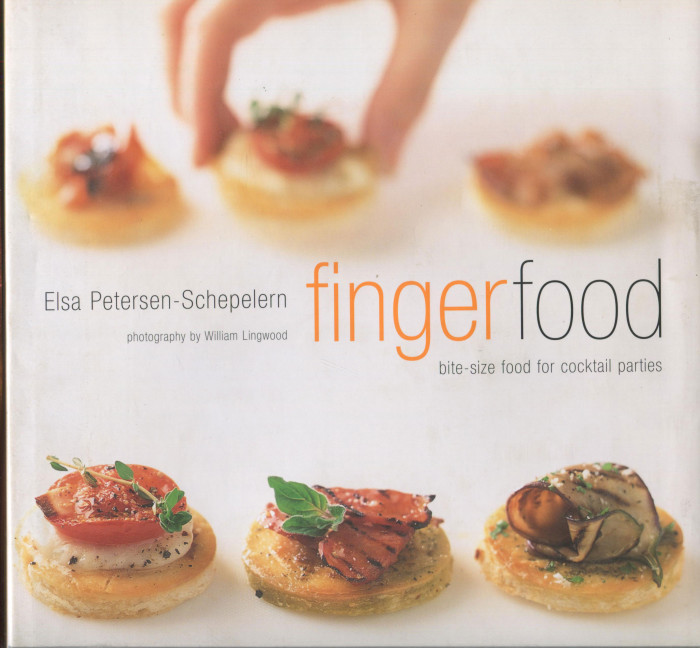 Elsa Petersen-Schepelern was a Danish-Australian food writer with over 20 books in her portfolio. She passed away in 2005 but her books remain culinary gems. I've been paging through Fingerfood, her tribute to appetizers.
We often do our apps at the last minute. A bowl of chips, a bowl of salsa. Elegance is reserved for the main course or that endgame of dessert. But, as you will easily see in Fingerfood, elegance can be achieved in small bites and pieces. The photography in this book, by William Lingwood, set new standards for depicting food as gloriously as possible. It may be small, but a single app can be a work of art. Should be.
It is, of course, just a few days before the Super Bowl and Suzi and I always have a party on that Sunday. This year, as with many, it will be a party of two. We plan all the food ahead, we don't want to be cooking at all during the game, we don't want to miss a commercial or a pass or a run.
And we want to treat our party guests, us, really well.
So I'm turning to the best books to get appetizer ideas. Elsa loved to travel and find outstanding recipes from around world. Here are some typical, and excellent, examples from Fingerfood:
Frikadelle, Scandinavian meatballs made with mashed potato, ground beef and veal and lamb, anchovy, allspice and nutmeg
Thai Crabcakes, composed with red chilies, scallions, garlic, ginger, cilantro, fish stock, long beans, and noodle — oh yes, crab
Mini Tarts, egg custard plus a cascade of fillings: asparagus and prosciutto, leek and feta and olives, blue cheese and pine nuts and basil
Elsa's books are still available via Amazon. You owe it to yourself to see her books, especially Fingerfood.
From now to the Super Bowl, I'll give you some samples of her recipes each day. Yes, you'll get the recipes for all three of the delights I just mentioned. You can watch the Super Bowl and have a mini-world tour food wise. Party on and Go Falcons!