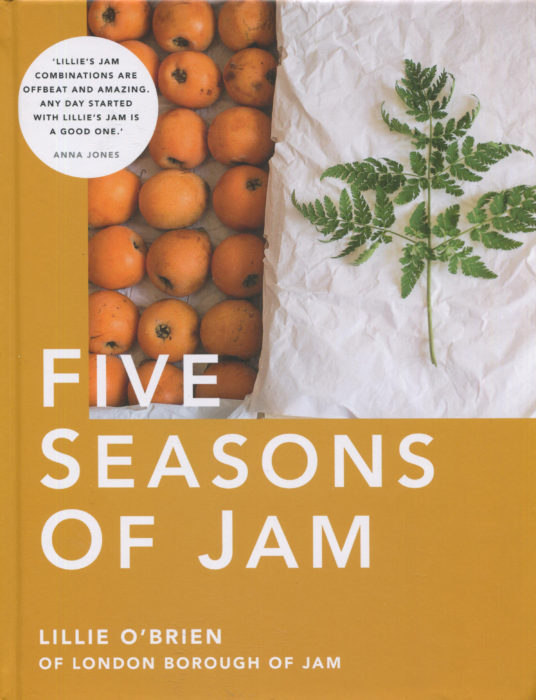 The adjective "unique" tends to be overused. This book is deliciously unique. And surely sweet.
Author Lillie O'Brien grew up in Australia where the California-style climate means you have two seasons in the year. Hot and less hot [with maybe a little rain].
So, when she moved to the UK a dozen years ago, Lillie had many experiences. First, a climate with real seasons. Second, an environment with plant life far more extensive than she could possibly have imagined. And with many species that can only be found in rainy England.
Let's start with the "five seasons." Lillie knows about spring and summer and winter. But fall? Well, in England fall is long and rich and complicated. So, she suggests that we consider two fall seasons: early and late. She has jam recipes for both:
Early: Tomato, Blackberry and Coca Nib, Elderberry and Pomegranate

Late: Pear and Masala, Pumpkin
Lillie has created her own jam company, LBJ or London Borough of Jam, a business like no other. Truly, she's the sole jam-only business in London which is quite an accomplishment given the great food halls of London, stuffed with all kinds of goodies. The food halls offer aisles of jam but not Lillie's very clever styles of jam.
You won't find simple strawberry jam in this book. You will find Strawberry and White Balsamic Jam and Strawberry and Wild Fennel Pollen Jam.
Strolling through the book, two observations are immediate. First, there are a lot of ingredients here you have never, or rarely, seen before: Anise Hyssop leaves, Loganberries, Tayberries, Lemon Balm leaves and stalks, Jostaberries, Red Gooseberries, Liva Fragola Grapes. You see the idea here. Those English gardens and farms are rich in plant life that is just not common here in the US. But berries and leaves and stems that invite experimentation.
The second observation? Lillie makes no simple jam. Everything is a combination, and many of those combinations are quite striking:
Sour Pickled Cherries + Fennel Tops

Raspberry + Purple Basil

Plum + Tomato Leaf

Roasted Yellow Peach + Fennel

Rosehip + Lemon Verbena

Rhubarb + Grappa
Yes, surprising combinations. Before this book, you needed to travel to her London store or order online. Now, you can gather some rather diverse clusters of ingredients, grab a pot, find your candy thermometer and set out on a jam session with these recipes. [Sorry, the pun is unavoidable.]
I look at these recipes, I read them, but I'm still a little mystified about what that taste is going to be. Page after page, there is just one endless stream of jam temptation. The ideas for late fall and winter are ones we can all explore now:
Quince and Rosewater Jam

Crab Apple and Verjuice Jelly

Pear and Marsala Jam

Seville Orange and Chamomile Marmalade

Cranberry and Sherry Vinegar Jam
How irresistible are these ideas? Lillie suggests that Cranberry and Sherry Vinegar Jam for Christmas. On a winter weekend, perhaps when you are happily snowed in, this is the cookbook for an afternoon's entertainment. Some hot cider or a deep red wine, and a supply of cranberries and sherry vinegar. Winter isn't so bad after all. And jam is not just for summer. There are, after all, five seasons. Not four.