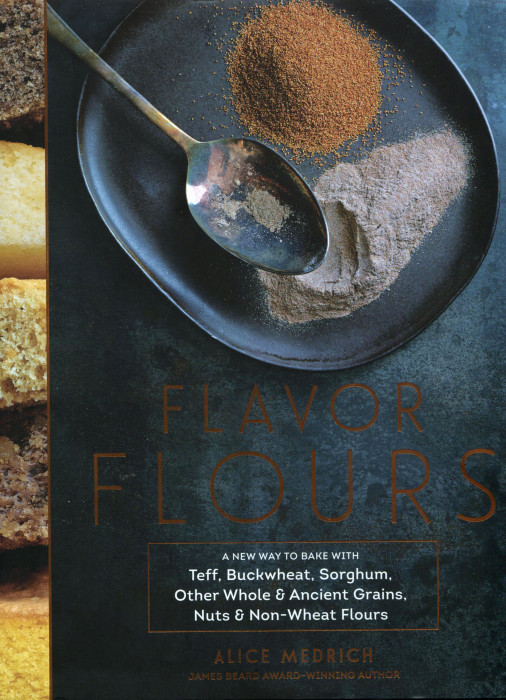 Alice Medrich deserves a new description. For 25 years she has rewarded us with her books — desserts and chocolate are her themes — and her products — she introduced chocolate truffles to a now very grateful America. To call her an author or recipe developer is to understate her impact by an order of magnitude. With this new book, Flavor Flours, it is now clear that Alice is a composer, a composer of flavors and sights and delights. A symphonic composer, who is not afraid to rework earlier pieces, making improvements and certainly increasing flavor diversity.
This book is about flours of all types and flavors. If you need gluten-free alternatives, then this is book that will afford you endless satisfaction. But this is not just a "gluten-free" book. This is a flour book.
Our store shelves now abound with different flours. You have probably seen the bags of Bob's Red Mill products and every flour in this book is in that fine product line. Alice walks those same food aisles and, as a baker to her core, she began asking some natural questions: what is this and how can I use it. She began experimenting, using these new products in her own classic recipes. The results were exceptional and have sprouted into Flavor Flours.
It is as if Composer Alice were introduced to a whole new orchestra, with a new array of instruments to employ and to integrate. Alice does that, trying different flours and even different pairs of flours, to establish how they improve old recipes or provide avenues to new one. The flours featured here from rice, oat, corn, sorghum, teff, buckwheat, coconut, chestnuts, and other nuts — have distinct flavors. Alice actually says "voices" in her tonal sense. They certainly do and she uses them unmuted.
A note about white flour. It's nice. It provides starch and structure to baked goods. It gives us Wonder Bread. But Wonder Bread is not whole wheat and right there is the signal: white flour does not really provide flavor. The flours in Flavor Flours do provide distinctive, even distinguished flavors.
Flavor Flours provides a chapter devoted to each of these flours with recipes geared to the flavor and texture that particular flour provides. Here's a tour of those chapters with some representative recipes. Some of the recipes use a second flour, a partner flour Alice calls it, to achieve just the nuance she desires. Most of the recipes are familiar ones, but how they change with a totally new flour employed. Just try the Ultimate Butter Cake with white rice and oak flours!
Rice Flour features the flour that certainly Alice loves. Rice flour is light and a bit floral. It's finer and can be used to provide silkiness to, yes, puddings and ice cream. Rice flour seems to amplify the flavors of other ingredients: butter, eggs, cream, and of course chocolate. Alice suggests you employ rice flour in:
White Rice Chiffon Cake

Lemon Cream Roulade with Strawberry-Mint Salad

Ultra-Bittersweet Brownies

Silky Butterscotch Pudding [no, it's a real recipe!]
Oat Flour employs a grain that is ancient and noted for its health benefits. Oats have more fat and protein but fewer carbs and less sugar than whole wheat. Oat flour tastes surprisingly like oats. But when baked with butter, you get a butterscotch flavor that makes for a great, great chocolate chip cookies. You've had a hint of that flavor before when you made thin chocolate chip cookies and sampled the brittle cookie edge: there was the hint of butterscotch there and now you can amplify it with oat flour replacing wheat. Oat flour is perfect to pair with nuts, brown sugar, honey, caramel, and fruits of all kinds. Consider:
Holiday Pound Cake with Bourbon Glaze

Caramel Apple Upside-Down Cake

Cinnamon Crumb Cake

Carrot Spice Cake

Apricot Walnut Rugelach
Corn Flour and Cornmeal are destined to be paired with butter, fruit both fresh and dried, aromatics, and chiles. Corn flour is corn meal given extra processing; it hydrates faster and produces a finer texture than corn meal. If you are used to corn meal muffins or cornbread, and have not employed corn flour, you are in for a very smooth treat:
Corn Flour Chiffon Cake

Corn Flour Tea Cake with Currants and Pistachios

Blueberry Corn Flour Cobbler
Buckwheat Flour is not really a flour or even a grain. Buckwheat is related to sorrel and rhubarb. One taste of, say, a buckwheat pancake, and you know something is exotically different. In her early experimenting, Alice got contradictory and sometimes disappointing results with this flour. The reason, she learned, is that buckwheat flour is sensitive and can become mush if mixed excessively. Finer ground buckwheat flour deserves extra care. So, do follow the directions Alice provides when sampling:
Buckwheat Sponge Cake

Dark and Spicy Pumpkin Loaf

Buckwheat Coffee Baby Cakes with Toffee Sauce

Buckwheat Sour Cream Soufflés with Honey
Chestnut Flour has my favorite recipes in the book. Before wheat and potatoes were widely cultivated, many cultures around the world depended on chestnuts. In pre-Columbian Eastern North America, there were 200 million acres of woodlands, dense with chestnut trees. Sad for us all, the chestnut tree blight wiped out over 4 billion trees. Chestnuts have largely disappeared from our standard repertoire, but here are reasons to bring them back:
Chestnut Sponge Cake with Pear Butter and Crème Fraiche

Chestnut Bûche De Noël [reason enough to buy this book!]

Walnut and Honey Tart with Chestnut Crust

Chestnut Praline Gelato
Teff Flour is about an Ethiopian grain that was destined for brownies, truly destined. Or German Chocolate Cake! Teff is a very fine small grain, 150 times smaller than wheat, so it is natural for incorporating into recipes offering a very fine crystalline structure and texture:
The New Chocolate Genoise

Queen of the Nile [a rework of the cake that made Composer Alice deliciously famous]

Mocha Cream Tart with Chocolate Crust

Bittersweet Teff Brownies
Sorghum Flour covers the fifth most important crop in the world, a crop where America is the world's largest producer, and a grain we have lost contact with. The Old South used sorghum syrup but, alas, corn syrup now occupies the store shelves. This flour has a light flavor, making it the ideal replacement for the very neutral white flour we all use daily. Sorghum pairs wonderfully with an array of ingredients: butter, nuts, tropical fruits and "warm spices" such as ginger, cinnamon, and nutmeg:
Sorghum Layer Cake with Walnut Praline Buttercream

Banana Muffins

Sorghum Pecan Tart

Ginger Peach Squares
Nut and Coconut Flours concludes the flour chapters and is filled with delights. Nut flours offer fat and fiber, not starch. You may need to pair them with rice flour to avoid gritty or gummy textures. Coconut flour is tricky, Alice says, and may play more of a functional than flavor role. It certainly can provide a striking, most striking visual role. Look at the closing picture below for the exceptional Coconut Marjolaine:
Nutty Sponge Cake

Coconut Chiffon Cake

Coconut Chocolate Pecan Torte

Coconut Marjolaine
Flavor Flours is one of those books that comes out and is immediately recognized as exceptional. It will win awards aplenty and be called a masterpiece. Alice deserves another standing ovation. You deserve to add Flavor Flours to you library, but do keep it close at hand. Visit that flour aisle of your supermarket and experiment. The world is not all wheat white.