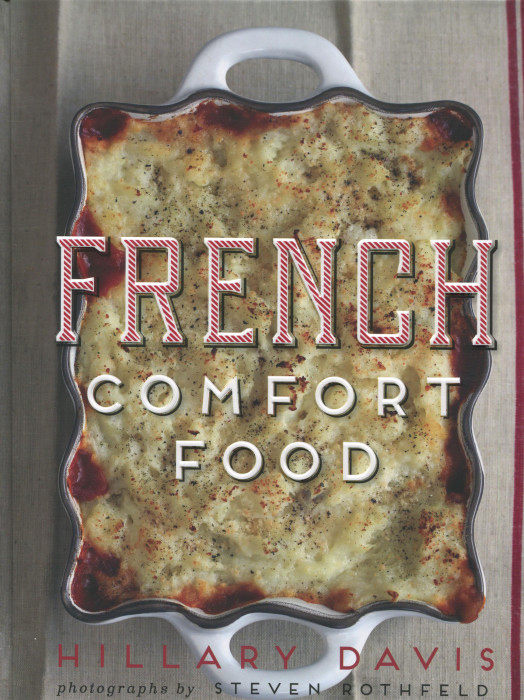 I'm writing this review at the perfect time. I just made dinner. A one-pot sumptuous meal: Potato, Bacon, Cheese and Wine Casserole. It's a terrific dish, rich and steaming hot and complex as bacon and cheese flavors flow across the slices of potato.
It's the perfect comfort food and, yes, I'll be posting it very soon. Is there anything better than comfort food? It is the hominess, the closeness, the warmth of these dishes that makes them so memorable and so enduring. We return to them because we want to. And because we need to.
I had always thought of comfort food as somehow prototypically American. Something about the basic simplicity of these dishes seems to match the American dream and the westward push. Comfort food is American.
And, of course, that is entirely wrong. So wrong. That casserole that just made me so happy is French, decidedly, decisively French. Hillary Davis has written French Comfort Food to make us all happy. Seven nights or seven breakfasts a week happy.
An expert on the regions and regional cuisines of France, Hillary has explored the cities and streets one restaurant at a time. She's literally eaten her way across the land, exploring the byways and the cities. Great food is, of course, found in Paris. But in the remoter provinces and towns, there is equally great food. Not the food of the four star restaurants, but that same comfort-generating food that has been part of your life from earliest memories.
The comfort in this book comes in chapters with easy titles that reflect the many categories of recipes offered to us. French Comfort Food tours France. Let's tour the book.
In Welcoming Starters and Savory Nibbles, you have the ultimate appetizers. There are Cheese Soufflés in a Mug and Ramekins of Warm Salmon, Wine and Shallots. If you want a first course to impress, then you might offer Individual Caramelized Onion and Roquefort Clafoutis.
Brunch French Style recognizes that we all share the love for a weekend meal that warms the heart. Here you'll find French Toast with Homemade Orange Butter, Crispy Cinnamon Walnut Chocolate Palmiers, and a Nicoise Onion, Black Olive, and Anchovy Quiche.
Soups, Sandwiches and Simple Pleasures includes, of course, French Onion Soup Gratinee, Toasted Ham and Cheese Sandwiches topped with a fried egg, and Heavenly Mashed Potatoes with Garlic and Melted Cheese. The potatoes, for the record, do include milk, heavy cream and butter beside a healthy dose of the cheese of your choice.
Family-Style Recipes offers dishes requiring lots of ingredients and time. It's the time that matters, that lets the complexity of the ingredients unfold and integrate. There's a Slow-Cooker Layered Meats and Potato Casserole from Alsace. And a Rib-Sticking Pork and Vegetable Stew with Giant Dumplings. Just a tad up on the scale of sophistication, you might enjoy The Succulent Roast Chicken with Oranges and Black Olives.
There's another chapter, Supper for Friends, that offers more main dishes. And while these are intended for friends, you might want to befriend yourself with Slow-Cooker Beans, Duck, Pork, Chicken and Sausage Stew. There are Duck Breasts with Black Cherry Sauce or the Gascony Roast Leg of Lamb with Anchovies and Garlic.
The 11th Commandment, Thou Shalt Serve Dessert, is not ignored in this book. The Banana Tart Tatin is beautiful, so beautiful you will pause with that for in your hand. The picture at the bottom of this post should convince you. There is a very French Noel Yule Log and No-Raw-Eggs Chocolate Espresso Mousse. I suspect the recipe here for Perfect Crème Caramel is just that, perfect.
This book was published a year ago and my only regret is that it has taken a year to discover my new best cookbook friend. Hillary is a great writer and French Comfort Food is a great start.
And there is good news. Hillary has a new book, Le French Oven, ready for us now, too. Stay tuned for a review.