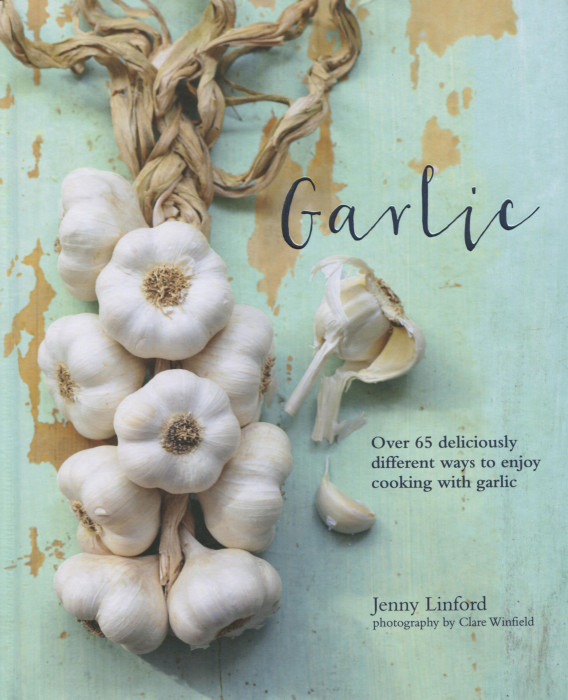 I was a deprived child. Severely deprived. My mother was deathly allergic to garlic. So I grew up with no garlic. Not a sliver. Imagine spaghetti and meatballs with no garlic. Never a Caesar Salad.
I remember being 23 and having my first bite of this cousin to onions. The fire was intense. My addiction was immediate.
Around the world, garlic is a key ingredient. Not quite as prominent as salt, I know, but it's right there on that second tier of ingredients we use, not for substance or bulk, but rather for the ability to convey flavor and elevate a dish from ordinary to captivating.
Accomplished London author Jenny Linford takes us on a garlic odyssey in her latest book. The very word garlic has a fun meaning. It comes from the Anglo-Saxon gar, meaning spear and referring supposedly to the plant's leaves but almost surely as well to the sharpness of flavor.
There's some garlic lore at the beginning of the book, along with tips for buying and handling. It's the 65 recipes here, from all around the world, that merit your consideration. Here's a baker's dozen, my candidates for first testing out this book:
Roast Garlic and Beet Soup

Roast Garlic Crab Tart

Roast Garlic Rosemary Focaccia

Ajo Blanco or White Gazpacho [bread, almonds, grape, and garlic]

Spanish Style Garlic Baked Beans with Chorizo

Kimchi Pancake with Black Garlic Crème Fraiche

Malay Garlic and Chile Prawns

Wild Garlic Goat Cheese Flan

Grilled Garlic Mussels

Wild Garlic Sweet Potato Mash

Black Risotto with Garlic Prawns

Rosemary, Garlic and Fennel Roast Pork Loin

Garlicky Chicken Livers with Pomegranate Molasses
The happy genius of Garlic is that, while there are some old recipe friends here to be sure, most of the recipes are new ones for me. And, in addition to being new, the garlic presence here has been carefully embedded. Take that Wild Garlic Goat Cheese Flan. No sane amount of garlic can overwhelm goat cheese, of course, but enough garlic can make the flan accelerate in new flavor dimensions. A garlic lover, Jenny has used her decades of garlic cooking experience to introduce us to recipes honed for garlic enjoyment.
If you don't have an allergy like Mom, then you should not wait. New experiences, new favorite dishes await you in Garlic. One clove at a time.