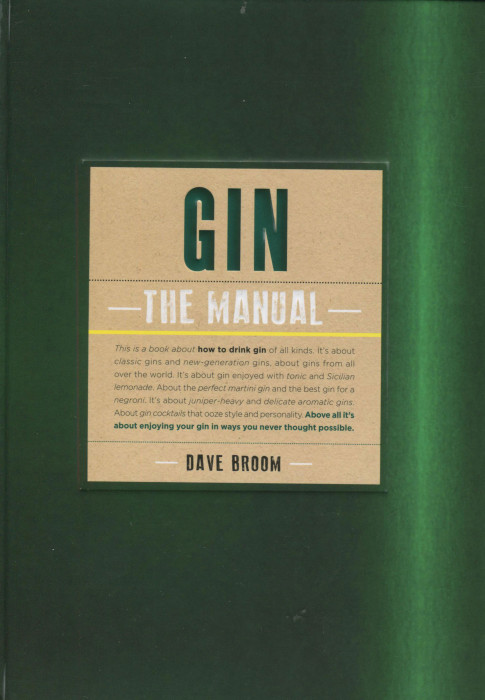 For twenty-five years Dave Broom has been writing about whiskey and other matters of alcohol. His last book was Whiskey: The Manual, manifestly THE tour book to the grandeur of whiskey. Now, on October 6th, actually, we'll be able to read his latest work, Gin: The Manual, a work of equal dedication, research, and expertise.
The core of this book is a survey of 120 gins from around the world. British at first, of course. But there is space here for a gin made in Brooklyn next to the Gowanus Canal, a waterway still condemned but loved by film makers and the many restaurants, distilleries, and breweries that find a 19th Century industrial environment invigorating — if not exactly swimmable.
Gin is in. There are the heritage brands we all know. And then new ones coming on line from boutique firms in London, Brooklyn, Upstate New York, Scotland, France, Germany, Spain, and many other spiritual by-ways. Gin has been rediscovered. The days of the bathtub are long gone.
The "manual" part of this book comes from the intensely packed descriptions of a diverse spectrums of gin brands. A typical page is shown at the bottom of this post. The description begins with Botanicals: what are the flavorings that appear in the bottle. Literally hundreds of flavors are used around the world and, yes, most gins do contain some juniper berries. Beyond the juniper, most gins have a handful of other ingredients to generate their own particular flavor and aroma profile. Noet's Silver Dry Gin from The Netherlands is typical: juniper plus citrus peels, orris root, liquorice root, white peach, Turkish rose, and raspberry. Orris root? All I know is that it takes five years for the root to dry out and become usable.
But Monkey 47 Schwarzwald Dry Gin from Germany has juniper and 40 others elements, like bee balm, honeysuckle, acacia, rose hips, and dog rose. Dog rose? It's a very dainty purple climbing wild rose native to Europe.
Beyond those botanical ingredients, Dave provides a long one paragraph introduction and description for each gin. It's all about the who, why, where, and how of this particular bottle. Very importantly, Dave has tasted each gin so you can benefit from his very educated opinion. That Noet's Silver Dry Gin has a perfume nose, one that reminded Dave of the perfume of his teenage daughter [and the daughter agreed].
So, if you were in a liquor store, The Manual in hand, you could pick up a bottle and, if it is one Dave has surveyed, find what goes in it and how it is made. But how would you use it? That's the ultimate benefit of the very extensive research Dave has systematically applied.
The bottom of each review has a section called the Flavour Camp [he's British so flavour does come with a "u"]. Dave offers reviews and guidance for using this gin in four iconic gin beverages:
The G&T
With Sicilian Lemonade
Negroni [that combo of three liqueurs: gin, vermouth, and Campari]
Martini
Dave tells you if — because not all gins work for every cocktail — the gin should be used and gives a rating for the quality of the final cocktail. But wait, there's more. You get detail on how to mix the cocktail, light or heavy on the vermouth, for example. For the Negroni, which is this seemingly combustible combination of liqueurs that may conflict at times, Dave has tested out four different ratios of the three liqueurs and suggests the precise proportions that generate the best beverage experience.
I have never seen this detail before in a beverage book. It is rocket science impressive. And I intend to celebrate with a G&T. First though, I have to push aside my Hendricks and Tanqueray and find some Sipsmith V.J.O.P. which, in his expert opinion, give you the very best G&T on the planet.
Ah, there are other gin drinks beside that G&T. And the back of the book provides thirty pages of recipes for a variety of delights, some old and some new. Dave calls this BV and AV, for Before Vodka and After Vodka. A hundred years ago, we drank gin, not vodka, and we made our cocktails with gin, not vodka. Life, styles and cocktails change. We had the Cold War and the onrush of vodka appearing in new drinks with new profiles. Now, with the resurgence of gin worldwide, the classic cocktail formulations are back with us. And mixologists are having a field day experimenting with all the new brands and flavors. Who knows, you may have already sipped some dog roseor orris root in an upscale bar.
No "manual" would be complete without some history and navigation. The book opens with fifty pages devoted to gin history, production, mixers that you might use, and the half dozen classic recipes you need —just in case you don't make it to the back of the book.
On that iconic scale of 1 to 10, Gin: The Manual is an 11 or 12. You could not write a more sophisticated book or pack more detail onto each page. It's an absorbing book, one that I will be carrying along every time I visit my liquor store. You'll want your own copy of this traveling and drinking companion, too.
Ah, I was proofreading this review and discovered I've done it again: used liquor in some places and liqueur in others. So, I finally googled and learned I have not sinned very much, if at all. The term "liquor" refers to an alcoholic liquid made via distillation. And you do buy them in liquor stores. A "liqueur" is a liquor that is mixed with herbs and spices, to add flavor or sweetness.
Gin is a liqueur and Gin: The Manual will surely add flavor and sweetness to your drinking experiences.