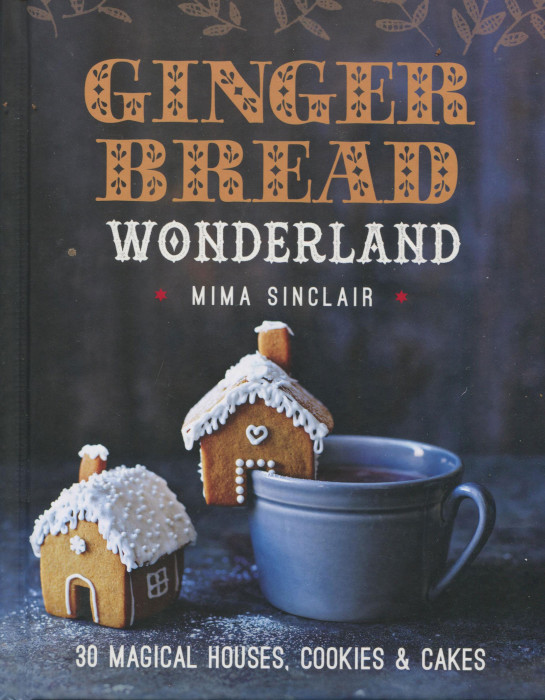 There is time. Just enough time. You've always wanted to make a gingerbread house. Seen them in bakeries. Wondered how they would taste. Wondered, too, how had it would be?
The answers are good news. In her new book Ginger Bread Wonderland author Mimi Sinclair offers you 30 recipes for magical houses along with cookies, cakes and other gingerbread delights. [Is it ginger bread, like the book title, or gingerbread? I don't know, but I'm going single word.]
At the bottom of this post is her gingerbread townhouse. It's quite a work of culinary architecture — but surprisingly easy. The book has templates for the different pieces of gingerbread you have to roll out, cut out, and then bake. There are recipes for gingerbread dough, both light and dark, and the icings you will need for decoration. Just follow the individual steps — none of them challenging at all — and follow the gingerbread path.
You'll appreciate the dough recipes. They represent some serious research and tuning by Mimi. The light and dark doughs use both dark and golden molasses, orange zest, ginger, cinnamon, nutmeg and cloves. The cookies are a spice explosion, ready to accept the deep sweetness of the royal icing that is used with bounty. In that townhouse picture, the bottom floor is painting with icing. But you can do a little exterior redecorating and make another floor or two quite white.
Among the gingerbread recipes here you'll find:
Chocolate and Gingerbread Bird House

Edible Star Wreath

Gingerbread Cupcakes with Chocolate Frosting

Apple and Gingerbread Streusel Tart

Gingerbread Syrup for Your Coffee or Hot Chocolate
If you have been holiday house hunting, your solution is here. It's four days from Christmas and you've just enough time to complete construction by Sunday!