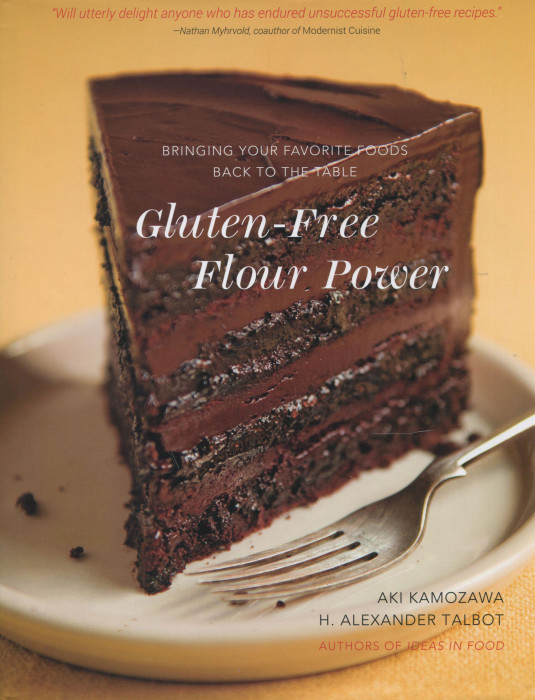 Gluten-free is more than the name of an aisle in your supermarket. It is a way of life, a way of cooking. And it's a way of cooking that can interest all of us. You don't need to be someone on a gluten-free diet to enjoy the recipes and concepts in Gluten-Free Flour Power. In fact, this can be the beginning of a journey that takes you on wonderful explorations.
This book is from the same team, Aki Kamozawa and H. Alexander Talbot, that wrote Maximum Flavor, a book from two years ago that is devoted to boosting and emphasizing flavor in every bite. You can see a book review here and use our search box with "Kamozawa" to find three great recipes from Maximum Flavor.
The authors are the natural team of food innovators to take on the challenge of gluten-free. It is the gluten in wheat flour that creates the structure in your baked goods. Bread needs gluten so it is not dense and heavy. Your cake needs gluten for structure, too, but not too much gluten or the batter turns elastic and the baked good is tough and chewy. Any project with wheat flour then has to get the gluten level just right. Not too much, not too little. Our wheat-based recipes have flour quantities and techniques we take for granted, but they have centuries of development behind them to achieve the "just right."
Take away the gluten, and you still need structure. So in this book alternative ingredients, and techniques, are applied to give you baked goods that are successful, in texture and in taste. You may test and taste them and not sense any difference from their wheat counterparts. Or you may sense a bit of a different flavor, because the underlying flour, perhaps potato or starch, is just a tickle different. You may experience a baked delight that you cannot achieve with wheat flour. And that is why this book holds promise for every one of us.
The first recipe here tell you that life is going to excitingly different. The Japanese Fried Chicken uses buttermilk, ginger, garlic, scallion, soy sauce, sesame oil, and potato starch. This is not the Colonel's chicken. There is a page and half of very careful instruction here — so typical of the authors — that makes sure even the Colonel would delight in the outcome.
The second recipe in the book is reassuring. It's for Gluten Free Sourdough Starter. If you thought that this book entailed sacrifice, that your old favorite flavors were about to be lost, then you can stop worrying and prepare to enjoy wonderful sourdough. It's still sour, it just happens not to have wheat flour — instead your pantry will need sorghum flour and flaxseed meal.
After some discussion on how to make gluten-free flour blends for regular wheat AP and whole wheat flour — so you have cup for cup substitutability — the book journeys through the day with chapters devoted to all baking needs you may have. The substitutions blends are used throughout the book.
Here are the chapters and representative recipes, included to reassure you and to intrigue to try something a little different.
Blueberry Streusel Muffins

Yeasted Pumpkin Waffles

Sourdough Pancakes
Easiest Buttermilk Drop Biscuits

Cheddar Jalapeno Corn Biscuits

Sticky Maple Scones
Yeasted and Sourdough Breads
Chinese Steamed Buns

Buttermilk Brioche

Kouign Amann
Pizza Dough

Grilled Garlic and Onion Flatbread

Cheddar Cheese Coins
Egg Noodles

Potato Gnocchi

Asian Dumplings

Manicotti with Scallion Crepes
Pate a Choux

Yeasted Puff Pastry

Apple Fritters
Single Layer and Bundt Cakes
Oatmeal Cherry Cake with Coconut Pecan Topping

Easy One-Bowl Caramel Cake

Japanese Cheesecake
Microwave Sweet Rice Cakes

Coconut Canneles

Peanut Butter Blondies

Double Chocolate Brownies
Tres Leches

Triple Chocolate

Boston Cream Pie
Apple Grape

Banana Butterfinger

Summer Peach
Snickerdoodles

Maple Oatmeal Raisin

Lemon Angeletti
I've put this long list here to accomplish a couple of things. First, you're going to see old favorites on the list. If you've just been told to go gluten-free, you might be worried about losing old food friends, about having to lead some kind of deprived culinary life. All those worries should vanish.
Second, even if gluten is your best friend, there are ideas that will give you new baking delights: the Japanese Cheesecake, the Caramel Cake, Yeasted Pumpkin Waffles, or the Grilled Garlic and Onion Flatbread. This is a great baking book, one that just happens to be gluten-free.
Authors Aki and Alexander are writers, recipe developers, and food scientists. Most importantly for you, they are people you can trust. If you could, you'd invite them into your kitchen and offer them your butter, eggs and flour or flour substitute. Barring that personal appearance, if you buy and use Gluten-Free Flour Power you'll probably end up sending them a thank you note.
This is a serious book for any baker, or anyone who just loves a darn good chocolate chip cookie.