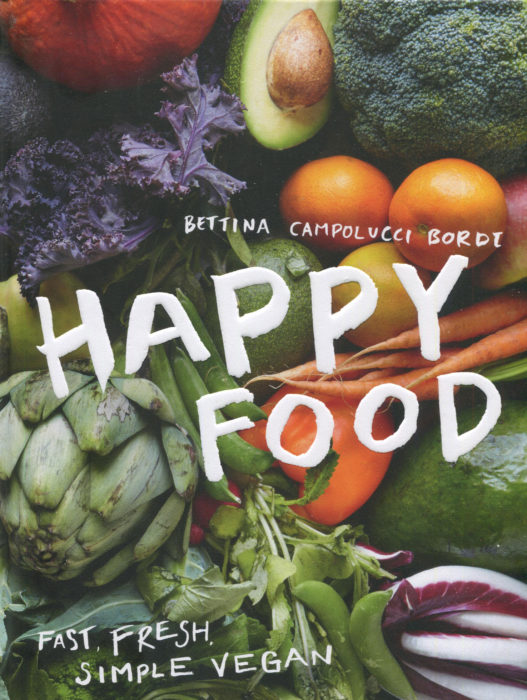 There is this belief, an urban myth I suggest, that if you go vegan or gluten-free, you are going to lead a compromised culinary life. Now, I will admit that early vegan and gluten-free cookbooks left much to be desired. Much. The books were not appealing, the food was not appealing, and tasting the food was definitely not appealing.
So, I am most happy to tell you about Happy Food. Author Bettina Campolucci Bordi has a most unusual story. Born in Tanzania with a Norwegian father and Danish-Bulgarian mother, she moved to Sweden at 12. She's lived in Spain for over a decade and now calls London home — you'll see that in her happy selection of desserts.
For health reasons and personal preference, she has followed the vegan and gluten-free route. What she has not done is accept the sorry state of cookbooks for those genres. Happy Food is just that: happy, bright, colorful, and tasty.
There are plenty of recipes here that any of us — even if not vegan or gluten-free — would want to select and certainly enjoy. Let's tour Happy Food chapter by chapter with some sample of the tastes awaiting you.
Happy Start is the best chapter in the book, I think, and Bettina says this is her favorite meal of the day. Here's proof that you "suffer" nothing from being vegan, her Hearty Buckwheat Waffles with Strawberries: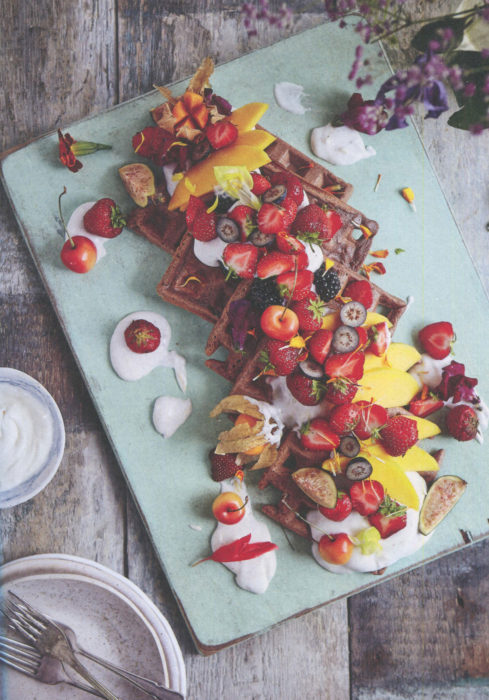 Other breakfast ideas include:
Almond Butter and Smashed Raspberry Stuffed French Toast
Salted Caramel Smoothie with Banana
Home Alone presents ideas for those nights when there is just one or two of you and you are hungry and not ambitious. But, but you want a good meal. So why not indulge in:
One Pot Curry in a Hurry with Eggplant and Potato
Spicy Thai Rice Noodles with Creamy Peanut Dressing
Garlic and Onion Fried Rice, Fresh Sambal and Mash Avocado
Quick and Simple follows in that same vein. These are recipes to make in bulk, then stash in refrigerator for those microwave-nights we all have:
Polenta with Oven-Roasted Tomatoes and Sweet, Sticky Garlic
Zucchini Stuffed with Caramelized Onions and Topped with Chipotle Mayo
Bibimbap: Korean Rice Bowl with Sauteed Red Cabbage and Marinate Onions
Feasts and Sharing offers big platter ideas for feeding a family or a party:
Marinated Maple and Turmeric-Roasted Cauliflower with Yoghurt Sauce
Multi-Vegetable Paella and Avocado Aioli
Tomato, Spicy Rocket, Watermelon and Feta Salad
Dips and Sides offers contemporary riffs on iconic dishes:
Wicked Potato Salad with Dill [and lentils and maple syrup and capers and apple]
Maple-Glazed Sesame Kale Chips
Favorite Basics guides you in generating ingredient used throughout the book:
Pistachio Milk
Almond Milk [vanilla, cinnamon, cardamom, turmeric, cloves, or citrus zest as optional flavor enhancers]
Sweet Treats proves Bettina lives in London and has developed a sweet tooth:
Sticky Toffee Pudding with Sticky Toffee Sauce
Spicy Carrot Cake with Turmeric Frosting
Banoffee Pie
The book is written with clarity and enthusiasm. The photographs are slickly styled and will entice you. I was sold well on the book before I got to that potato salad. But now, a potato salad with lentils and maple syrup and capers and apple? How irresistible. I'm not waiting for summer. I'm making potato salad this weekend and, I'm sure, I'll be very happy. Happy Food delivers.