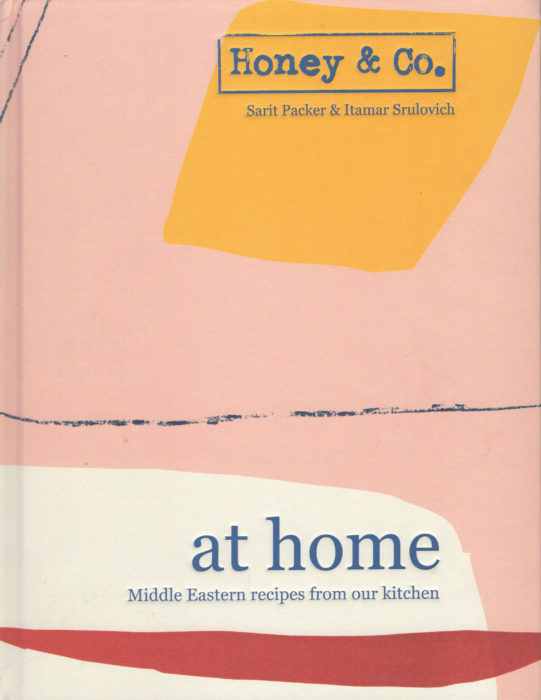 It takes great effort to write a cookbook. A very good cookbook? Oh, that's a mountain of effort. And that rarity, a great cookbook? That is not an effort; it is an odyssey.
So when I interviewed authors Sarit Packer and Itamar Srulovich and asked how long it took to write Honey & Co. At Home, a truly great cookbook, they said, "Oh, about a year." They spoke to me with calm confidence, some gentle humor, and a knowledge of food that I found overwhelming. For them, greatness comes naturally. When you get your copy of At Home you'll be happily overwhelmed too. Most happily overwhelmed.
This book is that rarity, a great cookbook, and appears with beauty and elegance. The recipes are truly "different" for most of us. Authors Sarit and Itamar met in Tel Aviv 15 years ago. As so often happens, the began traveling with no plan to settle in London. Today, they are most settled in that city. They have three restaurants — Honey & Co., Honey & Spice, and Honey & Smoke. Plus three cookbooks with this At Home volume their latest.
The authors are Israeli but the span of the recipes here is Eastern Mediterranean, with a few English recipes tossed into the mix as well [posset for dessert]. There are recipes here from Turkey south all the way around the eastern edge of the Med. The recipes are vibrant in their exploitation of native ingredients including spices.
Oh, the final chapter in the book has spice mixtures that will have you salivating for the rest of your life. The Sweet Spice Mix combines cardamom, cloves, nutmeg, fennel seeds, mahleb seeds [cherry!], ginger and cinnamon. This mix can be used in baking, or is itself just a component of the Lebanese Baharat Spice Mix. The Baharat takes the Sweet Spice Mix and adds dried chili, coriander, cumin, allspice, pepper and turmeric.
The recipes in this book will have your tongue in overdrive.
I told Sarit and Itamar that I often judge a book by its early recipes. Thefirst in the book is Potato and Feta Fritters. I told them it looked great but Suzi and I avoid fried food. Sarit and Itamar smiled a little less. The second recipe in the book? Harira Soup: beans and pasta with carrots, celery, onion, garlic, chorizo, cinnamon, that Baharat Spice Mix, turmeric, cumin, chili flakes, tomatoes, and sugar. My wife is already gathering ingredients! The smiles were back.
And the third recipe? Green Shakshuka, the most amazing "leftover dish" I have ever seen. You take end-of-the-week greens that are just about dead, wash them, chop them, fry in olive oil, and top with eggs. Here's what you get: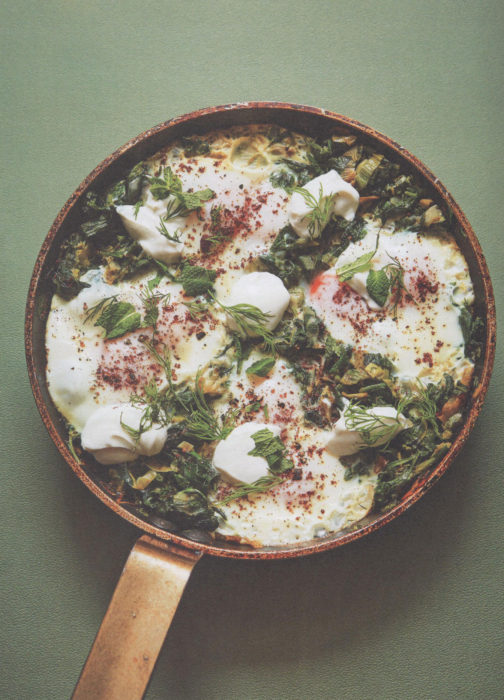 Oh, you want something more substantial? Some meat? How about this work of art, Steak Fatoush Salad with Grapes and Tomatoes: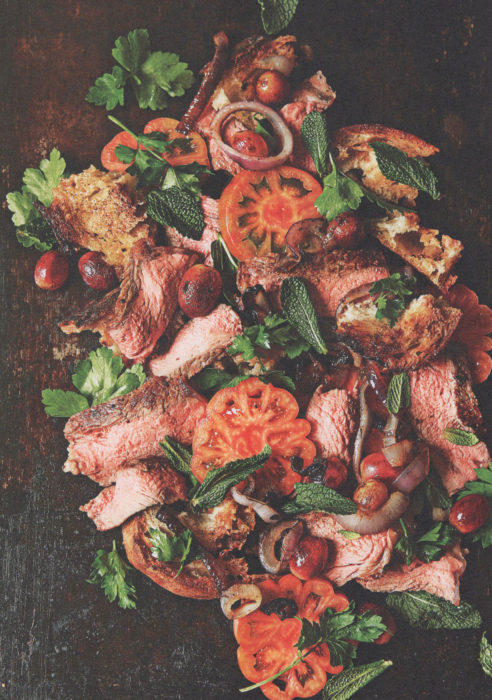 Yes, that steak dish looks like a renaissance painting. It's the product of a superior food photographer, Patricia Niven, who has worked on the authors' previous books. Her work is instrumental in making At Home. a marvelous cookbook.
When you open At Home, you get a wonderful introduction in how to use it. It is not the usual list of chapters: appetizers, breads, fish, …
No, the organization here is based on how many and when you are preparing a dish:
For us two
For friends
For the weekend
For a crowd
For the kitchen [staples like those spice mixes]
Turn the page and you find a more standard list of recipes:
Salads and vegetable sides
Snacks and dips
Savory bakes
Vegetarian meals
Main meals
Breakfast
Relishes, sauces and paste
Spice Mixers
Cakes, slice and baked desserts
Cookies, sweet treat and others
Here's a quick hit list of the best recipes, from my perspective, quietly awaiting your discovery in those sections:
Roasted carrots with pistachio cream, coriander seeds and honey

Pickled peach salad with pistachios and parsley

Tuna, capers ad roasted pepper sandwich

Baked goat's cheese wrapped in walnut pastry with fig relish

Cold yogurt and pomegranate soup

Roasted spiced pumpkin with pickled apples

Prawn, pea and potato tagine

Stuffed eggplant boats [from Turkey]

Roasted duck legs with clementines and apricots

Tahini cake with lemon and white chocolate

Strawberry ricotta cakes

Milk Chocolate chip cookies with coffee beans
Sarit and Itamar grew up in Israel and in the kitchen. Food and cooking are in their genes. Their daily experiences were food-centric. They have become the epitome of a culinary couple. A professional culinary couple who speak and act with confidence and grace. At Home is filled with the dishes they cook at home, for themselves and for friends. These dishes reflect their kitchen mastery and their love of excellent food.
I love this book. I would like to move in with them. So will you.