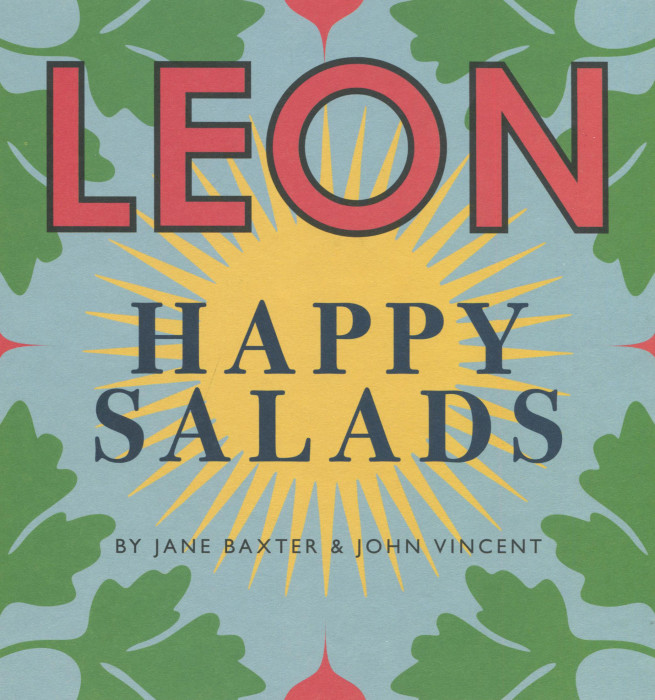 This latest volume in the Leon series is easily my favorite. Leon is an English iconic firm embracing a double mission: food should both taste good and be good for you. The recipes in Leon books involve ideas from cuisines around the world. And therefore ingredients around the world, too. When I saw tofu in earlier Leon recipes, I was a little shy. But this Happy Salads book seems written for an American male who just hasn't quite reached the vegetarian/vegan point of his life yet.
Instead, Happy Salads has an abundance of meat and sea food idea, mingled with pastas and greens. Those greens include kale which I have grown to love. See, even older American males can change.
The book is cleverly divided into five chapters.
In Classics, you encounter the salads you know and probably love. Nicoise is here along with fattoush along with a Caesar that has a lovely dressing made with a coddled egg [not even soft boiled] added to a food processor with the garlic.
The Naturally Fast chapter is the one to turn to. New ideas here make you want to reach for lettuce. And because these recipes are delicious but truly fast, satisfaction is just minutes away. There is the Snip-It Salad with parsnip, saffron, apple and leek. The Keen-Bean Quinoa, pictured at the bottom of this post, is a combo of quinoa, edamame, peas, and sugar snaps, dressed with garlic, wine vinegar, maple syrups and the herbs of your choice. There's a Crab with Pink Grapefruit salad dressed with ginger, soy, and rice vinegar. And the Pastrami Saladwich combines cabbage, celeriac, carrot and pastrami in mound that resonates ethnicity.
The Lunchbox Chapter gives you salad ideas for one person, salads you can make the night before and tote off to work, knowing that lunchtime will be delightful. The ideas here include Vegetable Freekeh with Date Yogurt, Hot-Smoked Salmon, and a Malaysian Salad with Salt-Cured Anchovies combined with dried prawns, cucumber, onions, mint and chili. If you need a noontime pickup, this salad is it.
The last two chapters, Food for Friends and Food for Family, offer big, platter-sized salads to share with family or friends when you want to graciously surprise family and friends. The Fruity Roast Chicken uses raisins, garlic, chives, onion, pine nuts and grapes to surround chicken with layers sweet and biting flavors. The Eggplant Kisir is a Turkish delight with layers of eggplant separated by bulgur, red pepper paste, pomegranate molasses, tomatoes and cucumber. And there's a Wasabi Steak Salad where steak is balance with edamame and asparagus, dressed in wasabi, soy, rice vinegar, and brown sugar.
You will enjoy this book. If you've wanted to eat less, be a little more healthy, but cannot find an avenue that makes you happy, then Happy Salads will in fact put a smile on your face. These are well-crafted recipes, offering new flavor perspectives for you taste buds and a healthier mix of ingredient for your body. Particularly if you are an over-40 American male, this is a great book for you. If you are really over-40, it's even better.