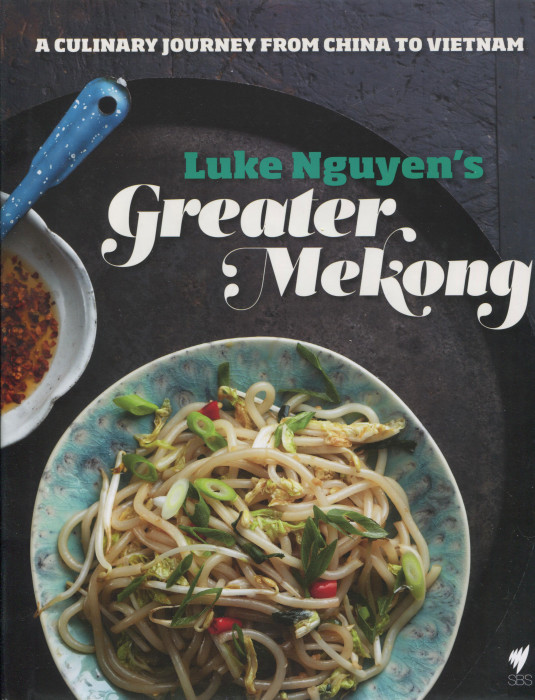 If you are fond of the cuisines of Southeast Asia, or just curious, or about to travel there, then this book is a supreme experience. Subtitled "A Culinary Journey from China to Vietnam" Greater Mekong provides an enriching and most enlightening survey of the people and foods that line the wandering Mekong River.
Author Luke Nguyen is an accomplished author and television personality and the owner of the famous Red Lion restaurant in Sidney. He is Vietnamese by birth, although that birth occurred in Laos in 1978 as his family fled the recent fallen South Viet Nam. Established in Australia, the family has thrived and Luke is a success story as wonderful as you might imagine.
Still, we all think of home and we want to return to it. While he did not grow up on the Mekong, his family had and you might say that the river was in his blood. When you do live on a river, you just naturally ask two questions: one simple and one mysterious. The simple question — where does this river go? — usually has a standard answer — the ocean. The mysterious question — what is upstream? — has answers you can only find by making a personal journey.
In Greater Mekong, Luke startsin China near the headwaters of the Mekong and follows it all 2700+ miles to the sea. The Mekong is the 12th longest river in the world, the 7th in Asia. But it is second in the world in terms of biodiversity, second only to the Amazon. The river has geological features unlike any other, is dotted with rapids and waterfalls, and provides only limited navigation — and then only in modest boats for stretches between those breaks in the flat river.
So the Mekong could never be the platform for one dominant country to establish rule over the six great societies that sit on its banks: China, Myanmar [Burma], Laos, Thailand, Cambodia, and Vietnam. Each of those societies has used the river and the local biodiversity and the local microclimates to establish cultures with their own culinary traditions. Each of those culinary traditions is the topic of one of the book's chapters.
The traditions are described here in very, very authentic recipes. And depicted here in pictures worth of any coffee table travel tome. How authentic are the recipes? Well, there are some stunners here, ones that I don't think Suzen and I would attempt: Red Ant Egg Salad or Duck Blood Salad. I'm not even sure about the Rice Paddy Frog Curry. As I said, very, very authentic. We live in New York City, right next to Chinatown, so I suppose we could find red ant eggs. If you live in Omaha, it might be harder.
But, there are recipes here that both intrigue and do not frighten, ones where the ingredients can easily be found and where the well written recipes and the lovely photos do entice you to sample Mekong River food. There are Chargrilled Capsicums Stuffed with Pork and Lao Herbs, Inle Lake Green Tomato Salad, Prawn Cakes and Tamarind Crab.
Here's the gorgous, intense photo accompanying that Tomato Salad:
It's easily doable and beautiful. You'll see the recipe posted here tomorrow, just in time to prepare for a Sunday brunch.
In the United States we have a trend toward minimalist fast food even when cooking at home. You know, books that tout a meal with just "3 things in 10 minutes." In this book, it's often 10 or more things but it still may be a stir fry accomplished in just moments. The typical Asian home kitchen must resemble a small store, with jars of this and bottles of that. Building that inventory of ingredients is the hard part. Once your kitchen shelves are stocked, then you can imagine making these recipes, racing from one container to another for just that little bit of "this" and the touch of "that" to achieve a flavor combination that has taken centuries to perfect.
Reading this book, enjoying this book, is truly a culinary journey. Suzen and I will surely give some of these recipes a try. If we ever do take our dream vacation jaunt to Southeast Asia, this book is coming along. I'm sure we can find a small restaurant, point to one of the pictures, and get a knowing nod from someone who lives and cooks on the Mekong.