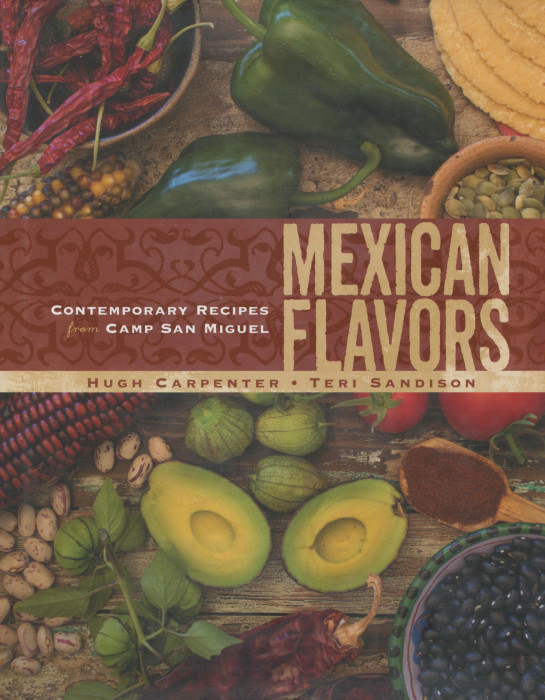 Here is a contmporary Mexican cookbook that is designed for you, the American home cook. Author Hugh Carpenter does the recipes and his wife Teri Sandison is the most accomplished photographer. Together, the couple have a renowned Napa Valley cooking school and fifteen cookbooks under their belts. Some of those books, The Great Wings Cookbook and Great Ribs, have been featured on this blog.
Hugh is an expert in Asian and Mexican cuisines. This book features his experiences based employing the specific cuisine of San Miguel de Allende, a UNESCO World Heritage Site north of Mexico City. Hugh and Teri teach there and have fallen in love with the flavors and recipes that complement cobblestone streets. This is heritage cuisine, refined over centuries with both native and Spanish influence and ingredients.
In this book, Hugh has captured the essence of those recipes and framed them using the language and techniques familiar to the American home cook. Mexican ingredients are now widely available to us. Hugh has written this book in terms that let us easily use our home kitchens, our own home equipment, to prepare flavors that resonate with authenticity.
The book begins with a chapter, Flavor Building Blocks, that is a Mexican market placed on the page. The discussion of ingredients here, particularly the chilies, is excellent. Have you ever seen a dozen chilies laid out in bins at the supermarket and been embarrassingly mystified? They don't all look the same, and that's part of the problem. Big, small, red, green, brown, black. It can be overwhelming. Read this chapter and the mystery may disappear. Or, like me, just take the book to your market and compare the lovely photos with the chilies in the bins. It's actual easy. If anyone stares at you, just stare back.
As with many cuisines, Mexican food is often layered with multiple ingredients and preparations being used as components for the ultimate dish. Chapter 2, Core Recipes, introduces the recipes that are foundations for completed dishes. Here you will find, for example, and quite naturally including:
Guacamole

Tomatillo Salsa

Banana Salsa with Four Variation

Ancho Chile Jam

Dry Rubs

Refried Beans
The remaining chapters of the book are where the pieces come together, chilies are applied, and Hugh's creative juices spill onto the page. His experience, his imagination, and Mexican heritage are blended into a phalanx of formidable flavors. Let's tour the chapters and see some of the outstanding ideas:
Gravlax Infused with Chiles, Cilantro and Tequila

Marinate Goat Cheese with Chiles and Mint

Shrimp Dumpling with Chile Cream Sauce

Quesadillas with Papaya and Brie
Four Beloved Country Foods
Sea Bass Tacos with Limes, Chilies and Guacamole

BBQ Chicken Tostados

Chile Rellenos with Goat Cheese, Pine Nut and Corn Filling

Red and Green Chicken Enchiladas
Salad Surprises and Complex-Tasting Soups
Caesar Salad with Chile Croutons

Avocado Salad with Seared Tuna

Serrano Gazpacho Served in Shot Glasses

Coconut-ancho Soup with Mushrooms
Shrimp with Chile-Tangerine Glaze

Mexican Seafood Risotto
Grilled Quail with Hibiscus Sauce

BBQ Pork in Yucatan Achiote Sauce

Rack of Lamb with Coffee, Chiles and Chocolate
Chocolate-Grand Marnier Sauce with Ancho Chile

Chocolate Fudge Tart with Hints of Chile

Fallen Kahlua Chocolate Cake with Strawberry Coulis
Cucumber Tea

Sangrita

Mexican Bloody Mary

Café de Olla
Hugh's recipes are, as you can see, inspired by Mexico but adorned with world flavors. The Papaya and Brie quesadillas, for example. Or the seafood risotto. Yet, you make any of these delights and you'll be craving a margarita and wishing you could actually hear the breezes rustling through the palm trees.
Hugh's food is exciting and colorful. This post ends with this vibrant picture of his Red and Green Chicken Enchiladas. In just over a month it will be Cinco de Mayo. You have time to buy Mexican Flavors, test recipes, and throw the best darn party of your life. From appetizers to drinks, this is a book to enjoy day by day, fiesta by fiesta.