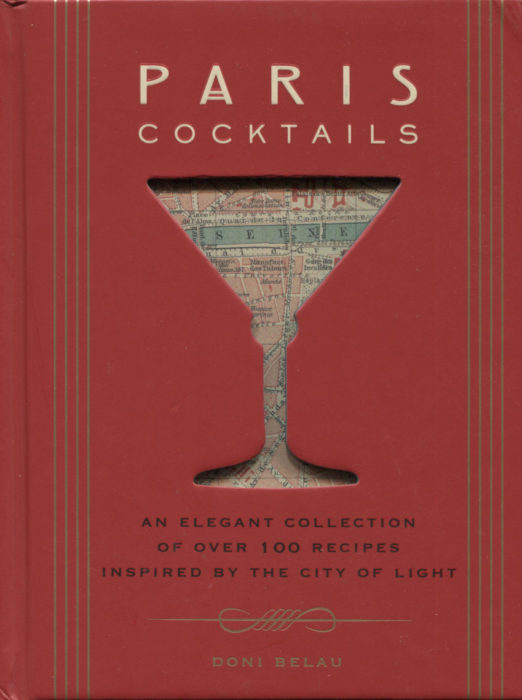 I was doing my weekly scan of the cookbooks in my local Barnes & Noble when I discovered this lovely book from 2015. I live in New York City, surely the world center for cocktails [yes, I do know they drink in Tokyo, San Francisco, London ….]. But it is hard to dispute the importance of New York.
And then there is Paris. When Prohibition stuck the United States, many of the best bartenders and surely a hoard of drinkers departed for Paris. There, cocktails were refined in Parisian style, a style in the 1920s mixed with jazz and wonderful art. Cocktails were elevated to art then, too. No "over the top with alcohol" cocktails. Smooth, subtle and sophisticated.
About a decade ago, as the New York cocktail scene was already powerful and accelerating, folks in Paris were inspired to join in, again with their special cocktail style. A second cocktail revolution has evolved in Paris and this book is survey of the contemporary Paris cocktail scene.
Author Doni Belau has thirty years of visiting Paris and for this book, Doni put on walking shoes and visiting bars throughout the city. A Paris expert, Doni has search for the new, the inspired, and the clever, and the delicious. Here is sampling of the 100+ ideas you'll find in these pages:
Rose Salty Dog: Himalayan pink salt, vodka, grapefruit juice, grapefruit liquor

Tijuana Swizzle: coffee beans, mezcal, pepper syrup, apricot juice, lime juice, Benedictine, and ginger cordial

100% Winter Vitamin: vodka, Cynar, Aperol, honey, lime juice, apricot jam, carrot and apple juice

Serendipiti: Calvados, apple juice, and champagne

Mistinguette: honey syrup infused with horseradish, grapefruit juice, lemon juice, Lillet Blanc, vodka, Jamaican jerk bitters
No, I haven't made any of those drinks up. They are real beverages that are hard to imagine and impossible to ignore. My favorite new ingredient is in that last drink: honey syrup infused with horseradish.
Paris Cocktails will challenge you, thrill you, and take you a couple of years to work your way through. Almost as grand as going to Paris itself. If you love cocktails, inventive cocktails, this is a must book for you.