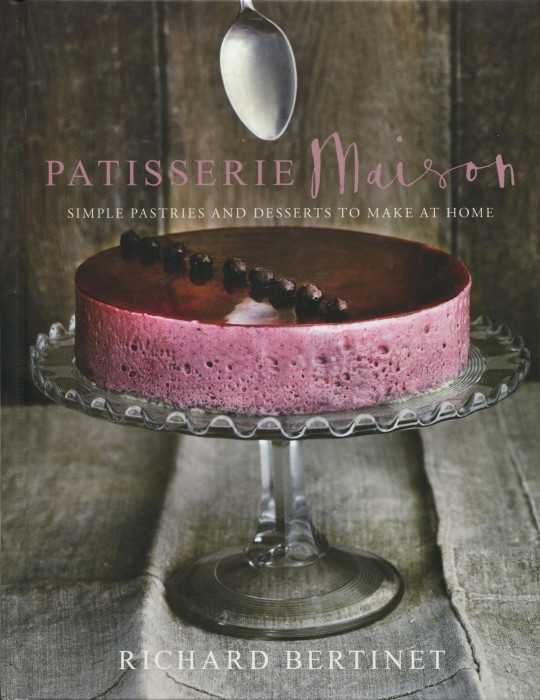 You may know the name Richard Bertinet. This is, you see, his fifth book. His earlier books have won acclaim. So will this one. Particularly this one.
Richard's story is one that is not unique. it is a story of the path followed by some very noble predecessors. Born French. Trained French. Migrates to Britain. Becomes a sensation. For ten years, in addition to writing his cookbooks, he has had his own cooking school in Bath. The school draws its students from around the world. So the traditions and inspirations of Richard are now widely spreading and devotedly enjoyed.
The goal of this book is to give you, on paper, a deep sample of the education you would receive in Bath. You begin by learning the basics, lots of basics. Then come the recipes where those components are assembled into patisserie-class delights. Delights like the Paris Brest shown in the photo at the end of this post. There Crème au Beurre and Choux Pastry are happily combined to form the classic dessert. Too pretty to eat. Well, almost.
What are the basics you learn here? It's a modest list really:
Genoise Sponge

Choux Pastry

Sweet Pastry

Meringue, French and Italian

Cremes: Patissiere, Chantilly, au Beurre, Legre

Caramelized Nuts

Raspberry Jam

Lemon Curd
There is great detail in these recipe, both in writing and in pictures. The Genoise Sponge recipe takes five pages and has the steps laid out in five pictures. Richard is teaching in these pages and the lessons are ones that will change your baking life. A bad genoise is, well, bad. A great genoise is tear-inspiring. And Richard is an iinspired and inspiring man.
After those basics are mastered, you are introduced to chapters based on size and season.
In Small, you get ideas for sweet things made in individual portions.
Paris Brest

Coffee, Chocolate, Rosewater and Almond Eclairs

Mini Banana Cakes

Lemon Trifles
In Shared, you'll find the big desserts that require slicing and sharing. You do share? Ideas like:
Blackcurrant Mousse [the dessert on the cover of the book]

Black Forest Gateau

Charlotte aux Pommes [nine pages long with more of those step-by-step photos]
In Treats, Richard introduces you to Mouthfuls, Morsels and Munchies:
Madeleines

Cannels

Strawberry and Lavender Marshmallows

Chocolate Salted Caramels
Finally, Festive will challenge you to make some exceptional Christmas treats:
Christmas Pudding [a cousin to fruitcake but steamed and made with Guinness]

Christmas Cake [a real fruit cake]

Buche de Noel [with marzipan and kirsch]
If you cannot travel to Bath, then Bath can come to you. Once you have enjoyed the education here and sampled the composed desserts, you may be booking a flight. This is the stuff dreams are made of, isn't it?