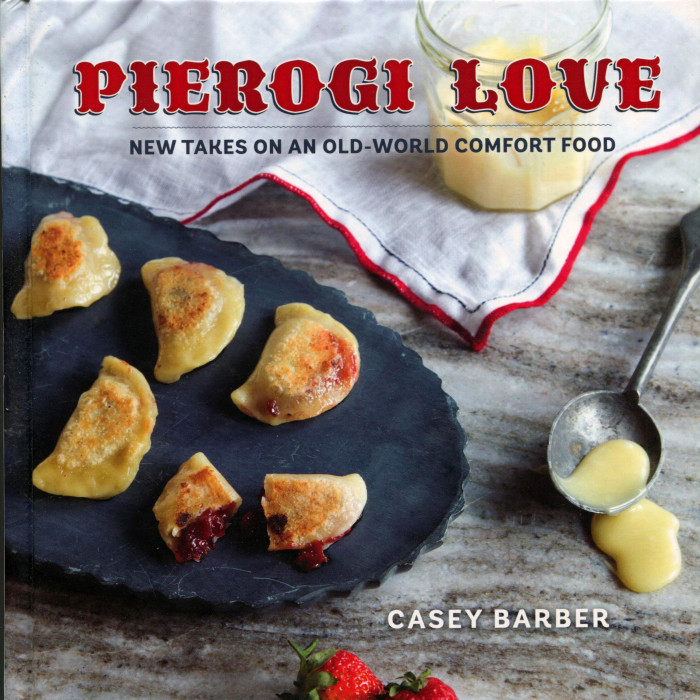 "I got this for you." I said to my wife Suzi
Now, thirty years ago, that statement would've brought a smile to her face and a kiss to my lips. Perhaps over the years, I have been a little self-serving in my presents to her. So it may be natural for Susie to just double check when I offer up a gift. She mumbled something about Trojan horses.
But when she actually saw Pierogi Love, she did smile, and I got a little kiss, too. Her family came from Poland and pierogies are a central part of eastern European culture. "Have you ever made one?" I asked her. Her reply of "no" surprised me. Her grandmother was a latke person.
Suzi started thumbing through this book, and was tagging pages one after the other. After a while though, she did stop and give me a look. I took the book and pointed to the page where the author says that if you are going to show this book to your grandmother, then make sure granny is sitting down.
Author Casey Barber has taken a few liberties. The classic doughs and the classic fillings are here and they are grand. Susie and I made the Potato and Cheddar Pierogies with Caramelized Onions and the Beef and Pork Pelmeni. The different cultures in Eastern Europe all had different names for this dish that you might think looks like empanada. However, one bite of the dough and you know this is no empanada. The dough here is sour cream, eggs, and butter. It is soft and pliable and fun to just touch.
Casey takes her liberties with the fillings. The savory ones range far and wide from Eastern Europe. So you find Crab Rangoon Pierogies with Sweet and Sour Sauce and Jalapeno Popper Pierogies. Yes, it might be tough on your grandmother, but it won't be tough on you.
And then there are the sweet filling roadies. Here's a sample of the ideas:
Lemon Ricotta Pierogies with Honeyed Brown Butter

Fried Apple Pie Pierogies with Peanut Butter Caramel

Pumpkin Pierogies with Bourbon Maple Butter

Strawberry Cheesecake Pierogies
I think you may begin to get a sense that this book, called Pierogi Love, really deals with pierogi obsession. Ah, but not all obsessions are bad, and this one is creatively delightful. Somewhere in these pages you will find something to bring back memories of your grandmother or to put smiles on your own grandchildren.
Where will Susie and I go next? Well, we are food enthusiasts but I think our next venture will be the Mushroom, Goat Cheese, and Chive Pierogies. It may take us a month or so to get to the Fig, Goat Cheese, and Black Pepper ones. But goat cheese is surely in our future.
Empanadas have been a craze for years now. They are lovely and wonderful. But I urge you to expand your horizons and experiment Pierogi Love.