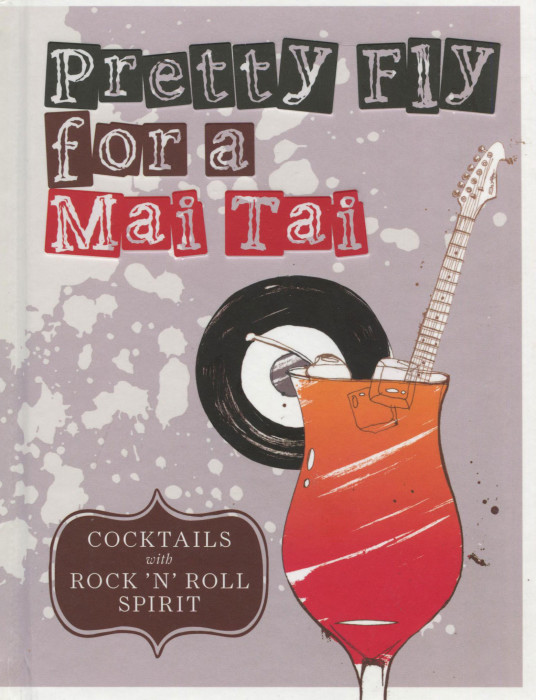 I like rhymes and puns. And I like cocktails. So here is a book that combines all three. The book has two parts: classics and moderns. That is classic rock and roll versus modern things I admit I never heard of. And classic cocktails versus new mixology combinations to make you sigh in satisfaction.
The classics have dedicated puns based on great rock and roll songs we all know. Remember The Hotel California from The Eagles in 1977? The best song ever. So in this book we have The Hotel Caipirinha. Now, the recipe here is really just the classic caipirinha you've seen before, but the title change is fun. But, in a twist on Train in Vain you have:
Champagne in Vain:

Ingredients for two cocktails:

2 lime wedges
2 measures lime vodka
2 measures orange juice
Ice
Chilled champagne
Lime-rind twists to decorate
Method:

Squeeze the lime wedge into a cocktail shaker and add the vodka and orange juice with ice cubes. Shake briefly and double-strain into 2 chilled flutes. Top with the chilled champagne and decorate with lime-rind twists.
---
Well now, who wants a simple Bellini when you can have this one? You can enjoy more delights like:
Sweet Home Alabama Slammer: amaretto, Southern Comfort, sloe gin

Whole Shotta Love: vodka, Chambord, pineapple puree

Southern Comfortably Numb: Southern Comfort, lemon juice, maple syrup, champagne

Sgt. Pepper's Lonely Hearts Club Brandy: lemon, sugar, brandy, curacao, maraschino liqueur, lemon juice, bitters

You Think I Ain't Worth a Dollar But I Feel Like a Whiskey and a Pear: pear, redcurrant jam, bourbon, lemon juice, sugar syrup
I think that last idea has the longest title of any drinkI have ever seen. And I really cannot imagine what it will taste like. What am I to do? I'm searching for the maraschino.
Pretty Fly for a Mai Tai will surely make you smile, probably engage your taste buds, and give you many reasons to practice your amateur mixology. Or your professional mixology. This is a book for amateurs and pros alike. If you drink, you want to explore the puns, the music, and the booze.