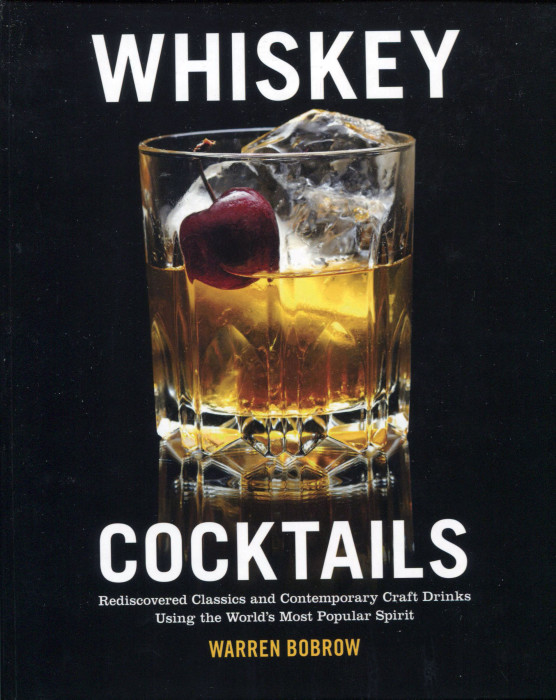 Last December 20, just before Christmas, I reviewed this wonderful book devoted to whiskey by supremo expert Warren Bobrow. Bad time of year, perhaps, to review a book because we are all so busy then. But now, with the Super Bowl upon us, beverages are a high concern. So I encourage you to look at this book and consider the wonderful punch recipe below — a recipe ideally targeted for a football game where Peyton Manning gets his second ring.
Yes, I'm a Peyton fan. Yes, I know someone named Cam is playing, too.
Whiskey Cocktails has wonderful spins on old classic, accelerated with Warren's masterful mixologist touches. I'll be published one tomorrow. If you never a fan of the Arnold Palmer cocktail, you will be now. See you tomorrow. In the meantime, please read on and drink on.
I recently reviewed a magnificent cocktail book: Bitters and Shrub Syrup Cocktails: Resotrative Vintage Cocktails, Mocktails and Elixier by Warren Bobrow.
I love those hrubs — mixtures of fruits or savories with sugar and vinegar — that give us new directions in cocktial creation. Bold new directions.
Warrend is an expert on mixology: the current trends, the history, the very chemistry that mystifies and pelases us. He demonstrates all his skills in his 2014 work Whisky Cocktials. There are, I know, a number of whiskey books on the store shelves. This book may have an equal out there, but I don't think there could possibly be one better.
The book is organized, naturally, around whiskey style. So, after an introduction to it history, there are chapters for
Tennessee Sipping Whisky
Craft Whisky Made from Alternative Grains
White Whiskey
Rye Whiskey
Scotch Whiskey
Whiskey Around the Globe
And there is the Cooking with Whiskey chapter that I have to mention at the end of this post.
Each chapter has a description of that whiskey type presenting the how, what, and why factors that lends distinction to each brew. And then, then come the recipes. This is not your simple Manhattan or Whiskey Sour book. The titles are kick ass — well, this is a whiskey book — and the actual cocktails are marvelous. If I could dream one of these up, I'd be very proud. Warren has a whole book of ideas. Ideas like:
German Pavilion with Mezcal

Runaway Mountain Train with Blueberries and Maple Syrup

Late Summer Fizz with Pimm's, Apple Cider, Allspice, and Vermouth

Sailor's Dilemma with Beef Broth [I'm not kidding]

Rye Whiskey Slushee with Roasted Strawberries and Rhubarb Tea Liqueur

Slightly Askew Old-Fashioned with Fernet Branca, Vermouth, Sage Tea Liqueur and Mole Bitters
Ah, you begin to see the story. This is imagination run wild. But even my imagination cannot quite fathom what these mixtures will taste like. I can't. My own recourse is, one page at a time, to make them, taste them, and let my wonder intensify.
And where to begin? Well, it's the week before Christmas and we have New Year's Eve to celebrate too. Warren knows that, for some whiskey drinkers, using it in a punch is heresy. He's an advocate of heresy. Here is his recipe for To the Disfavor of Some Gentlemen Punch:
To the Disfavor of Some Gentlemen Punch
Yield: serves 4
Ingredients:
6 ounces (175 ml) Grilled Pineapple Juice (see page 156)
6 ounces (175 ml) Grilled Orange Juice (see page 156)
6 ounces (175 ml) Grilled Grapefruit Juice (see page 156)
6 ounces (175 ml) Basic Simple Syrup (see page 156)
About 16 ice cubes made from frozen coconut water (unsweetened coconut works best)
8 ounces (235 ml) Tennessee sipping whiskey
2 to 3 sprigs fresh thyme
1 liter bottle sparkling natural mineral water
Preparation:
Grill and juice the pineapple and citrus fruits. Add the ice to a large punch bowl, and then pour the juices and simple syrup over the ice. Pour in the whiskey and submerge the sprigs of thyme in the fruity mix. Finally, add the sparkling water, and stir gently (you don't want to lose the effervescence of the sparkling water). Let your guests ladle the punch into vintage Victorian teacups—and make sure you have enough supplies on hand to whip up another batch.
---
Now, I've shown you this recipe for a couple of reasons. One, you just might enjoy this during your holidays. Two, I wanted you to see the detailed extremes Warren goes to. Grilled Orange Juice? Yes, the answer is on Page 156 of the book and I do want you to consider adding it to your library. In case you can't' get a copy in time, just grill your fruits, cut into pieces and put into one of those press juicers [two metal halves that come down to press the last drop out of the fruit].
I like the touch here of ice cubes made from coconut water. Warren did not suggest suspended mint leaves in the cubes, but, gee, it's a thought.
That's what Whiskey Cocktails will make you do. Think, ponder, experiment, and sip. Sip to your delight.
Oh the cooking chapter? How about Roast Turkey with Bourbon Whiskey Gravy. Or Bourbon and Maple Syrup-Glazed Ham and Swiss Sandwiches. You can drink your whiskey or you can eat it. Or do both at the same time. What could be better?