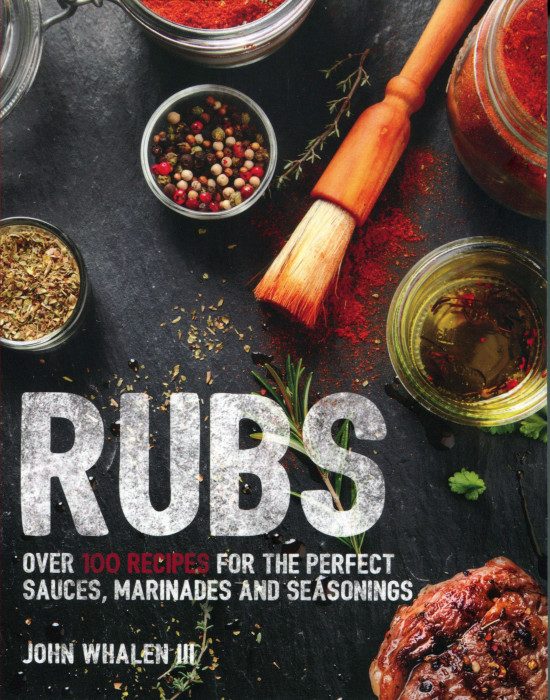 John Whalen III is a meat man. Last year he wrote Prime: The Complete Prime Rib Cookbook and then Paleo Grilling: The Complete Cookbook.
This year we have Rubs: Over 100 Recipes for the Perfect Sauces, Marinades, and Seasonings. It's the end of July and we still have two or three months of summer grilling and enjoyment before us. To make that enjoyment superior, you'll want to consider Rubs.
There are six chapters in Rubs, one each for Rubs, Marinades, and Sauces. And then three more for protein cooking with rubs, marinades and sauces. Those last three cooking-with chapters don't use say, something from the Rubs chapter, but offer a brand new set of ideas, like Chipotle Rib Eye Steak. [And if that steak idea sounds good to you, I'll be posting that recipe right after this cookbook review.]
I know, you can go to the grocery store and buy packets and jars of rubs. It's convenient. It's easy. And it can be ghastly. There are so many "additional" ingredients in those manufactured products — chemicals enabling them sit on the shelves for months or years — that the resulting "stuff" you rub on your meat can convey both a harsh flavor and gastric distress. I find that I am simply allergic to all the store rubs. I won't buy them because I can't use them.
In Rubs, on the other hand, the ingredients are just pure spices, herbs and condiments. Things you have in your pantry or herb garden, and can assemble into a rub that is simply more natural. Whether you seek something herby or with chile impact or even a little sweet, the rubs, marinades and sauces presented her will give you great opportunity to experiment with this simple step to intensify your flavors.
I'm particularly impressed by the rub ideas presented here including:
Southwestern Dry Rub with mustard, coriander, and celery powder

Rustic Pepper Dry Rub with black, white, and red peppercorns

Paprika Onion Rub with thyme and oregano

Ancho Chile Rub with paprika, coriander, cum, allspice and cinnamon

Indian Curry Rub with paprika, ginger, cumin and allspice

Dill and Coriander Rub with cloves and pepper

Lavender Rub with thyme and rosemary
Lavender Rub? Yes, and John notes that it is excellent with prime rib. For each of the rubs, John has a comprehensive guide suggesting what proteins the rub is best for: red meat, pork, poultry or seafood. And the dominant flavor is characterized: spicy, sweet, tangy, savory, or salty. When you have some lamb chops ready for a rub and you are craving something intensely savory, then these guidelines will help you sort through all the delicious options. And all the recipes here have several ingredients, so that the result flavor blend is going to be happily complex. Maybe even a little confusing to your tongue as pepper and cinnamon jostle to inspire your taste buds.
There are far more ideas in Rubs than you can begin to test in one barbeque season. Although you can give it a noble try. Tonight, Suzi and I are doing one of the marinades, Lemon Parsley, on barbequed chicken. And that chapter on cooking with sauces has a Blueberry Pork Chops recipe that we'll explore sometime in August.
The best thing about these recipes is the invitation they present to you. This is not baking, so following the ingredients and proportions exactly is not a necessity. You are welcome to take any of the solid ideas here and make your own extensions: add or subtract ingredients, or change proportions. Try different kinds of salt or peppercorns. Add that chipotle powder you have become addicted to. Author John Whalen won't mind at all, and you'll be proud of your personal contributions to seasoning lore.