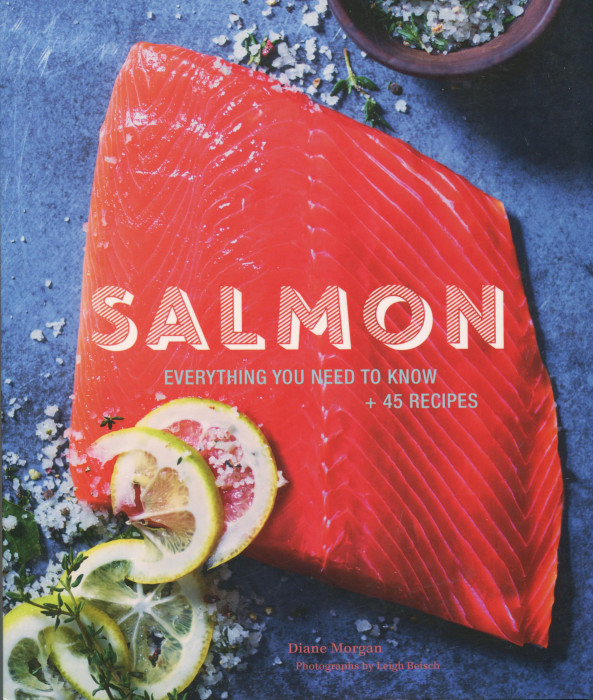 Diane Morgan has written 17 cookbooks. Do I have every one of them? No, just a majority. She wins awards but more importantly, she will win your heart.
Her latest book is Salmon, a head to tail tour of this unique fish. We all eat salmon. Well, most of us. Go to a wedding or a bar mitzvah, and salmon is somewhere on your table. Maybe in front of you, may next to you. You can't miss salmon. There's the color, of course. And the smell. No matter how prepared, "salmon" means fish to many of us.
The first quarter of this book is not recipes for salmon but the facts you need to know about salmon. The chapter Essentials talks about the life cycle of salmon, different species, wild versus farm-raised, and all the health benefits. Once you have bought or caught you salmon, you need the Preparation Primer to help you know how to store and prep the salmon before the cooking gets serious.
There are five chapters devoted to recipes. Raw and Cured lets you avoid the stove and the stovetop. So here you'll find ideas like:
Salmon Carpaccio with Celery Root Slaw

Salmon Tartare with Fresh Herbs and Cucumber Ribbons

Pastrami Salmon
In On the Stove Top, quick but excellent recipes are provided. And, you just might be invested in stove-top smoker!
Tea-Smoked Salmon

Wine-Poached Salmon Steak

Crisp Rice-Coated Salmon with Citrus Siracha Sauce

Salmon Stir-Fry with Snow Peas and Shiitake Mushrooms
Whether it is a simple smoking or a richly diverse stir-fry, that dominant salmon taste is never lost.
If you go from the stove top to In the Oven, the ideas become more complex, more rich:
Whole Roasted Salmon with Lemon, Fennel, and Onion

Salmon Baked in Parchment with Tomatoes and Corn

Panko-Crusted Salmon Cakes with Jicama Orange Slaw
Outdoors, on our grills, we often go for beef but salmon is a wonderful protein choice. So On the Grill suggests for you:
Whole Salmon with Lemon and Bay Laurel

Alder-Planked Salmon with Lemon, Rosemary, and Thyme

Salmon Grilled on a Bed of Herbs
Salmon flavor lasts and lasts. Salmon leftovers can be spectacular. So, you can do one of the whole salmon recipes here and then, in a day or two, use the leftovers in creative, delicious ways:
Salmon Hash with Yukon Gold Potatoes and Herbs

Poached Eggs and Smoked Salmon on tapenade Mayonnaise-Smeared Bread

Salmon Salad Rolls
This post ends with a picture, those Salmon Salad Rolls. You may have been to a Thai place and marveled at these kinds of dishes. Now, all you have to do is [1] buy a whole salmon, [2] buy this book, and [3] make some Hoisin-Peanut Dipping Sauce. You'll see the recipe here tomorrow. Get your salmon ready! Oh, yes, get Salmon. It's as bright as a freshly caught Chinook.