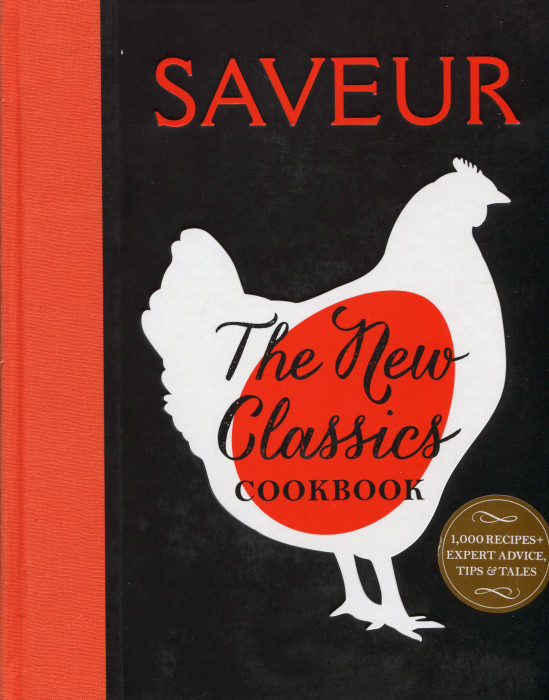 For twenty-one years, Saveur has served a special role for the food community. You can think of Saveur as "the Gourmet for the world." Saveur offers essays, recipes and insights into the world's wonderful cuisines. Open Saveur and you open a window into the world.
In celebration of its first twenty years, the editors of Saveur have published Saveur: The New Classic Cookbook. It's an interesting title, a new classic. I hear the word classic and immediately I have an image of Greek statue crossing my mind. Or a few words from Julius Caesar. Somehow "new" and "classic" are not an automatic association for me. Yet, I read that phrase and I smile. For instantly, this book is a classic. It's a treat. It's an adventure.
There are a thousand recipes here, arranged in the "usual suspects" for chapters:
Appetizers
Salads
Soups and Stews
Sandwiches, Pizzas and Burgers
Poultry
Meat and Game
Seafood
Vegetables
Pasta, Noodles and Dumpling
Beans, Grains and Potatoes
Breads and Rolls
Breakfast and Brunch
Desserts
Drinks
The Pantry [pickles and spices and more!]
Each chapter offers a "best of the best" experience from the many years and issues of the magazine. You do get a full spectrum of ideas from around the world. There are 43 chicken recipes,for example, ranging from wings to chicken and dumplings to chicken marsala to chicken curry. You can spin the globe, point your finger, and find a representative recipe in Saveur. There's surely a bit here for whatever your taste buds are craving.
This book is, in fact, a one-stop cooking experience that offers you recipes for every minute of the day, from dawn to midnight and beyond. It's the kind of practical recipe encyclopedia that you can readily put to use every single day of the week. But Saveur offers a wonderful, unusual twist.
The unusual part is the urbane nature of the recipes. This is not a book with the standard comfort foods. Each of these recipes comes with both flavor and sophistication. Meatballs? Sure, but not just any meatball: you have Di Palo's Spaghetti and Meatballs from the famed Little Italy cheese establishment. Mashed potatoes? Yes, but Joel Robuchon's whipped potatoes with a pound of butter for every two pounds of potatoes.
Every dish here affords you a special level of intensity and care that will make you proud to put it on your table. And make you so happy with every bite.
With a thousand recipes, you will find many standards here, written in excellent form. A perfected cassoulet choice or a classic version of chicken with 40 cloves of garlic. Yes, you could find excellent recipes for those dishes in other books, but they are gathered here in one place for you. And then there are the world-wise recipes this book offers, temptations that I had not seen before or not been tempted to try before. But now, they are on full display here and have me headed to my pantry.
Here are sixteen very interesting reasons to put this book on your countertop, open it up, and begin cooking:
French Onion Dip [slow roasted onions, sour cream, and cream cheese, not a soup package in sight]

Meat Stuffed Romaine Leaves with Avgolemono Sauce [chicken broth + lemon juice]

Senegalese Orange-Avocado-Mango Salad

Maryland Crab Soup

Cincinnati Chili [with cocoa powder]

Warm Open-Face Avocado and Goat Cheese Sandwiches

Diced Chicken and Peanuts Sautéed with Dried Chilies [aka Kung Pao]

Chile-Rubbed Turkey with Beet Stuffing and Gravy

Lamb Stewed with Parsnips, Bacon, Fennel and Red Wine

Vietnamese Catfish Simmered in Caramel Sauce

Artichokes in Cilantro and Pomegranate Sauce [being blogged today!]

Veal Pasta Sauce with Red, Green, and Yellow Peppers

Turkish Lamb-Stuffed Dumplings

Texas Grapefruit Cake

Homemade Crème de Menthe

Javanese Cucumber and Carrot Pickle
The recipes here have a common character: relatively short in description, a modest list of ingredients, and no hurdles for you in the preparation. You have wonderful ideas here that can be most readily enjoyed. Saveur is kitchen companion that can sit alongside your copy of The Joy of Cooking or Good Housekeeping. Saveur is a classic, too. A new classic, to be sure. But still, a classic.
Oh, it's six hundred pages and seems to weigh about five pounds. Pick it up with both hands. It's a big classic.