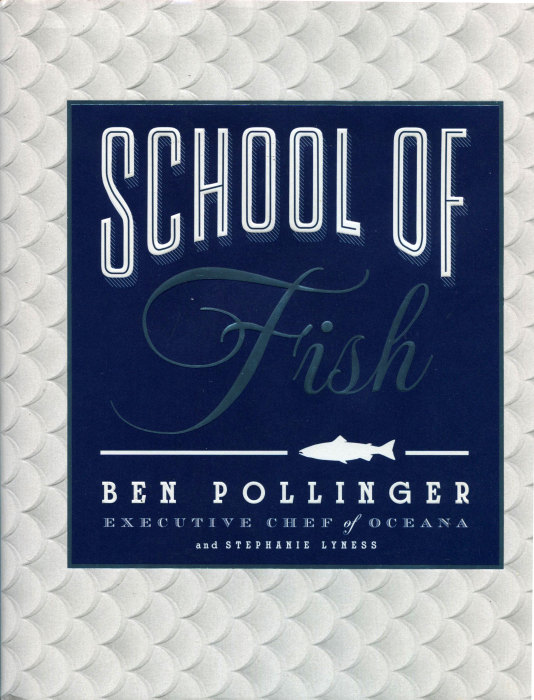 This post is going up the day after Thanksgiving. By the end of this weekend, you'll have had your fill of turkey protein. How about some fish?
School of Fish is an important book from many perspectives. It's lovely to look at, has exciting recipes by a most talented chef, and addresses a food issue that just persists: we don't eat fish.
Health experts tell us we should eat more fish. The fish food companies, like Bumble Bee, so wish we would. And our upscale supermarkets all have lovely fish counters, with a zoo-full of different species carefully laid out on top of beds of ice. So, how much fish do we Americans actually eat and how does that compare with the other proteins in our lives. Here's how we actually eat today.
Annual Per Capital Consumption, USA [2013]

Category

Weight in Pounds

Red Meat [Beef, Veal, Lamb, Pork]

100

Poultry [Chicken, Turkey]

99

Seafood [Fish, Shellfish]

15
We now eat about 50% more chicken than beef — they were first equal in 1995 and beef was very dominant before that. But seafood? Seafood languishes. About one quarter of the 15 pound total is shrimp by the way. So the average American eats about one pound of fish per month.
While we may be helping fish sustainability, it's not the best thing for our health. Why do we avoid fish? Some people are put off by the texture of raw fish, the smell of raw fish, or the lingering cooking smells in the kitchen. We are fish adverse. And almost two thirds of the fish we eat is outside the home: we go to a restaurant and have other people cook it for us.
A major problem, discussed in the Wall Street Journal, is that people don't know how to cook fish:
http://online.wsj.com/articles/SB10001424052702304688104579465721070784980
Is education the answer? Do we need to go to fish school? What if we all just bought School of Fish by master chef Ben Pollinger because this is the wonderful new fish book that can educate us all.
Suppose you graduated from Boston University with a BA in economics? Where might you go? Academia or finance there in Boston? Financial houses in New York? Graduate school in economics or math?
Instead, New Jersey native Ben Pollinger went to the CIA in Hyde Park and was a star student. So starry, that he left the US for France and worked under Alain Ducasse at Le Louis XV in the south of France where abundant seafood was just a sea away. Quite a career start .Ben returned to New York to work at Les Celebrities and Lespinasse and Union Square and Tabla. Oh, he did go to graduate school after all.
Since 2006, he has been the executive chef at Oceana, the storied and Michelin starred seafood restaurant in Rockefeller Center in New York City. Fish is his forte and now in School of Fish Ben is ready to give you the knowledge, skills, and confidence to cook fish, lots more fish, and cook them at home.
What is the difference between braising, steaming or poaching your fish? You know, don't you? Oh, no, you don't. And really, off my head, neither do I. That is why School of Fish is so very important. You can eat fish raw or you can bake, roast, braise, broil, steam, poach, grill, fry, sear or sauté. Ben has chapters for all these techniques, first laying out the whys and hows of the technique itself, then presenting lovely recipes, often laden with additional flavors, to let you fashion dishes with the quality and imagination of his Oceana.
This really is a school book and a wonderful one. To give you an idea of the span of recipes, here are the principal book chapters and some representative recipes:
Appetizers, Salads, Pasta and Rice: Asparagus Tonnato with Frisee Lettuce and Pistachio, Orecchiette with Shrimp, Rosemary and Green Olives, Tuna Noodle Casserole.
Soups and Chowders: Borscht with Smoke Whitefish, Chilled Corn Soup with Smoke Trout and Cherry Tomatoes
Baked and Roasted Fish: Moroccan Baked Salmon with Chickpeas, Black Olives and Raisins, Whole Roasted Branzino with Mushrooms, Spinach and Fennel-Chile Vinaigrette
Braised: Halibut with Peas, Carrots, and Potatoes; Mussels with Curry and Yogurt.
Broiled: Tamarind Glazed Sablefish, Broiled Pompano with Coconut-Cilantro Sauce and Bok Choy
Steamed: Snapper in a Bag, Branzino Steamed on a Bed of Herbs and Lemon
Poached: Salmon with Salsa Verde, Lobster Boil with Clams, Corn and Potatoes.
Grilled: Mahi Mahi with Hot Sauce Vinaigrette, Octopus with a Ragout of Black-Eyed Peas and Tomato
Fried: Crab Cakes with Wasabi Aioli, Flounder with Braised Greens and Warm Cherry Tomato Vinaigrette
Seared and Sautéed: Trout Fillets with Mustard-Riesling Sauce, Salmon with Chanterelles, Corn and Cherries
Vegetable Sides: Summertime Succotash, Black Sticky Rice, Thyme and Honey-Glazed Carrots
There are no drinks or desserts chapters. Just fish and the vegetable sides. The focus is fish and the fish are a delight. This is a beautifully presented book with clear writing and flawless instructions, sure to be considered the great contemporary fish cookbook. Next time you visit your supermarket, stop at the fish counter. Pick something extraordinary and make a feast. Ben will be thrilled.