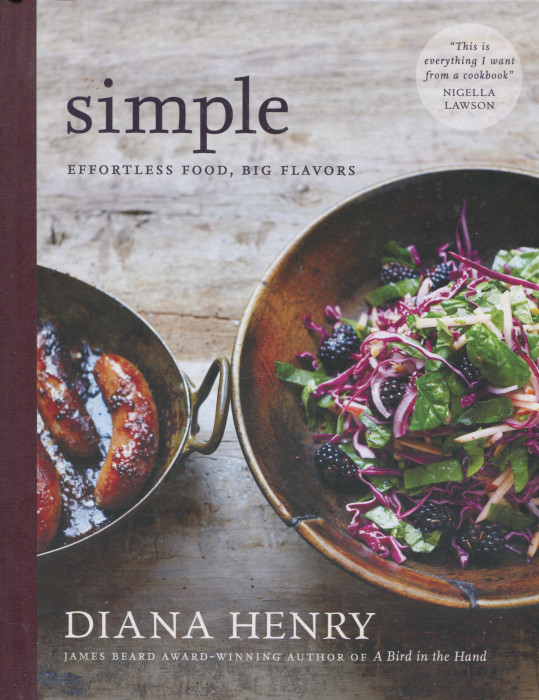 Diana Henry's newest book will send you dashing off to the grocery store. You can be home in an hour, with some veggies and protein, perhaps a fish or a chicken. Time to break open the spice rack, find those onions, and grab your knife.
Simple to Diana means pretty easy, pretty swift. Simple does not mean, in any sense of the word, that there is any compromise here. These dishes are inventive, intensely flavored, and seductively new.
Chapters here offer ideas ranging from the deceptively simple to the elegantly simple.
There is a toast chapter. Can you make a real meal, not just breakfast, based on toast? Well, how about toast topped with crab and a cilantro-chile mayo. A few slices of those, some salad, a glass of wine and you have dinner.
And the elegantly simple? There is Honeyed Pork Loin with Plum and Lavender Relish. Oh, and dessert can be the Espresso Loaf Cake with Burnt Butter and Coffee Icing.
The recipe titles here are never short. Diana's kitchen in London is packed with food products. Besides cooking, her favorite activity is to tour the markets of that city, and ethnic food shops abound. She has one entire set of shelves just for Middle Eastern components. The Middle East and Asia pop up on many of the pages here.
There are chapters for:
Eggs
Salads
Toast
Pulses
Pasta and Grains
Fish
Roasts
Chops & Sausages
Chicken
Vegetables
Fruit Desserts
Other Sweet Things.
Right there you see the British influences. Eggs get an entire spotlight for a British breakfast without eggs is, I have heard, impossible. Most Americans think a pulse is a heartbeat, not a bean. And while Roasts and Chicken are natural meat avenues, an entire chapter for Chops & Sausages lets you discover meat in the way only the British can reveal. It's a different food journey.
Here are some particular recipes that caught the eyes of my wife Suzi and me [she's the vegetable person, I'm the one into honey, and we both like pork and lamb]:
Andalusian Chicken with Honey, Saffron and Almonds

Artichokes, Carrots and Preserved Lemons with Ginger and Honey

Coffee Brined Pork Chops with Hot Sweet Potatoes

Lamb Chops with Walnut, Chile and Honey Salsa Verde

Pork Chops with Mustard and Capers

Rhubarb and Raspberry Crumble Cake

Roast Maple and Mustard Spatchcock with Figs

Thyme-Baked Mushrooms and Cranberry Beans with Roast Garlic Crème Fraiche
Ah that last recipe, the mushrooms in roast garlic crème fraiche. Suzi and I are spending Christmas week in our kitchen. Cooking and cooking. Searching for recipes for her cooking school, Cooking by the Book. The mushrooms are destined for Christmas dinner. And New Year's will be devoted to the Coffee Brined Pork Chops.
You, too, can easily fill a week with Simple. It's a great getaway book for that ski weekend or some summer beach time. One book to do it all. One exceptional book that will delight and please you night after night. And breakfast, too. Don't forget those Egg and Toast chapters.
Here's a final temptation. A picture of Diana's Parmesan Roast Chicken with Cauliflower and Thyme. Just the dish for a family on a winter night.