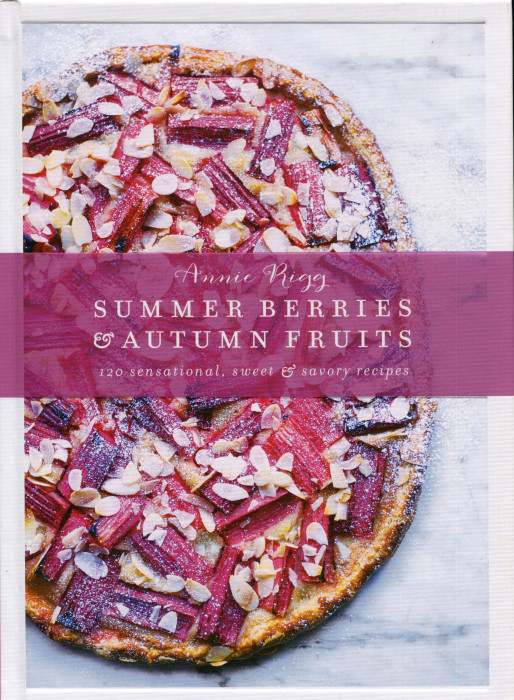 I think this is cookbook #19 for Annie Rigg, but I may have miscounted. There's a long list on Amazon and perhaps I missed one. But I'm so glad I have not missed this specific book. It is bigger and bolder than many of her earlier books. They were often small and very focused [Christmas Cupcakes, Fabulous Brownies]. She a marvelous British writing machine.
No, this big book covers the gardens, fields, and orchards of our lives. And covers it in detail.
The book has 120 recipes, both sweet and savory, but always targeted towards the "just picked" fresh. That book cover [I know, a little pink] is a Rhubarb and Almond Tart. It's a typical recipe, sixteen ingredients covered in four paragraphs. You can make this delight in an hour.
Chapters here divide the key ingredient up by fruit type:
Citrus: oranges, mandarins, clementines, lemons, limes, bergamots, grapefruit, pomels

Berries & Soft Fruit: strawberries, raspberries, blueberries, gooseberries, red, black and white currant, blackberries, figs, rhubarb

Stone: peaches, cherries, plum, damsons, apricots

Tropical: mango, melons, pomegranate, coconut, bananas, pineapple, papaya, persimmon

Orchard: apples, pear, quince
I've listed the specific fruits here to demonstrate the breadth of the book. That citrus chapter covers far more ground than we often see. But, being British, and being raised in a garden culture, she loves to play with all the possible ingredients. So, yes, she has a recipe for pomelos: Thai Pomelo Salad with Lobster and Crab. Oh, a pomelo is from Southeast Asia and is twice the size of a grapefruit at a bracing 2+ pounds!
What recipe ideas await you? Here is a baker's dozen of dramatic ones:
Caramelized Mandarin Orange Salad with Pomegranate Seeds

Lime Marshmallows with Passion Fruit Sherbet

Orange-Scented Churros with Caramel Chocolate Sauce

Tuna Crudo Salad with Pink Grapefruit and Citrus Dressing

Fig, Hazelnut and Fennel Soda Bread

Berries with Rose, Cardamom and Black Pepper Syrup

Summer Berry Tiramisu Cake [pictured below]

Peach and Buffalo Mozzarella Salad with Pistachio Pesto

Peach and Caramelized Honey Zabaglione Ice Cream with Pistachio Tuiles

Pineapple Empanadas

Beef Short Ribs Braised in Pomegranate

Apple and Smoked Trout Salad with Hazelnuts and Celery

Ham Hock and Pickled Quince Salad
Annie gets terrific mileage out of each recipe here. They can sound a bit complex, and yes you'll need a dozen ingredients or so, but the steps and time involved here are truly modest for the delectable results. My wife, Suzi, is drooling over this book for her cooking school. She's been serving churros, good ones, for months. But now, she can offer those Orange-Scented Churros with Caramel Chocolate Sauce.
I could easily have picked another 13 recipes for an entirely different list. And you would have been equally tempted. In fact, temptation will poke at you on each and every page. This is a delightful book by a most skilled writer and chef. We endure winters, we are impatient in spring. But when summer and autumn are upon, with all the bounty ready for us to enjoy, this is the book you'll want as your new summer best friend. It's a lovely tome offering you pleasure from berry to lemon to peach.