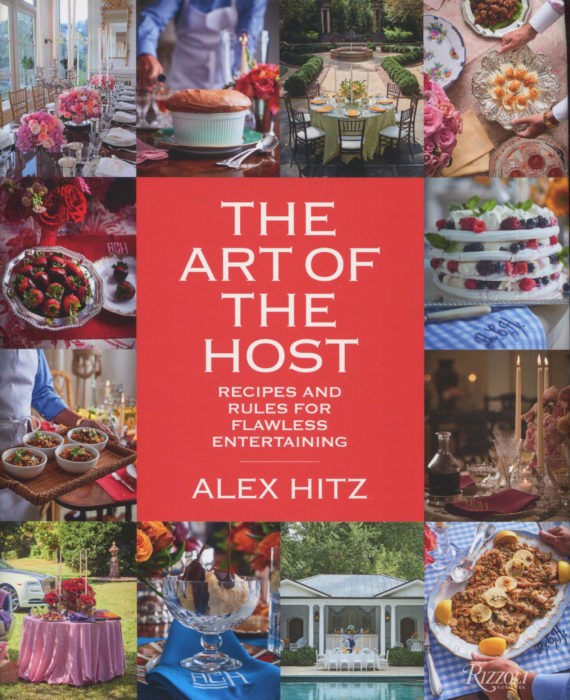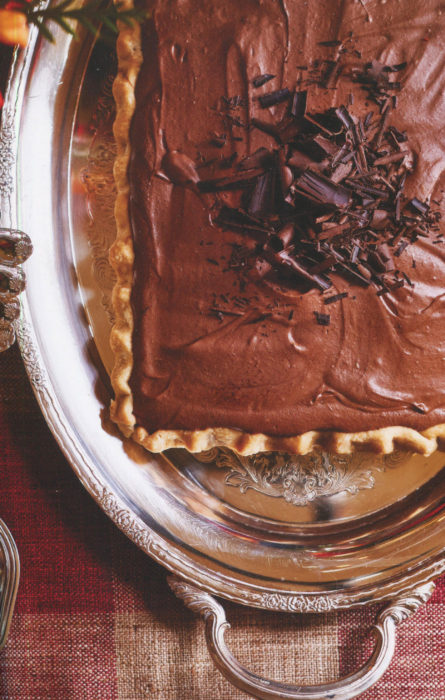 You may never have heard of Alex Hitz, but the Wall Street Journal has called him "the very best host in the world." Alex is an award-winning chef, speaker, columnist, event designer, and master host. Born in Atlanta, when he was three his mother married conductor Robert Shaw. From then on, Alex's life was one of traveling and mixing with society crowds across the planet. His mother loved French Food, like the French Silk Pie in the second photo here.
You can see Alex on YouTube cooking the world's best fried chicken. He makes that claim and I have to suspect he quite right. Watching Alex for a few moments is enough to make you believe he must be some kind of Renaissance man. Charming, kind, and oh so comfortable in the kitchen.
When you read The Art of the Host: Recipes and Rules for Flawless Entertaining, you know you have just encountered someone exceptional. Entertaining? Ah, that's a party or a big festive meal, right? And that can engender sweat in the best of us. Golly, what should I serve? How can I make it elegant? Last Thanksgiving my turkey was dry and this year …
This book promises to guide you to flawless entertaining. The promise is kept. Gloriously kept.
The recipes here are gathered into 13 chapters. First, one covers essential items:
Perfect-Every-Time Pâte Brisée

Perfect Homemade Mayonnaise

Butter Lettuce Salad with Chives and Herbs

Poached Salmon with Green Herb Sauce

Broccoli and Cheddar Gratin
There are almost 40 pages here of those "little" things that can stand on their own, for sure, but that Alex loves to incorporate into his festive menus.
Ah, the rest of the 13 chapters are devoted to 12 menus for key dates in our calendars: Christmas Eve, Boxing Day, The Grammys or Oscar, Valentine's Day, Easter, a Quintessential Summer Dinner, an Uptown Fall Lunch, or a Cozy and Decadent Winter Evening. And there is his Absolutely-Perfect-Every-Time Thanksgiving.
It is Thanksgiving that kicks off this book and proves again that Thanksgiving has become the single most important American holiday. [I'm just going to ignore everyone's Superbowl comments now]. We can spend the entire Monday and Tuesday and Wednesday prepping for that Big Thursday. We travel, we shop, and we cook. Thanksgiving has become so important and so complex, that it's really quite hard to wait until Thursday to prep it all.
And that's before you Alex's menu for Thanksgiving:
Blue Cheese Coins

Pumpkin Soup with Apples and Rosemary

Perfect Roast Turkey with Sherry and Giblet Gravy

Aunt Betty's Orange Cranberry Sauce

Dorothy's Cornbread Dressing

Baked Sweet Potatoes with Bananas

Oven-Roasted Brussels Sprouts

Georgia Pecan Tarts

My Mother's French Silk Pie

Connie's-and-Audrey's-and Alex's Apple Confit
That's not a meal, that is a feast. The names appear because Alex gives due credit to family and friends who have contributed cherished recipes. The recipes are here and, should you rise to the challenge, this will be a Thanksgiving to remember. Perhaps one you will simply repeat year after year. All of these recipes are approachable by you. A small number of ingredients, a few steps. This is very, very good food without the complexity of a restaurant kitchen
I am, of course, seduced by the French Silk Pie. I'll post that recipe on Friday. Right now, it is almost midnight on Wednesday, and I want to fall asleep and dream of roast turkey and cornbread stuffing. With this book, I know just where to find the most polished, the most refined recipes I could hope for.
This book has just been published, just in time for the holidays. Just in time for you and family and friends. Entertaining? No sweat.